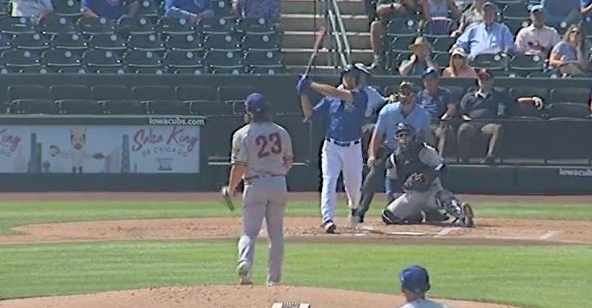 | | |
| --- | --- |
| Cubs Minor League News: Mervis raking, Riley impressive, Pels with 17Ks, Ramirez homers | |
---
Thursday saw a full slate of Minor League Games in the Cubs system, at least for the three teams left playing. Not only do you have a pair of teams having their regular seasons ending, but Myrtle Beach returned home for game two of their Carolina League series with Charleston.
The Cubs couldn't have asked for a better night on the diamond, as the organization posted a 3-0 record on Thursday. It has been a long time since an unbeaten record has been seen for their minor league system, so for them to get that now is a good thing.
IOWA CUBS 9 - SAINT PAUL SAINTS 3
Although the end of the Cubs season may not end how Iowa wanted it to, there are plenty of positives to take away from this season. For starters, this is their first winning season since 2019. Second, they are on pace for the most wins since 2015. Third, not only have they set a team record for walks in a season, but this will go down as one of the best offensive seasons in Iowa history.
They accomplished a lot of that Thursday while trying to play spoiler to the Saint Paul Saints, who are in the middle of an intense playoff race. All it took was a solid pitching performance from Riley Thompson and an offense that got going early and never let up as Iowa took game three 9-3. Regarding Thompson, Peavy wanted him to give the Cubs five innings, and he did as Thompson gave one run on four hits in five innings with five strikeouts. This was his best start in nearly two months as he gave way to Jeremiah Estrada, Chris Clarke, and Keegan Thompson, among others.
Opposing Thompson on the mound was right-hander Randy Dobnak, who was roughed up for six runs in 5 2/3. Two of those runs came in the first as Matt Mervis picked up his fifth hit and second homer off of Dobnak this season, going to straight away center for the 2-0 lead.
Mash Mervis goes 427 feet to give us a two-run lead! pic.twitter.com/p6mpk9wUxm

— Iowa Cubs (@IowaCubs) September 14, 2023
That was the first of three hits for Mervis, who was locked in from the start.
Immediately after the Cubs grabbed the lead, Jair Camargo made it a 2-1 game, taking Thompson deep in the second. That was the only run Thompson would allow, as he was on top of his game early. With two runs across, Darius Hill drove home Iowa's third game of the day as his RBI single made things 3-1. Two innings later saw Brennen Davis cash in with an RBI single to left field as the Cubs extended their lead to 4-1.
With David Bote adding an RBI double in the fifth and Yonathan Perlaza picking up an RBI single in the sixth, the Cubs opened up a 6-1 lead and showed no signs of letting up. Iowa would then push across three more runs in the bottom of the seventh, with Luis Vazquez opening the scoring with a sacrifice fly with Davis picking up another RBI knock to push the lead to 8-2. Perlaza capped off the scoring for the Cubs with a bases-loaded walk as they took a 9-2 lead into the eighth before closing things out 9-3.
Vazquez and Mervis had the hot hand as they paced the offense with three RBIs. Davis added two hits and two RBIs, as Jared Young was the only player without a hit.
Another win! pic.twitter.com/nRSK2Viu82

— Iowa Cubs (@IowaCubs) September 14, 2023
Some might say he was mashing today… pic.twitter.com/o4rXaxc3tN

— Iowa Cubs (@IowaCubs) September 14, 2023
TENNESSEE SMOKIES 8 - ROCKET CITY TRASH PANDAS 7
Apparently, all the Smokies needed to get back on the winning track was to get some reinforcements from South Bend. That seems odd when you look at South Bend's record this season, but here we are, as the new faces have been producing in a big way this week.
Following a decent start from Brandon Birdsell, that saw the right-hander allow three runs in four innings, the Smokies bullpen relied on Angel Guzman and Porter Hodge to hold to the lead. They did that, but the back end of Eduarniel Nunez and Cayne Ueckert didn't make it easy on themselves as they allowed three ninth-inning runs to let the Trash Pandas back in the game before holding them off 8-7.
The best way to help a pitcher settle in is by scoring early and often, which is just what the Smokies did. A first-inning single from Moises Ballesteros put the Smokies on top for good, 1-0, with James Triantos and Casey Opitz using a bases-loaded walk and sacrifice fly to push the lead to 3-0 in the first. For Triantos, it was his first AA RBI after having a great showing in High-A.
Two innings later, the Smokies offense was at it again as their offense was on point early. Once again, Opitz found himself right in the middle of all the action as his two-run single made things 5-0 with an RBI single from Andy Weber extending the lead to 6-0. It was in the fourth when Rocket City finally got on the board and pushed across all three of their runs off of Birdsell as Gabe Matthews opened the scoring with a two-run single while a single from Arol Vera closed the gap to 6-3.
Tennessee continued to deliver offensively in the bottom of the fourth, with Owen Caissie picking up an RBI double for his team-leading 82nd RBI to extend the lead to 7-3, with Opitz following with a solo shot in the fifth to make it 8-3. Those would be the last of the runs for the Smokies, as it would be up to the bullpen to hold the Trash Pandas off.
For the most part, they did just that, allowing a Tucker Flint double in the seventh to make things 8-4, but go to the ninth inning still leading by four. Things got really interesting in the ninth inning as Flint added another RBI hit sandwiched between a pair of sacrifice flies from Vera and Adrian Palencia to make things 8-7. That was as close as it would get as Ueckert picked up the final out to secure another excellent win.
Ballesteros and Opitz paced the offense with three hits, but it was Opitz leading the way with four RBIs. Cassie and Nwogu added two hits as the Smokies had 13 hits as a team. Ballesteros also netted his first career AA RBI.
BJ Murray with an incredible bare-handed play to get the runner out at first! #BestYearEver #NextStartsHere pic.twitter.com/dB2OwfZ0pJ

— Tennessee Smokies (@smokiesbaseball) September 15, 2023
Casey Opitz goes 3-3 with a homerun and 4 RBI as the Smokies defeat the Trash Pandas 8 to 7! | @zips3mincarwash pic.twitter.com/65uGHgOMdB

— Tennessee Smokies (@smokiesbaseball) September 15, 2023
MYRTLE BEACH PELICANS 3 - CHARLESTON RIVERDOGS 0
Faced with a win-or-go-home situation, the Pelicans relied on strong pitching and timely hitting as they delivered a 3-0 shutout to even up the series 1-1. With Drew Gray getting the start and tossing three shutout frames with six strikeouts to set the tone, the bullpen combined to throw the shutout with him as Kevin Valdez was downright filthy.
Not only did he give the Pelicans four shutout innings before handing it to Jose Romero, but he did it with no walks and nine strikeouts as the Pelicans struck out 17 hitters in the win.
17 strikeouts. 0 runs allowed.@Pelicanbaseball dominated on the hill en route to evening up the Carolina League semis: https://t.co/Hq99mkI14X pic.twitter.com/hZ2GtLc7pX

— Minor League Baseball (@MiLB) September 15, 2023
The pitching had to be on top of their game as Marcus Johnson was dialed in for the Riverdogs, pitching into the seventh and allowing just two runs with seven strikeouts.
With the score tied 0-0 entering the fourth, Pedro Ramirez delivered the game-winning hit as his solo shot gave the Birds a 1-0 advantage. That would be all they would need, but at the time, you had to think they wanted more. That 1-0 lead held until the seventh when Andy Garriola laced an RBI double to double the advantage to 2-0. One inning later, Brian Kalmer came through with an RBI double of his own as the Pelicans forced a decisive game three on Friday with the 3-0 win.
Wake up!! The Birds are headed to game 3 of the Carolina League South Division Championship😎 pic.twitter.com/pVNaFsn9QN

— Myrtle Beach Pelicans (@Pelicanbaseball) September 15, 2023
STILL HERE.

Pelicans force a Game Three tomorrow to decide the South Division champion!#MBPelicans | #NextStartsHere pic.twitter.com/2o7fPGFlnH

— Myrtle Beach Pelicans (@Pelicanbaseball) September 15, 2023

Upgrade Your Account
Unlock premium boards and exclusive features (e.g. ad-free) by upgrading your account today.
Upgrade Now

Tags: Cubs Baseball
,
Jeremiah Estrada
,
Keegan Thompson
,
Matt Mervis
,
Darius Hill
,
Brennen Davis
,
David Bote
,
Yonathan Perlaza
,
Luis Vazquez
,
Jared Young
,
Porter Hodge
,
Eduarniel Nunez
,
Cayne Ueckert
,
James Triantos
,
Casey Opitz
,
Andy Weber
,
Owen Caissie