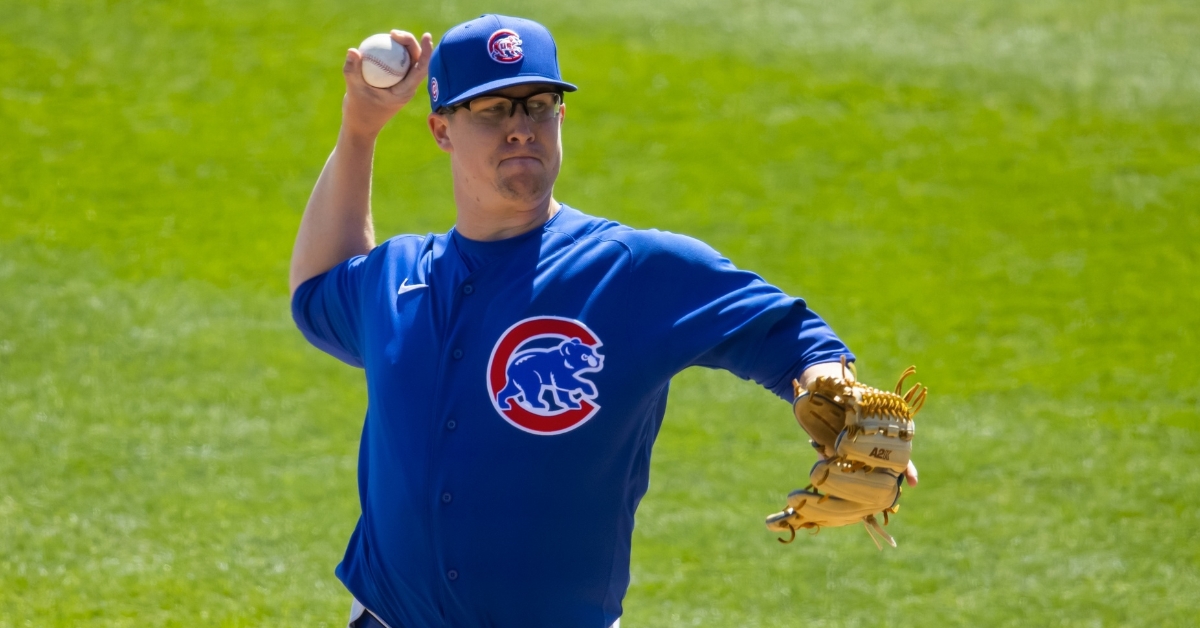 | | |
| --- | --- |
| Cubs Minor League News: Alec Mills and Dakota Mekkes impressive, Ueckert with save, more | |
---
| | | |
| --- | --- | --- |
| Saturday, May 29, 2021, 12:00 PM | | |
After posting a winless night on the farm the other day, the Cubs got back to winning some ball games, coming away with a 2-2 mark. Ironically, both wins for the Cubs came from the offense carrying the slack, even with one of those teams allowing five ninth-inning runs.
On the other hand, both losses came in shutout fashion as both the Iowa Cubs and South Bend Cubs were held to a total of five combined hits in their shutout losses. With the first month of minor league playing coming to an end this weekend, we are starting to feel what this season will bring and who are the contenders in the Cubs system.
SAINT PAUL SAINTS 4 – IOWA CUBS 0
There wasn't much to cheer about if you were a Cubs fan last night, as the Iowa Cubs were held to just one hit in the loss. That hit came from Vance Vizcaino as Griffin Jax was lights out in his six innings of work, allowing just that one hit to go with 10 strikeouts and a pair of walks.
Making his second rehab start as he recoveries from a back injury was Alec Mills, who was much better this time out. Mills allowed just two runs on five hits to go with five strikeouts and one walk in his four innings. Both runs allowed came in the third and fourth innings when Ryan Jeffers put the Saints on top for good with an RBI single ahead of the Damek Tomscha RBI ground out.
Mills gave way to Dakota Mekkes, who delivered his best outing of the season. In three innings of relief, Mekkes allowed just one hit while he struck out four in the process.
Your ?@EMCInsurance? Player of the Game is Dakota Mekkes! pic.twitter.com/OaAIasyMGT

— Iowa Cubs (@IowaCubs) May 29, 2021
Despite five strikeouts in two innings of relief for Ryan Meisinger, he was charged with the other two runs surrendering a Mark Contreras RBI double and JT Riddle in the eighth in the 4-0 loss.
Outside the Vizcaino hit, only four other Cubs were able to reach base, all on walks. Sergio Alcantara, Trayce Thompson, Taylor Gushue, and Andrew Romine earned those walks in the loss.
We'll try again tomorrow. pic.twitter.com/WhzWnzVwuG

— Iowa Cubs (@IowaCubs) May 29, 2021
TENNESSEE SMOKIES 5 – CHATTANOOGA LOOKOUTS 4
Don't look now, but the Smokies are starting to play some good baseball. While their 9-12 record may not show that, this team is starting to come together and will be getting some of their missing pieces back in the equation.
Cam Sanders has not only emerged as the ace of the staff for the time being but has pitched exceptionally all season. Last night was no different as the righty went five innings, allowing three runs (2 earned) on six hits to earn a no-decision. Ethan Roberts earned the win in relief, posting a pair of shutout innings as the Smokies rallied in the seventh to claim the win.
Tennessee was looking to strike for a big inning in the top of the second when they loaded the bases. However, they were only able to come away with one run courtesy of a Zach Davies RBI walk. The Smokies were able to extend that lead to 3-0 in the fourth when D.J. Wilson showed off the wheels with an RBI triple before coming home to score on the Miguel Amaya single.
A two-RBI Robbie Tenerowicz double in the bottom of the fourth brought the Lookouts within 3-2 before they tied things up in the fifth off the Yoel Yanqui sacrifice fly, and just like that, we had a new ball game. Moving to the seventh, and it was Wilson putting his speed on display yet again. With runners on second and third, Wilson dropped down a bunt to not only score the go-ahead run but brought home two runs giving Tennessee a 5-3 lead.
That second run proved crucial as Mariel Bautista doubled home another Lookout run in the bottom of the eighth to close within 5-4. Still holding onto that one-run lead, Cayne Ueckert retired the side in order in the ninth, picking up his first save in the Smokies 5-4 win. Tennessee had plenty of traffic on the bases, with eight different players picking up hits. Christopher Morel added two walks with his hit, but it was Davis working three walks from the leadoff role to ignite the offense.
Getting ready peace out for the holiday weekend! #SmokiesBaseball #GoSmokies pic.twitter.com/BFgpcuy3Rw

— Tennessee Smokies (@smokiesbaseball) May 28, 2021
FORT WAYNE TIN CAPS 6 – SOUTH BEND CUBS 0
Just like Iowa, the South Bend offense was silenced as they were limited to four hits in the shutout loss. Those hits came from Cole Roederer, Brennan Davis, Tyler Durna, and Bradlee Beasley, picking up one each in the loss. While the score may have been one-sided, Fort Wayne used one big inning to flip the game in their favor.
Peyton Remy got the start and continued to pitch well this season, going 3 2/3 innings to allow just two runs on three hits despite not having the best command. The first of those runs came on a Jonny Homza first-inning double before Remy uncorked a wild pitch in the fourth to put Fort Wayne up 2-0. Tanner Jesson-Dalton entered the game in relief to close out the fourth but was then hammered in the fifth.
He was charged with four earned runs in the fifth inning, with Yorman Rodriguez singling home the first of those runs ahead of a two-run double from Tirso Ornelas, making things 5-0. A bases-loaded walk later in the inning made things 6-0 as South Bend was in a big hole. That six-run lead was plenty for the Tin Caps as starter Ethan Elliot allowed two hits in five shutout innings of work with two walks and six strikeouts, while Brandon Komar earned the four-inning save, allowing two hits himself to go with six more punchouts.
Eury Ramos continues to pitch well in late-inning relief roles, going 2 1/3 scoreless innings with three punchouts as his ERA falls to 1.74 this season. Samuel Reyes also added two scoreless innings of work, adding four strikeouts in the loss. The only Cubs to reach base twice were Roederer and Durna, who added both walks to go with their hits. Nelson Velazquez and Chase Strumpf were held hitless.
On to the next one. pic.twitter.com/tzBS94M2KP

— South Bend Cubs (@SBCubs) May 29, 2021
MYRTLE BEACH PELICANS 10 – SALEM RED SOX 9
Even with some late-game drama that saw the Red Sox push across five runs in the ninth. The Pelicans continued their great series climbing back to .500 with a 10-9 win. Adam Laskey gutted it out in his 4 2/3 innings of work, allowing four earned runs, but the performance from Jose Miguel Gonzalez saved the day. He not only held the Red Sox bats in check but tossed 3 1/3 scoreless innings to give Myrtle Beach a chance to win.
Joe Davis and Nicholas Northcut gave the Red Sox an early 2-0 lead in the first, but it was time for Myrtle Beach to come back in the second. A rare RBI single from Ethan Hearn put Myrtle Beach on the board, but it was the bases-loaded Edmond Americaan walk that tied things up 2-2. After a wild pitch gave Salem a 3-2 lead in the fourth, Matthew Lugo extended that lead with a single in the fifth, putting the Pelicans down 4-2.
In the sixth, the Pelicans bats came to life as they surged in front in a big way. The second inning combo got things rolling once again, with Hearn picking up a sacrifice fly and Americaan adding an RBI single to make things 4-4. A Fabian Pertuz fielders' choice and Jacob Wetzel single put Myrtle Beach in front for good 6-4, but they were not done. After Matt Mervis made things 7-4 with a groundout, Pablo Alliendo capped off the seven-run sixth with a double as the Pelicans stormed in front 9-4.
That lead grew to 10-4 in the top of the ninth as a wild pitch gave the Pelicans another run. That run proved to be the difference as things got interesting in the ninth. With Jake Reindl on to work the ninth, his command simply wasn't there, and Salem made him pay. After Jaxx Groshans brought home a pair with a single, the Red Sox showed patience to take three consecutive bases-loaded walks pulling within 10-9. A big reason for that was Tyler
Suellentrop and his three walks, but he was able to close things out, saving the 10-9 win.
Caliendo had another great night at the plate picking up three more hits to go with his two RBIs. After making his professional debut on Thursday, Kevin Made picked up his first two hits as a pro to show the Cubs even more glimpses of the future. Hearn and Americaan added two RBIs in the win while Jordan Nwogu returned to the lineup going 0-3 with three punchouts.
GOOD MORNING. WE WON. #MBPelicans pic.twitter.com/m1zDo2QObH

— Myrtle Beach Pelicans (@Pelicanbaseball) May 29, 2021

Tags: Cubs Baseball
,
Vance Vizcaino
,
Alec Mills
,
Dakota Mekkes
,
Taylor Gushue
,
Cam Sanders
,
Ethan Roberts
,
Zach Davies
,
Miguel Amaya
,
Christopher Morel
,
Cole Roederer
,
Tyler Durna
,
Peyton Remy
,
Eury Ramos
,
Samuel Reyes
,
Nelson Velazquez
,
Chase Strumpf
,
Edmond Americaan