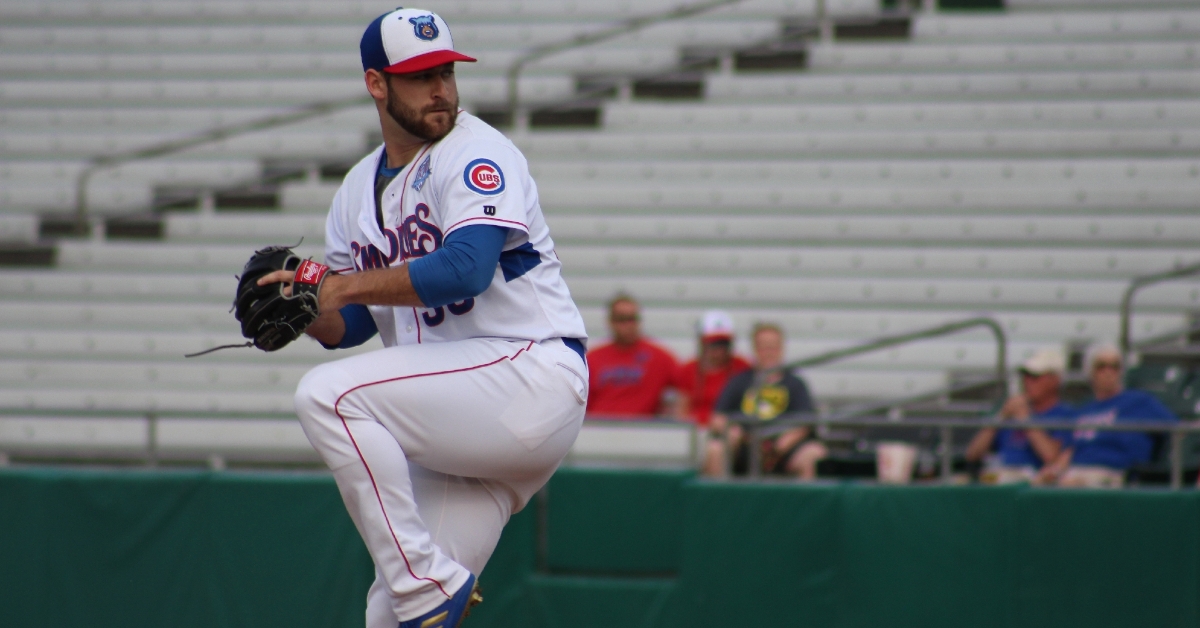 | | |
| --- | --- |
| Cubs Minor League News: Cory Abbott impressive, Descalso debut, Comeback Pelicans, more | |
---
| | | |
| --- | --- | --- |
| Friday, May 14, 2021, 3:42 PM | | |
Things were a little better Thursday night for the Cubs farmhands as they picked up a 2-2 record on the evening. Apart from South Bend, who was rocked on the evening, pitching was the theme of the night, and that is music to Cubs fans ears.
For all the criticism that this organization has taken in recent years about not developing any pitching or, at the very worst enough, starting pitching, there is help on the way. Fans have seen some of that help already this season in Keegan Thompson and Justin Steele, but there is a lot more coming.
IOWA CUBS 7 – Saint Paul Saints 3
Not only was pitching the key to the Cubs in this one, but the offense got rolling after being silenced in game two. Cory Abbott took the ball for the second time this season, allowing two runs on four hits in five innings. He walked three and struck out eight. Fortunately, he was able to pick up the victory as the offense gave him all the support he needed.
Newly acquired Trayce Thompson opened the scoring in the top of the fifth by going deep for the first time this season to give Iowa a 2-0 lead. Saint Paul responded in the bottom of the fifth on a Jimmy Kerrigan double and Nick Gordon single to draw even 2-2. Then suddenly blazing hot, Taylor Gushue gave Iowa a 3-2 lead in the sixth, but the Abiatal Avelino sacrifice fly ended up being the winning run.
P.J. Higgins added an RBI groundout to put Iowa in front 5-2 only to see Damek Tomscha hit his first of the season to close within 5-3. Sergio Alcantara capped off the scoring with a two-run eighth-inning single to lift Iowa 7-3. Along with Abbott, Adam Morgan continues to pitch well in relief as the left-hander has yet to allow a run.
With Ian Miller struggling, Thompson took over the leadoff duties last night, collecting three hits, with one being the home run. Alcantara added three hits from the ninth spot, with Gushue grabbing a pair of his own. Cameron Maybin picked up a hit for the second straight. Former Cub Daniel Descalso made his season debut with Saint Paul going 0-2 with 1BB and 1K.
We get back on track with a 7-3 win over St. Paul! pic.twitter.com/z6WTyv0vt7

— Iowa Cubs (@IowaCubs) May 14, 2021
TENNESSEE SMOKIES 0 – ROCKET CITY TRASH PANDAS 2
Despite a fantastic outing from Erich Ullman, who allowed just two runs in five innings, the Smokies offense was held to just three hits in the shut-out loss. Those hits came from Levi Jordan out of the leadoff spot, Miguel Amaya, and Grayson Byrd. Amaya also added two walks to his line as he is now hitting .348 on the season.
Both Rocket City runs came in the third and fourth inning when Michael Stefanic put them in front with an RBI ground out, and Mitch Nay added insurance with a solo shot. That was more than enough offense for them as their pitching was lights out. Dauris Valdez made his second appearance of the season, walking one and striking out one in one inning of work, while Ben Leeper remains flawless in relief. Christopher Morel had a rough night going 0-4 with a pair of punchouts.
SOUTH BEND CUBS 1 – BELOIT SNAPPERS 10
The Cubs can't wait to get out of Wisconsin as their first three games of this series haven't gone well. However, none were worse than last night as they were never in the game after allowing four runs to score in the sixth. Before that, however, fans were greeted to a great game as starter Max Bain allowed three runs in 4 2/3 innings of work before handing things over to the pen.
Matteo Bocchi was the one on the hook for allowing Beloit to settle in as he allowed four runs on three hits to go with a pair of walks in just 1 1/3 inning of work. Burl Carraway also suffered his first rough outing of the season, allowing three runs in zero innings of work without allowing a hit. His problem was command, or should we say lack of control, as he walked five batters.
Strikeout, I choose you! pic.twitter.com/VhWRJl3KRU

— South Bend Cubs (@SBCubs) May 14, 2021
Offensively, the Cubs are also struggling to get rolling as the Snappers held them to just four hits on the night. Two of those hits came from Jacob Olson as he has seen the ball well this series. Bryce Windham and Delvin Zinn added the other two hits as Windham was responsible for the lone RBI in the fifth inning with a single.
Down 2-1 after that single, Beloit grabbed a run in the bottom of the fifth on a wild pitch to go in front 3-1. However, they only continued to build from there as the bases loaded Rickey Aracena double ignited a four-run sixth before adding three more in the eight to cruise 10-1. After having Wednesday off, Cole Roederer returned to the lineup only to go 0-4 with a pair of K's. Yonathan Perlaza had a nearly identical line with D.J. Artis picking up two of the team's four walks out of the leadoff spot.
Final score tonight in Wisconsin. pic.twitter.com/yy0KPmwXFJ

— South Bend Cubs (@SBCubs) May 14, 2021
AUGUSTA GREEN JACKETS 3 – MYRTLE BEACH PELICANS 4
It is incredible what a change in managers can do as Buddy Bailey left South Bend to return to Myrtle Beach. In the process, the Pelicans are starting to believe they can win and did so with a high drama act last night. Down 3-1 in the bottom of the eighth, the Pelicans pushed across three runs to take a 4-3 lead before Bailey Reid locked things down for the save.
The Pelicans received a fine start from Sam Thoresen, who allowed just two hits in 3 1/3 innings to go with six punchouts as he combined with Alex Whitney to throw five scoreless frames accounting for nine K's. With Jose Albertos tossing a scoreless sixth, Edmond Americaan put the Pelicans in front as his solo shot gave them a 1-0 lead.
That is when things started to go south for the Pelicans as Albertos didn't finish the eight and saw Carlos Ocampo not only enter the game but yield two additional runs. A Willie Carter RBI single and Javier Valdez sacrifice fly put Augusta in front, and just like that, the Pelicans were down 3-1 following the three-run eighth.
Have no fear, Myrtle Beach fans, the Pelicans offense was in no mood to post another loss at home. Ed Howard took one for the team with the bases loaded, pushing across a second run the hard way. A Matt Mervis sacrifice fly followed that, and just like that, we had a 3-3 game. Two pitches later, Yohendrick Pinango cashed in with the go-ahead and game-winning single as the Pelicans came back to win 4-3.
Although the Pelicans only mustered five hits, they made sure those hits counted to keep innings alive and come through when needed. Pinango not only connected for the game-winner, but he was responsible for two hits and was the lone Pelican to achieve that feat. Jordan Nwogu, Americaan, and Yeison Santana added the other three hits, with Santana reaching base four times courtesy of a hit by pitch and two walks.
Howard may not have recorded a hit, but his bases-loaded hit by pitch coupled with a walk allowed him to reach base twice. Ethan Hearn and Luis Verdugo went hitless, but Hearn was able to work one of the four walks to at least reach base.

Tags: Cubs Baseball
,
Keegan Thompson
,
Justin Steele
,
Cory Abbott
,
Taylor Gushue
,
Abiatal Avelino
,
Ian Miller
,
Daniel Descalso
,
Levi Jordan
,
Miguel Amaya
,
Grayson Byrd
,
Christopher Morel
,
Matteo Bocchi
,
Jacob Olson
,
Delvin Zinn
,
Cole Roederer
,
Yonathan Perlaza
,
Jose Albertos
,
Edmond Americaan