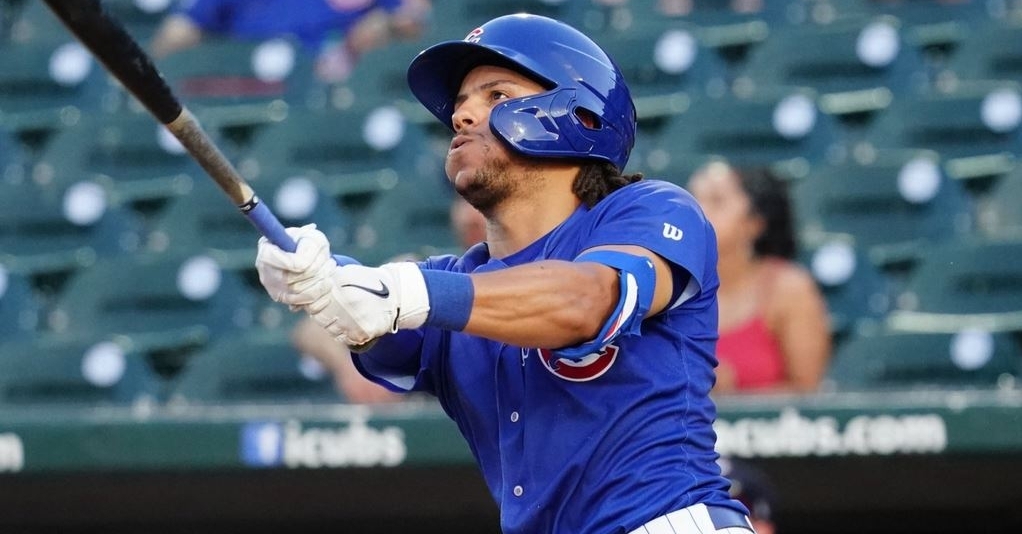 | | |
| --- | --- |
| Cubs Minor League News: Hermosillo with grand slam in loss, South Bend with walk-off win, | |
---
Wednesday night was one of the more exciting nights on the Cubs farm this season. Despite the organization going just 1-3, all three games were action-packed from start to finish and were all decided by three runs or less apart from one game.
In total, the organization pushed across 27 runs, with 22 of those runs coming from two teams. With the Cubs having an off-day Thursday, it may be an excellent time for the fans to check out some of these farm system teams and get to know the players who will be the future of this organization.
COLUMBUS CLIPPERS 8 – IOWA CUBS 4
In case you haven't guessed it, Iowa was the lone team that lost by more than three runs as the Clippers doubled them up 8-4. What made this game so strange that all the runs came in three innings, with each of those innings being multi-run innings. Matt Swarmer continues to struggle since being promoted as he lasted just 2 2/3 innings allowing six runs.
All six of those runs allowed came in the third inning when Swarmer allowed a pair of three-run homers to Oscar Mercado and Gabriel Arias to put Iowa in a huge hole. However, once Dakota Mekkes and Kyle Ryan took over in relief, they were able to keep the Clippers offense in check, giving the Cubs a chance to make some noise.
Much like the Clippers third inning, all four of the Cubs runs came in the fifth with one swing providing the damage. With the bases loaded, Michael Hermosillo ignited the crowd with his second homer of the season as the grand slam made things 6-4.
Michael Hermosillo hits a grand slam for your @GreatClips Clip of the Game, cutting Columbus' lead to two runs in the fifth. pic.twitter.com/FW950Y9sov

— Iowa Cubs (@IowaCubs) June 10, 2021
Columbus added a pair of runs later in the game off a Mercado double, and Ernie Clement sacrifice fly to pick up the 8-4 win.
Along with Mekkes and Ryan's scoreless relief appearances, Adam Morgan continues to pitch well as he too threw a scoreless frame of relief. Not only did Hermosillo provide all the offense with his grand slam, but he joined Nick Martini and Tyler Ladendorf with two hits each as they were the catalysts for the offense. Dee Strange-Gordon, Andrew Romine, and Trayce Thompson also logged hits.
Michael Hermosillo's grand slam wasn't quite enough tonight. We'll be back tomorrow at 7:08! pic.twitter.com/nEZlFMLmNa

— Iowa Cubs (@IowaCubs) June 10, 2021
ROCKET CITY TRASH PANDAS 10 – TENNESSEE SMOKIES 9
The Smokies are finding wins hard to come by as they fell to 10-20 on the season. Even after pushing across six runs in the fifth inning, three errors in the field didn't help their cause as they eventually fell 10-9. It was another short start for a Smokies starter, with Luis Lugo lasting just one inning after being tagged for four earned runs.
All the runs charged to him came in the top of the second, with Torii Hunter ripping an RBI single to put Rocket City on the board before a Mitch Nay double made things 4-0. Orlando Martinez also worked a bases-loaded walk in that inning as Lugo struggled with his command. Following a wild pitch that put Tennessee on the board in the third. The Smokies continued their comeback bid in the fourth using a Christopher Morel homer and Darius Hill single to pull within 4-3.
Sensing momentum was shifting, Ibandel Isabel had other ideas, launching a home run of his own in the fifth to pad the lead to 6-3 ahead of another Hunter RBI single making the Rocket City lead 7-3. However, it was in the bottom of the fifth when the Smokies made the most noise as they looked to cash in on the wildness on the mound.
After Grayson Byrd and Erick Castillo made things 7-5 following a bases-loaded walk and hit by pitch, D.J. Artis made his presence felt in a big way. With one swing, he not only tied things up but gave Tennessee the lead as his first homer came in grand fashion, mashing the second grand slam in the system Wednesday night.
DJ Artis' second at bat inside Smokies Stadium and he already has a grand slam! Welcome to the team, DJ! #SmokiesBaseball #GoSmokies pic.twitter.com/DgtDRG9Xyi

— Tennessee Smokies (@smokiesbaseball) June 10, 2021
Hoping that 9-7 lead would hold up for the bullpen, Nay brought Rocket City a bit closer in the sixth, before the Anthony Mulrine double in the seventh tied things up 9-9. With the score still tied in the eighth, David Mackinnon came through with a clutch RBI single giving the Trash Pandas a late 10-9 lead. Hoping for a late-game rally, Tennessee not only wasted an eighth-inning Tyler Payne double but couldn't drive in Brennan Davis, who led the ninth off with a single to fall 10-9.
Of all the pitchers used, Garrett Kelly and Cayne Ueckert were on top of their game as they tossed three scoreless innings in what was otherwise a rough night. Offensively, Hill continues to do his job from the top spot, collecting three more hits to bring his average to 330. Payne and Artis collected a pair of hits, with Morel, Davis, and Byrd rounding out the hits. Nelson Maldonado moved up to the NO.2 spot, and although he went hitless, he did draw two walks. Chase Strumpf also went hitless.
Another close night inside Smokies Stadium, but ultimately fall to the Trash Pandas. The Smokies are back tomorrow night at 7:00pm for #ThirstyThursday. #SmokiesBaseball #GoSmokies pic.twitter.com/Kwtp8biwPF

— Tennessee Smokies (@smokiesbaseball) June 10, 2021
SOUTH BEND CUBS 13 – WISCONSIN TIMBER RATTLERS 12 (12 innings)
The lone win in the Cubs system came from South Bend, but it certainly came with plenty of drama. Chris Kachmar got the start, and although he didn't make it through the fifth, didn't pitch horribly. The rest of the game was all about which bullpen wouldn't crack more, and for the Cubs, there were the ones that did just enough to win.
Wisconsin built an early 2-0 lead with David Hamilton going deep in the first before Garrett Mitchell roped a third-inning double to double the lead. However, it was in the bottom of the third when the Cubs offense got rolling, using an Edmond Americaan solo shot to jump-start them. That homer was followed by RBI singles from Nelson Velazquez and Yonathan Perlaza, giving South Bend a 4-2 lead.
A Thomas Dillard in the fifth tied things up 4-4, but once again, South Bend had the answer in the sixth, using another big inning to take the lead. It all started with a wild pitch to give the Cubs the lead before Velazquez and Perlaza singled again to make things 7-4. South Bend would eventually push their lead to 10-5 after a Josue Huma RBI double and Tyler Durna single, but it was then time for Wisconsin to provide a rally of their own.
Down by four in the top of the ninth, grand slams continued to be the story in the Cubs system. This time, it came from someone outside the system with Gabriel Garcia not only hitting the third grand slam of the night but tying things up 10-10 as South Bend was left stunned. A je'Von Ward single in the 11th gave Wisconsin a run lead only to see Bradlee Beesley respond with an RBI of his own in the bottom half of the 11th.
With LG Castillo giving Wisconsin a 12-11 lead in the 12th, it was up to the South Bend offense to come through again. With the bases loaded and two outs, Jake Slaughter came through with the biggest hit of the season as his single walked off Wisconsin 13-12 in 12 innings. Huma was the hottest bat on the night, picking up three hits in the win.
10 / 5 = 2
We have twice as many runs as Wisconsin. Happy Teacher's Appreciation Night! pic.twitter.com/MuDhJIxcVX

— South Bend Cubs (@SBCubs) June 10, 2021
Americaan, Velazquez, Slaughter, and Perlaza did most of the damage as they not only had two hits but produced eight RBIs, with Perlaza leading the way with three. Durna picked up one hit to go with his RBI while also working three walks in the win.
AUGUSTA GREEN JACKETS 3 – MYRTLE BEACH PELICANS 1
The lone game that was all about the pitching was Low-A, where the Pelicans fell to .500 following a 3-1 loss. Buddy Bailey couldn't have asked for a better outing from Manuel Espinoza as he was lights out in five innings of work. Not only did he not allow a run on just three hits, but he walked one batter to go with a career-high 10 punchouts.
Joey Estes was equally as good for Augusta, going 5 2/3 scoreless innings himself. He also allowed just three hits to go with his 11 strikeouts, as runs were undoubtedly hard to come by early. The Green Jackets put an end to the scoreless game in the bottom of the sixth using a Landon Stephens double to take a 1-0 lead.
Myrtle Beach was able to tie things up in the eight but was hoping for a lot more. With runners on the corner and no one out, Yohendrick Pinango stepped to the plate in a huge situation. Although a run came across to score, Pinango grounded into a double play tying the game 1-1 but killing the rally in the process. Unfortunately, that proved to be costly as the Green Jackets made them pay in the bottom half of the eighth.
Braulio Vasquez was facing a bases-loaded situation and two outs, cashed in with a clutch single as the Green Jackets took a 3-1 lead. The Pelicans then went down in order in the ninth, ending what was otherwise an exciting night on the diamond. Despite grounding into a double play, Pinango saw the ball well as he collected two hits.
Luis Verdugo joined him with two hits of his own, while Flemin Bautista added his own hit for the fifth and final hit. Matt Mervis and Jordan Nwogu both went hitless, but it was Nwogu wearing the golden sombrero going 0-4 with four punchouts in the loss.
Hey, at least we got to play tonight.

We'll have our second doubleheader if the week tomorrow night. #MBPelicans pic.twitter.com/WHxasD1vCV

— Myrtle Beach Pelicans (@Pelicanbaseball) June 10, 2021

Upgrade Your Account
Unlock premium boards and exclusive features (e.g. ad-free) by upgrading your account today.
Upgrade Now

Tags: Cubs Baseball
,
Dakota Mekkes
,
Kyle Ryan
,
Michael Hermosillo
,
Luis Lugo
,
Christopher Morel
,
Darius Hill
,
Grayson Byrd
,
Erick Castillo
,
Garrett Kelly
,
Nelson Maldonado
,
Chase Strumpf
,
Chris Kachmar
,
Edmond Americaan
,
Nelson Velazquez
,
Yonathan Perlaza
,
Josue Huma
,
Tyler Durna