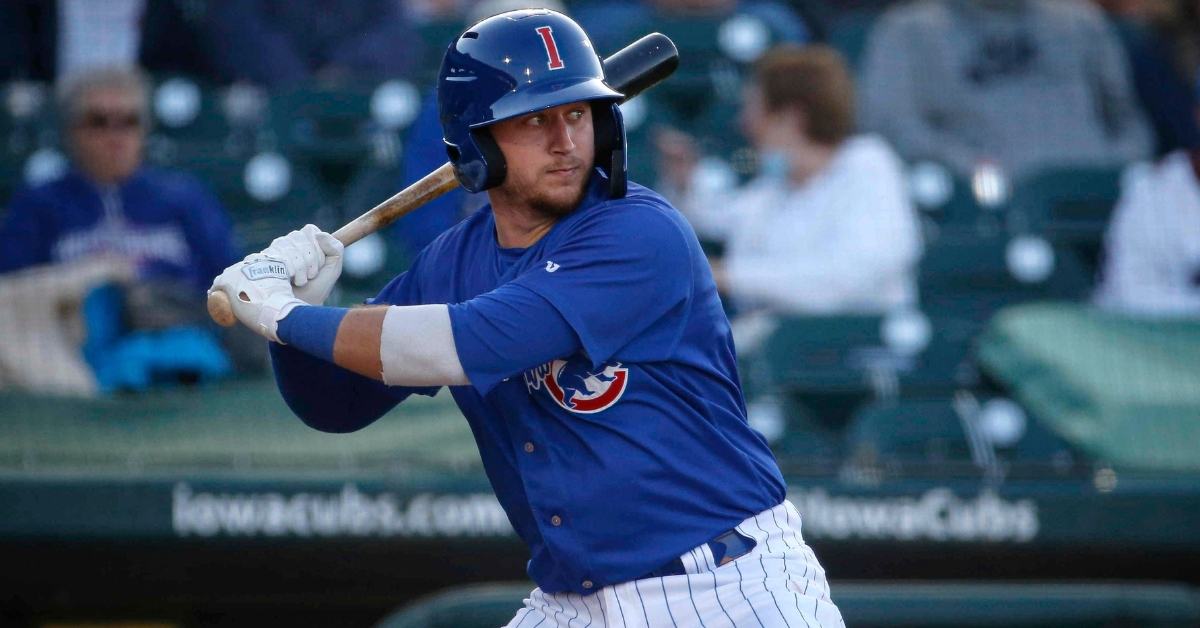 | | |
| --- | --- |
| Cubs Minor League News: Higgins impressive in blowout win, Miguel Amaya with two hits, mor | |
---
| | | |
| --- | --- | --- |
| Wednesday, May 12, 2021, 2:48 PM | | |
The Cubs Minor League system had a great showing last night, going 3-1 in action. Following a travel day on Monday, it was time for the good old switcheroo where the teams at home to start the season hit the road, whereas Myrtle Beach came home to open their home slate.
Three of the four games saw the pitching take over as it has done in both MLB and MiLB to start the season. The other game was all about offense, and that is where we will start things today.
IOWA CUBS 11 – Saint Paul Saints 1
Making his second start of the season was Joe Biagini, who certainly didn't need to be on his A-game. He lasted five innings and was nearly perfect, allowing no runs on no hits to go with six strikeouts as the Cubs offense took care of the rest with 11 runs in their first-ever meeting with the Saints.
The Cubs wasted no time getting the offense going scoring a pair of first-inning runs off a P.J. Higgins and Cameron Maybin RBI single. Maybin's single proved to be the game-winner, which no one realized at that time. Fast forward to the third inning, and the Cubs pushed across three more runs, with Taylor Gushue adding an RBI ground out ahead of the Jose Lobaton double to make the lead to 5-0.
Gushue added a fifth-inning RBI single to extend the lead to 6-0 before the Cubs offense erupted five more times in the sixth. Rafael Ortega got in on the fun with an RBI single as Higgins and Maybin followed that up with RBI doubles.
Your ?@EMCInsurance? Player of the Game is P.J. Higgins! pic.twitter.com/H5kZq0qDTc

— Iowa Cubs (@IowaCubs) May 12, 2021
Gushue capped off his huge four-RBI night with a single putting Iowa in front 11-0.
Tomas Telis put an end to the shutout bid in the eighth inning with a homer off Dakota Mekkes, but it was nowhere near enough to top Iowa with the Cubs rolling 11-1. Along with Biagini, Robert Stock pitched great in his two innings of work, allowing one hit while striking out three. Nearly every starter in the Cubs lineup recorded at least one hit, including three from Higgins and two from Maybin and Gushue. Newly acquired Trayce Thompson made his debut last night, going 0-1.
Not a bad start to the road trip! Iowa gets it done over St. Paul by a score of 11-1. pic.twitter.com/qbhtmoRGLJ

— Iowa Cubs (@IowaCubs) May 12, 2021
TENNESSEE SMOKIES 4 – ROCKET CITY TRASH PANDAS 3 (10 innings)
Perhaps the best name in minor league baseball belongs to the Rocket City Trash Pandas. Coming off a winning homestand, Cam Sanders kicked off the road portion of their schedule with a shaky but strong outing. Sanders lasted just 4 1/3 innings allowing three runs on four hits but managed to strike out seven hitters once again.
2 G, 9.1 IP, 14 K - @camsanders24 #SmokiesBaseball #GoSmokies pic.twitter.com/WsdOevBM2Z

— Tennessee Smokies (@smokiesbaseball) May 12, 2021
The trio of Scott Effross, Cayne Ueckert, and Manny Rodriguez managed to hold the Trash Pandas scoreless for the final 5 2/3 innings allowing two hits to go with eight strikeouts.
Tennessee got off to a slow start from an offensive side of things despite opening the scoring in the top of the second off a Levi Jordan solo homer. Anthony Mulrine answered with an RBI single in the bottom half of that inning before Tyler Payne went deep in the fourth to give Tennessee a 2-1 lead. However, every time the Smokies scored, Rocket City had an answer as a pair of solo shots from Izzy Wilson, and Spencer Griffin across the next two innings put the Trash Pandas up 3-2.
Jordan made sure that deficit was short-lived, connecting for an RBI single in the sixth to tie things up 3-3. With neither team able to come up with the go-ahead run-in regulation, we headed to extra innings, where Christian Donahue pushed home the go-ahead run with a sacrifice bunt in the 10th. Rodriguez then came in to strike out a pair in the bottom half of the inning to preserve the 4-3 win.
Only five players collected hits in the game for Tennessee, but four of them had multi-hit efforts, including leadoff man Zach Davis who grabbed three. Miguel Amaya joined Payne and Jordan with two hits, while Christopher Morel added the only other hit. Jake Slaughter continues to struggle, going 0-4 with three K's and is hitting just .077 on the season.
Smokies take game one against the Rocket City Trash Pandas! #SmokiesBaseball #GoSmokieshttps://t.co/SEP6i171sh

— Tennessee Smokies (@smokiesbaseball) May 12, 2021
SOUTH BEND CUBS 0 – BELOIT SNAPPERS 3
If you are a fan of pitching, then Monday in Beloit was your game as the Cubs and Snappers combined for just seven hits, with six of those coming from Beloit. Even with Peyton Remy delivering a strong five inning outing of one run on a four-hit ball, the Cubs offense was silent as they were nearly no-hit Monday night.
The winning run came across to score in the second inning when Will Banfield connected for his second homer of the season to make it a 1-0 Snappers lead. The rest of the game was all about pitching as the Cubs didn't get their hit until the top of the eight when a one-out Jacob Olson double set the offense up with a chance to score. Unfortunately, both Bryce Windham and Jake Washer struck out, leaving Olson stranded at third.
Beloit then capitalized in the bottom of the eight as a Connor Scott double and Banfield single provided all the insurance they needed to close out the 3-0 win. Brandon Hughes relieved Remy on the mound and pitched two scoreless innings of relief to go with three strikeouts. Unfortunately, Delvin Zinn saw his hitting streak come to an end going 0-4. Olson not only picked up the Cubs lone hit, but he was the only baserunner for South Bend as the Cubs struck out 14 times and didn't walk once.
Final tonight from Pohlman Field. pic.twitter.com/lU6IHD0bxS

— South Bend Cubs (@SBCubs) May 12, 2021
AUGUSTA GREEN JACKETS 2 – MYRTLE BEACH PELICANS 4
The Pelicans returned home as the final team in the Cubs system to play a home game and greeted the fans to a solid 4-2 win. The Pelicans got an ok start from Adam Laskey, who allowed two runs in just over three innings of work, but it was Joe Nahas who stole the show. In his six innings of relief, not only did Nahas not allow a run, but he didn't walk anyone to go with just one hit. Nahas also struck out six as he picked up his first win of the season.
Laskey found himself trailing immediately after the first inning after a Vaughn Grissom RBI ground gave Augusta the 1-0 lead. Two innings later saw Darius Hill stay hot, tying the game up at 1-1 following a bunt single. The very next inning, it was the Green Jackets retaking the lead as Bryson Horne ripped the go-ahead single to make things 2-1.
That score would hold up until the bottom of the eighth when the Pelicans came to bat. An Ed Howard single followed a leadoff Yeison Santana walk, and just like that, Myrtle Beach had runners on the corners with no outs. Following a massive strikeout to Jordan Nwogu, Benjamin Dum was intentionally walked to load the bases and set up a double play.
Instead, it was 2020 undrafted rookie Matt Mervis coming through as his bases-clearing double put the Pelicans in front for good 4-2. Scott Kobos finished things off from there, securing his first save of the season and moving Myrtle Beach to 3-4 with the win.
About last night!

Matt Mervis is that dude. A three-run, go-ahead, double capped of an Opening Night comeback in the 8th!@mmervis12 | @VinesPlumbingSC pic.twitter.com/Nel4kTJ8Sw

— Myrtle Beach Pelicans (@Pelicanbaseball) May 12, 2021
Hill continues to be the leader on offense picking up three of the team's five hits from the leadoff spot and drove in another run. Although hitless,
Santana did earn two walks while Howard picked up a much-needed hit. Yohendrick Pinango, Nwogu, Ethan Hearn, and Luis Verdugo combined to go 0-14 with two walks and eight strikeouts.
Worth the wait. pic.twitter.com/I7sOBYLTzL

— Myrtle Beach Pelicans (@Pelicanbaseball) May 12, 2021

Tags: Cubs Baseball
,
Taylor Gushue
,
Rafael Ortega
,
Dakota Mekkes
,
Robert Stock
,
Cam Sanders
,
Scott Effross
,
Levi Jordan
,
Christian Donahue
,
Zach Davis
,
Miguel Amaya
,
Christopher Morel
,
Peyton Remy
,
Jacob Olson
,
Brandon Hughes
,
Delvin Zinn
,
Darius Hill