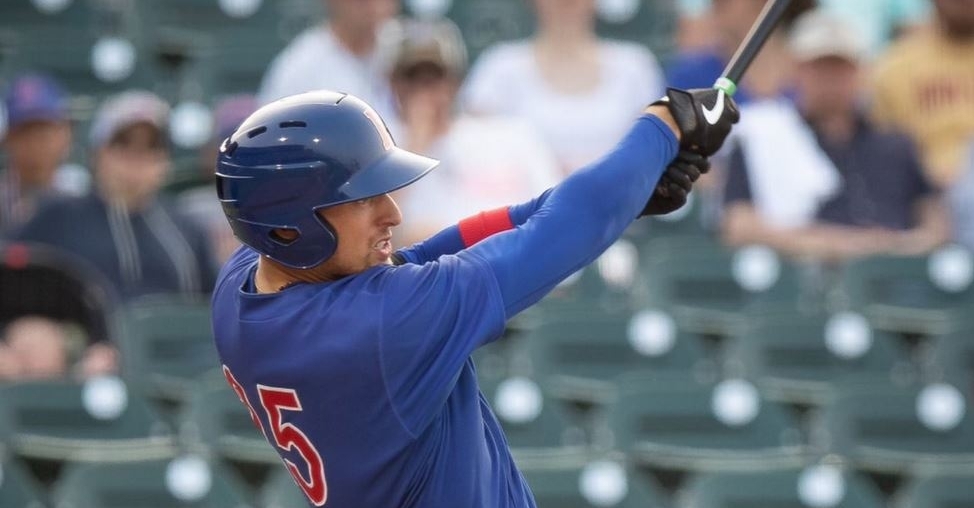 | | |
| --- | --- |
| Cubs Minor League News: Thompson with two homers in I-Cubs loss, Hearn with grand slam, mo | |
---
| | | |
| --- | --- | --- |
| Sunday, September 12, 2021, 9:18 AM | | |
As fans remembered what occurred 20 years ago on 9/11, they also realized what happened last year during COVID when minor league baseball elected not to play an entire season. With everything that goes on in the world daily, baseball is one of the few things that bring people together and spread joy across so many families.
There is a reason why this great sport is called America's pastime. It has been around for over a century, and no one will argue how much this sport means to them. Minor League baseball is the same way as so many communities lost one of their most significant economic gains last season as there was no baseball to enjoy. Through all the struggles this season has brought, they have gotten through it and continue to push through.
TOLEDO MUD HENS 21 – IOWA CUBS 4
Talk about an ugly series for Iowa. This game sums it up as Iowa got lit up by the Mud Hens on Saturday. Joe Biagini got the start and set the tone for the day as he allowed six runs in just one inning. He gave way to Blake Whitney, who was even worse, allowing seven runs in one inning as the pitching was nowhere to be found on Saturday.
Part of the issue Biagini had in his start was keeping the ball in the yard as he allowed three first-inning homers. Daz Cameron hit the first to put the Mud Hens up for good 1-0 as former Cubs prospect Isaac Paredes connected for a three-run shot extending the lead to 4-0. Add in the Ryan Kreider sacrifice fly, and a homer by Josh Lester, and the Mud Hens held a 6-0 lead through one.
The offensive onslaught continued in the second, with Cameron picking up his second homer in as many at-bats. Kody Clemons picked up an RBI double later in the inning along with a Kreider homer, and just like that, the Cubs were trailing 13-0 after two. That lead grew to 17-0 in the fourth, with Clemons adding another RBI double in the third before picking up a bases-loaded walk in the fourth mixed with a wild pitch.
It took the Cubs four innings to finally score, and even at that point, there weren't many positives to take away. Trayce Thompson hit his fourth homer of the season and joined the 20-homer club in the process, but Iowa still trailed 17-2.
Number 20 on the season for Trayce Thompson is your @GreatClips Clip of the Game! pic.twitter.com/xyXGlfrrDE

— Iowa Cubs (@IowaCubs) September 12, 2021
In the fifth inning, Thompson added his second homer of the day to push the lead to 18-2 before Andrew Romine returned to AAA, grabbing an RBI groundout to make things 18-3.
Clemons added another RBI in the eighth, as did another former Cubs prospect in Zack Short with his RBI double as the lead grew to 21-3. Thompson capped off the scoring with his second homer of the game in the bottom of the eighth as Toledo wins 21-4. Along with Thompson and his two homers, Abiatal Avelino had a two-hit game as they were responsible for half the team's hits. Greg Deichmann also added a hit.
We wish this was a typo. See you in 12 hours for the series finale! pic.twitter.com/x1pw4MHo54

— Iowa Cubs (@IowaCubs) September 12, 2021
TENNESSEE SMOKIES 4 – CHATTANOOGA LOOKOUTS 2
As difficult of a time as it has been for the Smokies over the last week, they have a week left to finish the season on a high note, and that got off to a good start with a win on Saturday. Anderson Espinoza continues to pitch at a high level since his promotion to AA, giving the Smokies 4 2/3 innings of one-run ball with four strikeouts as his ERA sits at 1.86. Alex Katz earned the win in relief, while Scott Kobos secured the two-inning save and has yet to allow an earned run with Tennessee.
Runs have been hard to come by for Tennessee in this series, but Harrison Wenson wanted to make sure that wouldn't be the case today. With one swing in the second, Wenson put the Smokies on top for good as his second homer with Tennessee gave them an early 2-0 lead. Looking to battle back in the fourth, Chattanooga cut the lead in half with a TJ Hopkins RBI single only to see Luis Vazquez grab an RBI double to put the Smokies back up two.
Moving to the seventh, you had the Lookouts with an excellent opportunity to tie the game only to come away with an RBI groundout from Chuckie Robinson to close within 3-2. That would be as close as they would get with Grayson Byrd picking up an RBI single in the seventh to cap off the Smokies 4-2 win. Byrd led the way on offense with a pair of hits to go with his RBI as seven players recorded a hit in the game.
SMOKIES WIN!! See you all tomorrow for Fan Appreciation Day presented by US Bank! #SmokiesBaseball #GoSmokies pic.twitter.com/vBobEeeW9d

— Tennessee Smokies (@smokiesbaseball) September 12, 2021
BELOIT SNAPPERS 4 – SOUTH BEND CUBS 0
This has not been an easy series for the Cubs, especially on offense. Not only were they shut out for the second time in the series, but Yonathan Perlaza picked up the team's lone hit as they were nearly no-hit on Saturday. That is disappointing when you think about it as Chris Clarke delivered a fine outing on the mound.
Still searching for his first win, Clarke went a career-high seven innings on Saturday, allowing three runs on eight hits and strikeout out four. His ERA sits at 4.23 but is inflated with one bad start. Hunter Bigge closed out the game for South Bend and allowed a run in one inning of work.
Clarke did a great job of minimizing damage several times as he was hit hard in a couple of innings. The first inning RBI single from Troy Johnson proved to be the difference as the Cubs offense was nowhere to be found. That would be all Clarke allowed until the sixth when Victor Mesa connected for an RBI double to make things 3-0. In the eighth, a Jan Mercado single off Bigge capped off the scoring in the 4-0 Snappers win.
Chris Clarke goes seven innings, the longest outing by a South Bend starter this season, but South Bend is shut out by the Snappers. pic.twitter.com/Dt5mtHHTpd

— South Bend Cubs (@SBCubs) September 12, 2021
MYRTLE BEACH PELICANS 5 – CHARLESTON RIVERDOGS 2
The Pelicans used a four-run sixth inning to not only take the lead from Charleston, but pull away as they climbed closer to the .500 mark with the win. Daniel Palencia is getting close to being the pitcher he wants to be after an impressive no-decision outing. Palencia went 4 2/3 innings allowing just one run on four hits while striking out seven. He didn't qualify for the win as that went to Luis Rodriguez, who lowered his ERA to 1.42 following 4 1/3 innings of one-run ball with six punchouts.
The lone run Palencia gave up came in the first inning as Charleston grabbed an early lead. After loading the bases on a pair of singles from Diego Infante and Matt Dyer mixed in with a walk, Palencia recovered and limited the damage allowing just the Alexander Ovalles sacrifice fly. From that point on, he was solid as he allowed the offense to do great things.
The first of those great things came in the fifth inning when the Pelicans tied the game off a Fabian Pertuz homer. One inning later saw Myrtle Beach cash in with the big blow as Ethan Hearn connected for the game-winning grand slam, putting the Pelicans on top 5-1. Charleston added another sacrifice fly off the bat of Jelfry Marte in the seventh, but it wouldn't be enough as the Pelicans win 5-2.
Myrtle Beach may have had just five hits, but they made the most of those hits with Pertuz and Hearn going deep for homers. Felix Stevens, Casey Opitz, and Josue Huma all had hits as the team worked seven walks in the game.
Big W! We'll go for the series tie tomorrow evening. #MBPelicans pic.twitter.com/vWJDMFAP1B

— Myrtle Beach Pelicans (@Pelicanbaseball) September 12, 2021
ACL CUBS 9 – ACL ATHLETICS 2
The Cubs offense came to life late for the second game in a row, scoring seven times over the final three innings to pick up another win. Making his season debut was 2021 third-round pick Drew Gray who looked good. Gray allowed just one hit to go with four strikeouts in two innings as the Cubs were happy to see him on the mound. Fellow rookie and ninth-round pick Chase Watkins followed him up, tossing three scoreless frames to earn the win as he has yet to allow a run this season in four outings.
The ACL will be the league to watch going forward as most of the Cubs 2021 picks are starting to file in. That includes second-round pick James Triantos who has been here awhile and continues to produce using a two-run single in the second to give the Cubs the lead 2-0, and they never looked back. Triantos put the game away in the third inning as his RBI double not only extended the lead to 3-0, but proved to be the winning run. Add in a Ronnier Quintero RBI single, and the Cubs held a 4-0 lead.
It took six innings for the Athletics to score, but Marcos Brito ensured things would remain close as his RBI double cut the Cubs lead in half, making it 4-2. That was until the seventh inning when the Cubs scored five times, taking a close game and turning it into a one-sided affair. Kevin Alcantara was the first to cash in, delivering an RBI triple before coming home on the Yovanny Cuevas single to make things 6-2.
Edgar Camargo doubled home a pair with two men on base to extend the lead to 8-2 before the Juan Mora RBI double gave the Cubs the 9-2 win. Triantos had the hot hand offensively, going 3-5 at the plate with three RBIs. Mora, Cuevas, Ismael Mena, and Camargo all added multi-hit efforts in the Cubs 13-hit barrage.
James Triantos - 3/3 with 3 RBI today....it's only the 5th inning. He's going to be so .... Excuse me, he already is so good!

Card made from a pic by @biest22 pic.twitter.com/xCznskNdbm

— Todd ?????? (@CubsCentral08) September 11, 2021
DSL CUBS RED 7 – DSL CUBS BLUE 4
Sparked by late runs that included four runs over the final four frames, the DSL Cubs Red were able to erase an early deficit and came away with a 7-4 win. Oddly enough, Red jumped on Blue early, wasting no time in the first inning to get things rolling. With a Moises Ballesteros single putting them on top 1-0, Raino Coran doubled that lead with an RBI groundout before a wild pitch had Red on top 3-0 after one.
Looking to make their own statement in the early going, Blue started their comeback effort in the second using a Leonel Espinoza steal of home and the Daniel Ferreira single to pull within 3-2. One inning later saw Cristian Hernandez go deep for the fifth time in 2021 to tie things up 3-3 before Espinoza gave Blue a 4-3 lead with an RBI single.
Cristian Hernandez...Yard! #5 pic.twitter.com/FmKQX6bpVW

— Todd ?????? (@CubsCentral08) September 11, 2021
In the fourth, Red started to become beneficial on offense as Andrews Cruz picked up a sacrifice fly to tie the game 4-4. A wild pitch in the fifth saw Red grab the lead for good 5-4 before Cruz added his second sacrifice fly in as many trips in the sixth to pad the lead at 6-4. Still not done scoring in the seventh, Ballesteros added a second RBI as Red ended the game with four unanswered runs to win 7-4.
Leading the way for Red was Ballesteros, as he collected half of the team's four hits to go with two RBIs. Blue had much better luck in terms of hits, with Cristian Hernandez, Wally Soto, and Frank Hernandez all finishing with two hits.