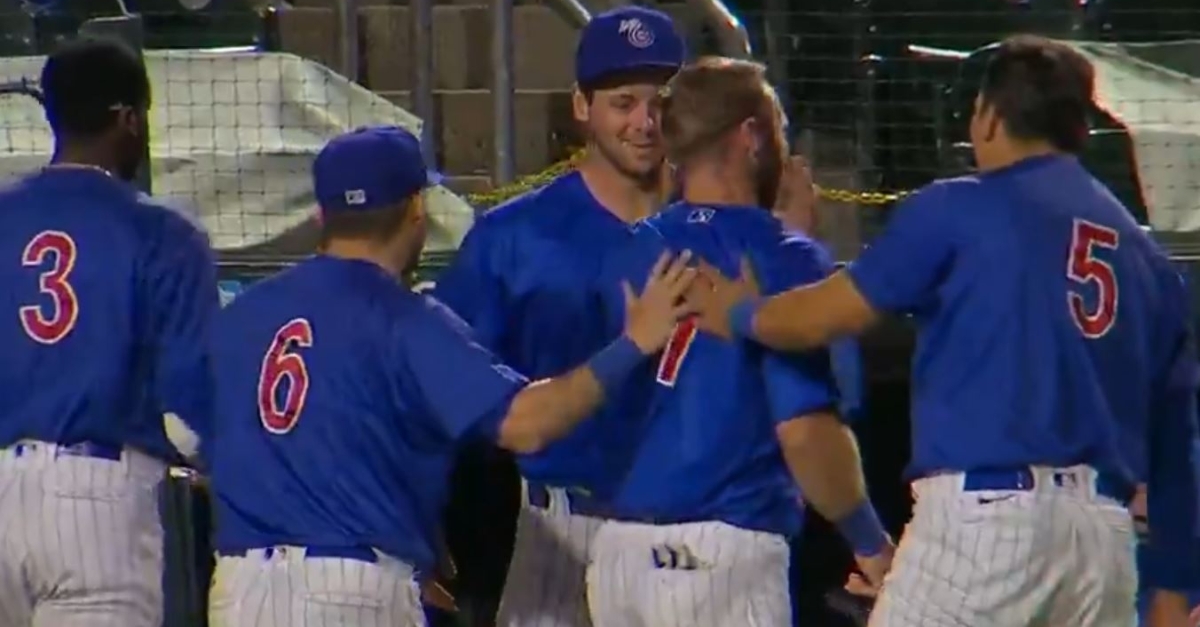 | | |
| --- | --- |
| Cubs Minor League News: Walk-off win for Iowa, Maybin homers, Kohl Stewart impressive, mor | |
---
| | | |
| --- | --- | --- |
| Saturday, May 8, 2021, 11:52 AM | | |
The minor league season is now four games in, and there is a lot to like about it so far. The games are competitive, the players are playing better than I expected, given they lost a year of action last year, and a lot of the organization's top prospects are starting to show their worth in front of fans.
This year, with a short season, it is essential that every player within the organization capitalizes on their opportunities this season. Losing one season is bad enough, but should they not capitalize on their chances this year, it would be like losing two years of development. The Cubs system had a great day last night, going 3-1 on the diamond.
INDIANAPOLIS INDIANS 3 – IOWA CUBS 4 (10 innings)
In the first extra-inning game in the Cubs system, the Cubs were able to walk off the Indians 4-3. Offseason acquisition Kohl Stewart was very impressive on the hill. In his five innings, not only did he allow one run on one hit, but he walked one and struck out nine.
There may not be a hotter hitter in AAA right now than Rafael Ortega, who continued to go about his business. Not only is he hitting .500, but his two-run shot in the bottom of the first gave Iowa a 2-0 lead which they held on to until the sixth.
Rafael Ortega gives Iowa a 2-0 lead over Indy with his third home run of the season! pic.twitter.com/jJghsO5ttl

— Iowa Cubs (@IowaCubs) May 8, 2021
Will Craig go the Indians on the board with an RBI groundout in the top of the fourth before doubling home a pair in the sixth to put Indianapolis on top 3-2.
It took a while for Cameron Maybin to get going so far this season, but he came through in a big way in the eighth. His solo shot not only tied the game up 3-3, but it was his first hit of the season as the teams played to a 3-3 tie and headed to extra innings.
CAMERON MAYBIN ??!! Tie game heading to the ninth! pic.twitter.com/jLYqde99oj

— Iowa Cubs (@IowaCubs) May 8, 2021
With Jake Jewell on the mound, he did what he needed to do to send the game to the bottom of the tenth, where a passed ball allowed Andrew Romine to score and gave the Cubs a 4-3 win.
Walk-off win for Iowa in extras! Great way to cap off another fun night with @WatchMarquee. #GoCubsGo pic.twitter.com/mW6QLIO8Ey

— Iowa Cubs (@IowaCubs) May 8, 2021
Adam Morgan made his second appearance of the season, striking out two in his inning of work as he continues to pitch well. Ian Miller continues to lead off, picking up a walk to keep his on-base streak going. Ortega, Maybin, P.J. Higgins, and Jose Lobaton each collected a hit in the win, with Abiatal Avelino recorded two hits in the win.
What a night for @IowaCubs starter Kohl Stewart, his night is finished after 82 pitches.

5.0 IP | 1 H | 1 R | 1 ER | 1 BB | 9 K pic.twitter.com/MlsUwniAc0

— Scott Changnon (@ScottyChags) May 8, 2021
MONTGOMERY BISCUITS 8 – TENNESSEE SMOKIES 13
Talk about bringing the lumber, both the Biscuits and the Smokies combined for 21 runs in what was an exciting offensive showing from Tennessee. Erich Uelmen got the start, and although he didn't last long pitched well. Scott Effross, on the other hand, did not, as he allowed four earned runs in less than two innings of work.
Offensively, Miguel Amaya getting things started as his RBI groundout in the bottom of the first tied the game up 1-1. Tennessee brought the thunder in the bottom of the fourth when Christopher Morel homered for the first time to make things 2-1. A Tyler Payne RBI triple extended the lead to 3-1 before coming home to score on a Connor Myers single.
Cal Stevenson made sure that the three-run deficit was short-lived as his grand slam in the top of the fifth gave Montgomery their second lead of the day, 5-4. However, Tennessee had a bases-loaded opportunity of their own in the bottom of the fifth, and Payne cashed in with a bases-clearing double to make things 7-5. Payne led the way for the Smokies offense picking up four RBIs on two hits.
RBIs from Morel and Jared Young in the bottom of the sixth added to the Smokies lead as they were now in front 10-5.
Christopher Morel hits a monster homerun his first AA homer. @cubprospects pic.twitter.com/NnC15vEW7N

— Down on the Farm (@DownontheFarm8) May 8, 2021
A pair of Biscuit homers in the final three innings made things interesting, but the Tennessee offense was too much in the 13-8 win.
Although Amaya went hitless, he did drive in another run, and his walk keeps his on-base streak going. Morel went 1-5 with those two RBI's while Payne was one of four players who had a multi-hit effort in the win. Jake Slaughter made his first appearance this season and went hitless in his AA debut.
Even with a Montgomery grand slam, the Tennessee Smokies take game three of the series! Join us inside Smokies Stadium tomorrow for Superhero night! #SmokiesBaseball #GoSmokies pic.twitter.com/cRix5SkzxJ

— Tennessee Smokies (@smokiesbaseball) May 8, 2021
QUAD CITY RIVER BANDITS 8 – SOUTH BEND CUBS 6
Despite posting three different two-run frames, the South Bend Cubs couldn't overcome a Quad City offensive explosion topping the Cubs 8-6. Derek Casey got the start and was looking to build off his impressive 2019. Unfortunately, it wasn't the start he was hoping for, allowing six runs in three innings, although only four were earned. With four walks and three strikeouts, his command was an issue.
Following a Tyler Gentry first-inning double that had the Cubs down 1-0, Quad City busted things open with a three-run second as they now led 4-0. South Bend cut that deficit in half as Jacob Olsen ripped an RBI double before coming home to score on a passed ball to make it 4-2. Unfortunately, that was as close as the Cubs would get for a while as they scored four unanswered runs over the next three innings to take an 8-2 lead.
South Bend closed within four in the bottom of the seventh when Chase Strumpf picked up his third double of the season, followed by a Cam Balego RBI single. The comeback attempt continued in the bottom of the eighth with a Reivaj Garcia RBI single and Cole Roederer sacrifice fly, and just like that, it was 8-6. The Cubs wouldn't get any closer, as they were retired in order in the ninth.
Roederer and Strumpf each had one hit and one RBI in the game while they combined to reach base five times. Delvin Zinn continued his blazing start with a pair of hits as Olsen joined him in the two-hit category. Burl Carraway made his second appearance of the season, tossing a scoreless ninth inning to go with a strikeout.
We may have fallen short of a comeback... but fireworks make everything better.
We'll see you for late afternoon baseball later today!!
Gates open at 2pm. First pitch at 4:05pm. pic.twitter.com/OjckLdIBOn

— South Bend Cubs (@SBCubs) May 8, 2021
MYRTLE BEACH PELICANS 6 – CHARLESTON RIVER DOGS 4
It took four games, but Buddy Bailey was finally able to pick up his first win since returning to Myrtle Beach 6-4. Richard Gallardo got the start and struggled through one inning of work, allowing three earned runs. However, across the next eight innings, the Pelicans pitching was solid, allowing just one more run, with Jose Albertos earning the win with three strikeouts in 2 2/3 innings of work.
Heriberto Hernandez was the one that chased Gallardo as he connected for a three-run shot in the first to put Myrtle Beach in a 3-0 hole. Speaking of the long ball, Ryan Reynolds connected for his first of the season in the second inning, cutting things to 3-1.
HE'S OUR SUPERHERO

Ryan Reynolds triples to bring home two runs and put the Birds in the lead.

Myrtle Beach 5, Charleston 3 in the middle of the third#MBPelicans pic.twitter.com/CXmD37lEUK

— Myrtle Beach Pelicans (@Pelicanbaseball) May 8, 2021
Myrtle Beach continued to bring the bats with a big second inning as they not only took the lead but didn't look back.
Ed Howard started that big inning with an RBI single as it was his second RBI hit of the season. A Yohendrick Pinango not only tied things up at 3-3 but moved Howard to third in the process. Both of those runners came home to score on the Reynolds triple as Myrtle Beach now lead 5-3. That score held up until the top of the sixth when Edmond Americaan went deep for his first homer of the season to make things 6-3.
The bats are ALIVE tonight!

Edmond Americaan goes deep for his first homer of the season.

Pelicans 6, RiverDogs 3 in the middle of the sixth. #MBPelicans pic.twitter.com/2mjNRxktKt

— Myrtle Beach Pelicans (@Pelicanbaseball) May 8, 2021
Looking to close things out in the ninth, Bailey Reid ran into some trouble as Charleston was rallying. Logan Driscoll was able to pick up an RBI single to make things 6-4, but Reid wouldn't allow anything else settling down to preserve the 6-4 Myrtle Beach win.
Despite his three-strikeout day, Howard did pick up another RBI as his growing pains are evident. Pinango picked up his first multi-hit game of the season, while Ethan Hearn went 0-4 with three punchouts in the loss. Darius Hill also continued his hitting streak by going 1-5 but also struck out three times.
That's a Pelicans W!!

Let's do it again tomorrow, yeah?#MBPelicans pic.twitter.com/ebUN8YdrZ4

— Myrtle Beach Pelicans (@Pelicanbaseball) May 8, 2021

Tags: Cubs Baseball
,
Kohl Stewart
,
Rafael Ortega
,
Jake Jewell
,
Ian Miller
,
Abiatal Avelino
,
Erich Uelmen
,
Scott Effross
,
Miguel Amaya
,
Christopher Morel
,
Connor Myers
,
Jared Young
,
Derek Casey
,
Chase Strumpf
,
Cam Balego
,
Cole Roederer
,
Delvin Zinn
,
Richard Gallardo
,
Jose Albertos
,
Ryan Reynolds
,
Edmond Americaan
,
Darius Hill