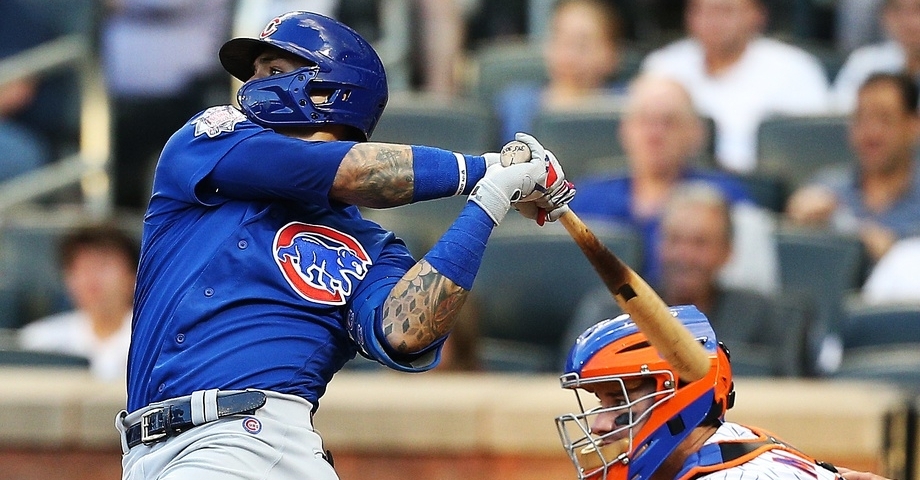 | | |
| --- | --- |
| Cubs News: 2021 Season Report Cards: Javy Baez, Sergio Alcantara, Andrew Romine | |
---
| | | |
| --- | --- | --- |
| Saturday, October 9, 2021, 8:10 AM | | |
Of all the positions that the Cubs seem to be locked in for the future at the beginning of the 2021 season, shortstop appeared to be it, with Javy Baez on the diamond. Strikeouts and average aside, Baez was the one player on this roster that continued to produce even when the offense struggled to get things done. Take away 2020, and Baez improved from a power number side of things every season from 2015 on and was on pace for that again this season.
That was until the Cubs went on an 11-game losing streak that took them from first place in the division and dropped them to third and seven games out. From there, it was free fall mode as the front office made it clear that they would be selling off their assets which included Baez, on deadline day. This was a move that hurt, especially when looking at how important he became to the Cubs.
The only silver lining with the deal was that they received a top 20 major league prospect in Pete Crow-Armstrong and the Cubs have a plethora of shortstop prospects in their system. Four of them are ranked in the top 20 and five inside the top 30, so the Cubs will continue to be set at this position.
Here are our shortstop grades for the year:
Javy Baez
Baez continues to be a polarizing yet puzzling major league superstar for one reason and one reason only. While his power potential is off the charts, Baez simply has no knack or knowledge of the strike zone and goes down on strikes rather ugly in the process. That has been the one issue fans have had with him, and many fans are happy to see him gone because of it.
However, despite the struggles to take walks and his high strikeout rate, Baez continues to produce at a high level as he hit .265 this season with 31 homers and 87 RBIs. The thing that stands out the most about that is that Baez was hitting .226 at one point in July before putting it together. He finished his Cubs tenure with a .248 average with 22 homers and a team-high 65 RBIs.
What he did with the Mets really impressed and ultimately may have saved him the big contract he was seeking. After a miserable first few weeks, Baez managed to hit .345 over his final 30 games with the team to finish at .299 with the Mets. Although the nine homers and 22 RBIs were down in terms of power, he still played at an elite level, much like he was doing when he raised his average 22 points over the last three weeks with the Cubs. Baez was getting locked in before the trade, and it would have been nice to keep him around and extend him.
Season Grade B+: Baez always has the potential to earn an A grade when you combine the power, speed, defense, and overall understanding of the game. However, the low OBP and high strikeout rate will always take away some of his Zen. Baez is a great player and will continue to be one of the best players in the game today.
However, people will continue to crucify him, and rightfully so for those strikeouts. If there were some way he could cut down on the strikeouts or at the very least lay off the tough pitches, he would be an MVP candidate every season because all the tools are there.
Sergio Alcantara
The player who benefitted the most from Baez getting traded was 25 year old Sergio Alcantara. Acquired from the Detroit Tigers this offseason, Alcantara bounced between AAA and the Cubs before settling into the everyday shortstop the final five weeks of the season.
While playing with Iowa, Alcantara had an amazing season batting leadoff and hitting a .305 with three homers and nine RBIs across 25 games. He also walked 21 times and struck out just 23 as the baseball looked like a beachball. When it came his time to contribute with the Cubs, Alcantara struggled but figured out a way to bounce back and play well.
From an offensive side of things, Alcantara hit .205 to go with five homers and 17 RBIs, displaying more power than they expected. His 30 walks were a positive sign, but the 74 strikeouts were a bit high. In the field, Alcantara had a rough go of things at second base, committing seven errors there compared to just four at SS. Four of his errors at second came in one game as he otherwise played solid defense while displaying a cannon of an arm.
Season Grade C+: Alcantara was a bit of an unknown type of player when he got called up, but now that the Cubs have seen him, he is exciting to watch. I love the way he plays, and his arm on the infield is one of the best in baseball. It was good to see him get the starts he got this season. Granted, he may not be a long-term starter, Alcantara does have a role on this team in the future as a bench player who can fill in for both second and short when needed.
Andrew Romine:
Another player who benefitted from Baez being dealt at least for a few weeks was veteran journeyman Andrew Romine. Older brother of the catcher Austin Romine, the two of them savored every moment of playing together as this was the first time they played together on a major league roster. Because of that, David Ross made sure to give them several memorable moments, such as Andrew pitching to Austin during a blowout loss in August.
Not much of a hitter, Romine struggled to see playing time consistently as he hit just a .183 with one homer and five RBIs across 26 games on the North Side. That was a little disappointing when you look at his minor league numbers as he put together a great campaign with Iowa to earn the call-up. In 61 games with Iowa, Romine hit .290 with one homer and 17 RBIs. His ability to put the ball in play is ultimately what earned him the call.
Season Grade D: There isn't much to grade Romine on this season, mainly because he didn't even play a month in the bigs. However, with 15 starts, he earned a small enough sample size to earn a grade, which wasn't good. Romine proved why he has bounced around the league as long as he has, as he just hasn't been consistent enough to stick on a roster.