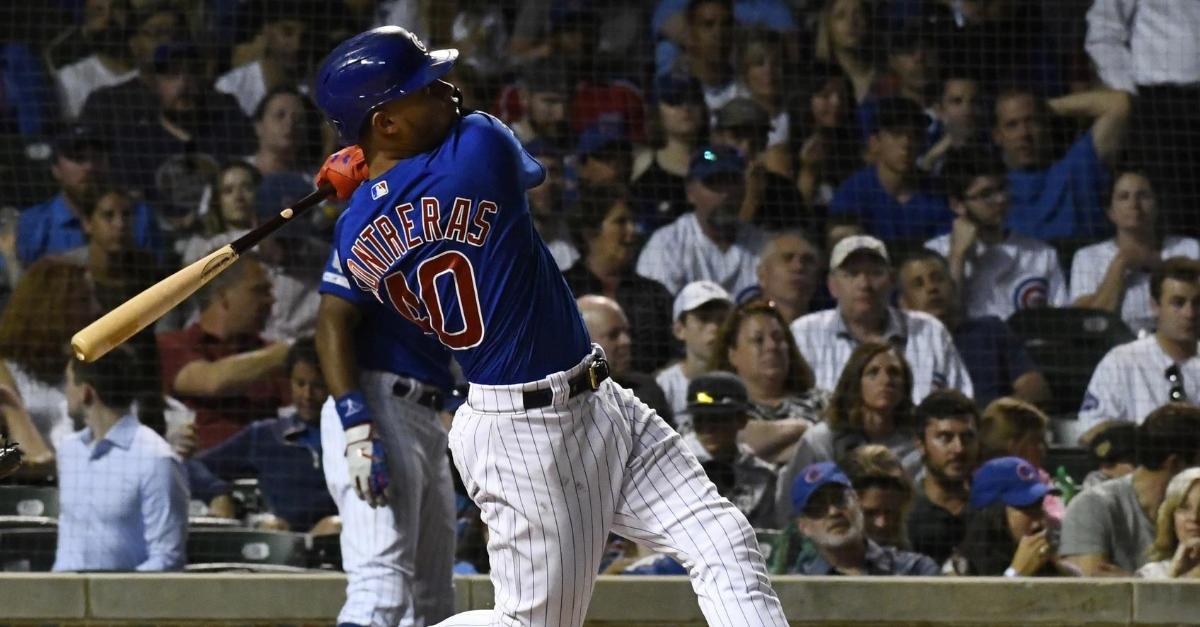 | | |
| --- | --- |
| Cubs News: 2022 Season Prediction: Willson Contreras, Yan Gomes, more | |
---
| | | |
| --- | --- | --- |
| Tuesday, March 15, 2022, 9:20 AM | | |
Now that baseball is officially back and spring training games start this week, it is time to go through our annual season projection series. This has been something we have done the last several years at CubsHQ, and it is always fun to see what we project instead of how they finish a season.
The first position we will touch on today is the catcher position which is one of the rare positions on this team that has little competition. Willson Contreras is the starter, and Yan Gomes is the backup. The only question is how many games does Gomes get, and will Contreras finish this season with the Cubs, or will he get extended for additional years?
If Contreras is indeed traded or not re-signed, this will be an interesting position to follow next year as the Cubs have Miguel Amaya and others waiting in the wings to take over the catcher role. For now, these are the two guys that will handle the catching duties as the Cubs try to avoid what happened last season when they used nine different catchers.
Willson Contreras
Unless he is traded, Contreras will be the Cubs opening day catcher and will be as close to an everyday starter as you can get. Outside of Yadier Molina, I find it hard to believe that anyone catches the number of innings Contreras does, which takes a toll on your body.
Regardless, he is entering his seventh year on the MLB roster and 11th year with the organization if you go back to when he was signed via the international market. A third baseman by trade, Contreras moved to catcher in 2014 and has been holding down that position ever since. It wasn't until the 2015 season that he put himself on the map, which was followed by a call-up in 2016.
From that moment on, you have gotten one of the better offensive catchers in the game as he has averaged 18 homers with 57 RBIs since 2017 while carrying a respectable .265 average. The average has gone down in recent seasons, which is a concern, but the toll of catching so many games does affect the mental side of things as the Cubs need to give him some additional rest. Having the DH will help with that this season.
Prediction: 79 games, .275 average, 10 homers, and 39 RBIs
When looking at those numbers, you immediately say that is a down year, or he is hurt. Neither of those falls into this equation because I feel he will get traded at some point this season as the Cubs will look to maximize what they can get for him.
Offensive catchers do not come around too often, so to have one available on the trade market will have teams flocking to the Cubs, which works in their favor. Fans would love to see him stick around for many more years, but it doesn't seem likely as the Cubs will look to get all they can get out of him now before flipping him in July.
Yan Gomes
Last season, the Cubs brought in Austin Romine to back up Contreras as he had the makings of being the perfect backup. After getting injured just two weeks into the season and failing to return until August. That set the tone as the Cubs used nine different catchers last season. Robinson Chirinos was their final catcher and, for the most part, gave the Cubs all you could ask for in a backup.
With a new season, the Cubs once again addressed their backup catcher needs and brought in veteran Yan Gomes to do that. Not much of an offensive guy; Gomes has a niche on this team where he kills Right-handed pitching and can play both first base and catcher. That allows the Cubs to move him around and plug him in at the DH rule. Gomes has also had the opportunity to start behind the dish, where he has worked wonders in the past.
Prediction: 96 games, .254 average, nine homers, and 37 RBIs
Gomes will get plenty of opportunities behind the dish this season if they trade Contreras. However, look for him to get a fair amount of starts at first base as the Cubs are going to want his bat in the lineup against right-handed pitchers.
These are the type of moves that contending teams make to shore up their bench. No one is calling the Cubs a contender right now, but they are making some sneaky good pickups this offseason, and Gomes is one of them. If he can stay healthy, the Cubs did an excellent job as he fits the mold of what this team wants to be.
P.J. Higgins
If Amaya hadn't gotten hurt last season, there is no question that he would be up at some point in 2022. However, after not having a season in 2020 and seeing his 2021 season cut short due to injuries, you have to believe that the Cubs will monitor his progress more closely this year. That leaves Higgins as the first minor league option to reach the major league roster after getting his first taste last year.
A .278 career minor league hitter, Higgins struggled in his first crack at MLB pitching, failing to record a hit before injuring his forearm midseason. Now healthy and back to work, Higgins will look to use those struggles as motivation and try to reach the majors again in 2022.
Prediction: 34 games, .250 average, 0 homers, and 5 RBIs
A lot of this hinders on Contreras and what his future holds, but as mentioned, I feel he will be out at some point this summer. That will force the Cubs hand to call someone up, and Higgins makes the most sense. He is the most experienced backup in the minors, but he had a brief stint in the bigs in 2021, so it makes sense for that reason also.
Should he reach the majors, don't expect him to play a ton as he would fill the role Gomes had while Gomes steps in to fill the role Contreras had. Regardless, Higgins will give the Cubs some added depth, and his defensive skills and pitch framing ability will help a lot of their young pitchers develop, especially since he caught most of them before.