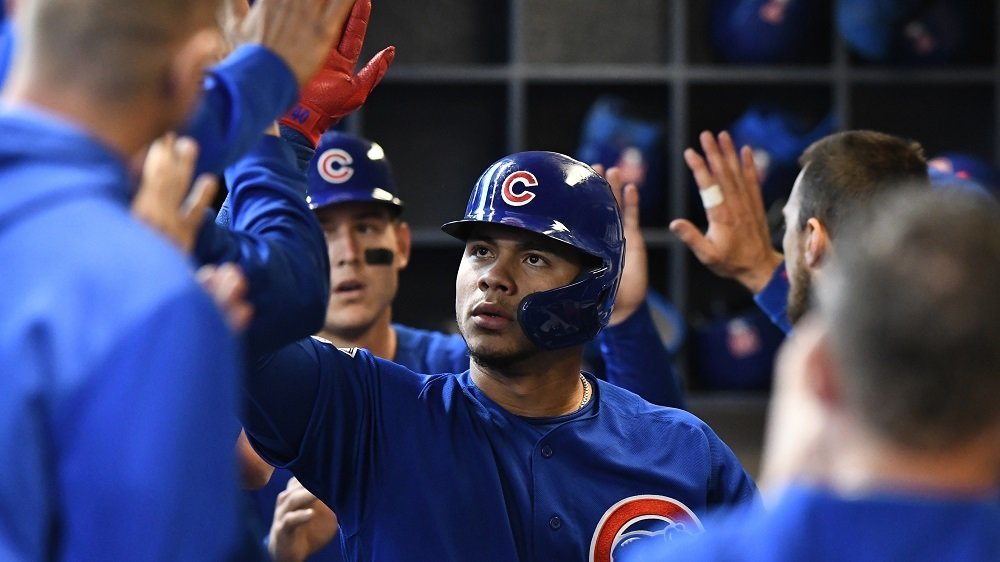 | | |
| --- | --- |
| Cubs News and Notes: Astros eyeing Willson Contreras, Nico Hoerner in 2020, Hot Stove | |
---
| | | |
| --- | --- | --- |
| Friday, December 6, 2019, 8:20 AM | | |
Astros interested in Contreras: Theo Epstein may be doing a lot of wheeling and dealing at the Winter Meetings, including sitting down with the Astros to talk about Willson Contreras. The Astros have reportedly been interested since last season, and now with Chirinos and Maldonado gone, they certainly have a hole to fill behind the plate.
Hoerner's role in 2020: Neither Jed Hoyer nor Theo Epstein have defined what Nico Hoerner's role will be in 2020, probably because they can't – at least not yet.
After skipping right past Triple-A Iowa to join Chicago, Hoyer says that that they were amazed with Nico's performance, though had it not been for an injury to Dixon Machado, Nico probably wouldn't have gotten the call to come up.
"Clearly he exceeded our expectations in that spot. What that means going forward, I can't answer at this point. But I think it's safe to say we hold him in incredibly high regard and whatever number of games in September that he played in — I'm still incredibly impressed that he can go from being at home to starting the next night and performing the way he did." -Jed Hoyer on Nico Hoerner
Now that he's been there, Hoerner, himself, remarked that he felt the best place for him to continue to learn and accel was at the Major League level, but obviously the decision is out of his control.
"We haven't figured that out yet. "I think you could make strong arguments on both sides, whether he should be part of the club on Opening Day or a little bit more seasoning [in the minors]. I think a lot will depend on what else we do and yeah, sure, what type of spring training you have might be a factor as well. We're not at the point where we're ready to make that decision yet, but we're open-minded." -Theo Epstein
Obviously, a lot will depend on who the Cubs may sign or trade for, but I think they're missing the boat if they decide to send Hoerner back to the minors to start the season. There is one problem though – the Cubs are in a bit of a catch-22 here. Going forward with the notion that Hoerner will start in the majors next season may dissuade the team from looking at an experienced middle-infielder, not a good plan if Hoerner fails to reproduce what he did in 2019. On the other hand, signing a high-dollar piece may prove to be a waste of money if either (a) Hoerner could have performed or (b) the newly acquired "star" fails to shine.
A tough decision needs to be made, but Nico may just be that one-in-a-million who'd be worth taking a chance on. With the current state of the Cubs' finances, capitalizing on an extremely talented, league-minimum-salary player seems to make sense.
Proposed trade: In a subscription-based article, Jim Bowden of The Athletic laid out a proposed trade for the Cubs involving Whit Merrifield. The Cubs would send outfield prospect Brennen Davis and RHP pitching prospect Cory Abbot to KC, in exchange for Merrifield.
Both Davis and Abbot show a ton of potential, but even combined, they fall far short of what it'll take to sway Merrifield from the Royals. KC has already stated that it would take an insanely high price to acquire Whit, his controllability and his extremely team-friendly deal and I just don't see a pair of prospects cutting it. Not that one of the two prospects (or both) wouldn't be required, but until Theo wants to pony up someone like Kris Bryant or Willson Contreras, this deal goes nowhere.
Cole Hamels: While most thought that a reunion between Cole Hamels and the Phillies was a very likely possibility, reports have now surfaced about what the Phils offered their former ace – and wow, did they ever try to lowball him. Believe it or not, Philly offered Hamels just $9M for a year, literally half of what he got from Atlanta.
Addison Russell: It didn't take long for teams to start showing interest in former Cub, Addison Russell, who was non-tendered by the Cubs this week.
Tigers Interested In Addison Russell https://t.co/zr0WxHsKzW pic.twitter.com/NfTUXmBjta

— MLB Trade Rumors (@mlbtraderumors) December 6, 2019
Cubs' Birthdays: Celebrating yesterday, were ex-Cubs Cliff Floyd (47), Mike Mahoney (47), and posthumously, Bobby Mattick (104), Gus Mancuso (114), Dick Cogan (148), and Oliver "Patsy" Tébeau (155).
Baseball Quotes: "I love to take my cuts, but I hate to take a third strike. Cause when you do, it's a real long walk back to the dugout." -Jimmy Foxx
You win not by chance but by preparation. -Roger Maris pic.twitter.com/a5eKAVsS7x

— Baseball Quotes (@BaseballQuotes1) November 5, 2019
MLB and the Hot Stove
NL Central News:
Brewers: The Brewers have acquired Mariners' catcher, Omar Narvaez.
Brewers get offense with Omar Narvaez acquisition but -18 defensive runs saved made him 2nd worst catcher last year to Diaz of Pirates, who was let go. @GregJohnsMLB 1st with th trade from Mariners

— Jon Heyman (@JonHeyman) December 5, 2019
The Brewers have also signed righty Justin Grimm to a minor league deal with an invite to Spring Training.
Cardinals: Count St. Louis as one of the teams now interested in Madison Bumgarner. According to one unnamed baseball exec, MadBum may be signed (by someone, not necessarily the Cards) prior to the start of the Winter Meetings.
If the #STLCards do bid for MadBum, they'd seem to be an attractive option: NL, winning history, etc. @Feinsand https://t.co/u8hzQACGsV

— Jon Heyman (@JonHeyman) December 5, 2019
Reds: The Reds and Mike Moustakas made it official yesterday, formally announcing the four-year/$64 deal.
From the Rest of MLB:
Orioles/Angels: Baltimore and the Angels have struck a deal, sending righty Dylan Bundy to Los Angeles. In return the O's will obtain MiLB righties Isaac Mattson, Zach Peek, Kyle Bradish and Kyle Brnovich.
The O's have also signed infielder Dilson Herrera to a minor league deal, with a presumed invite to Spring Training to be included.
Cole to the Yanks? NY met with Gerrit Cole this week but admitted that they feared the pitching ace preferred the west coast; not so, says Cole.
In the meetings with the mega free agents, teams identify ways to make the player feel most comfortable -- and along those lines, Andy Pettitte was part of the Yankees' contingent that sat down with Gerrit Cole. A very familiar face in HOU, where Cole pitched the last two years.

— Buster Olney (@Buster_ESPN) December 5, 2019
Blue Jays: According to GM Ross Atkins, the Jays are far more inclined to pick up free agents than to acquire players in trade this winter. Atkins says whether or not they strike gold, they've already touched base with just about every big name out there.
Mets/Astros: NY has acquired Astros' outfielder Jake Marisnick. In return, the Astros will get LHP Blake Taylor and OF Kenedy Corona (both minor leaguers).
Padres: According to reports, San Diego is likely to pursue KBO's newly posted lefty, Kwang-Hyun Kim.
Twins: Minnesota has re-signed starter Michael Pineda to a two-year/$20M deal.
Angels: Add the Angels to the list of teams who've now met with Stephen Strasburg.
The deal sending Tommy Pham from the Tampa Bay Rays to the San Diego Padres is done, sources tell ESPN. Outfielder Hunter Renfroe and middle-infield prospect Xavier Edwards head back to the Rays. Padres will get another minor leaguer.

— Jeff Passan (@JeffPassan) December 6, 2019