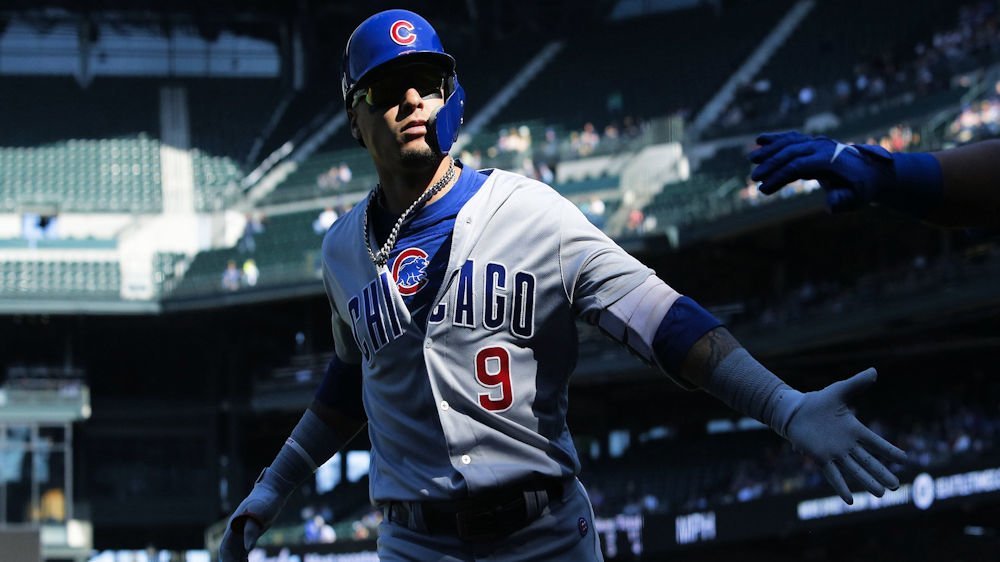 | | |
| --- | --- |
| Cubs News and Notes: Baez's arbitration, Bryant watch, Nico Hoerner, Hot Stove, more | |
---
CUBS NEWS AND NOTES
Next Game: Next Game: 47 days – Saturday, February 22, 2020: Athletics vs Cubs (Sloan Park)
Opening Day: 80 days – Thursday, March 26, 2020: Cubs vs. Brewers (Miller Park)
Javy's arbitration: Javier Baez (along with a handful of other Cubs' players) is due for arbitration this winter. The deadline for both sides to exchange figures is January 10th, with the arbitration hearing period set for February 3rd through 21st if no deal has been reached.
Baez is projected to earn $9.3M in arbitration unless, of course, the Cubs can iron out the long-term extension that they're hoping for. Other Cubs due for arbitration are Kris Bryant ($18.5M), Kyle Schwarber ($8.M), Willson Contreras ($4.5M), Albert Almora Jr. ($1.8M), Jharel Cotton ($800k) and Kyle Ryan ($1.1M)
What are you most looking forward to in 2020? pic.twitter.com/2Gyze3ToVf

— South Bend Cubs (@SBCubs) January 5, 2020
Third base watch: It looks like the Twins – once thought to be the frontrunner to land Josh Donaldson – may be pulling out of the race. Donaldson is now asking for an insanely high $110M over four years, and Minnesota has grown "pessimistic" about their chances of signing him, according to Phil Miller of the Minneapolis Star-Tribune.
Does a four-year, $100-110 million dollar deal seem fair for Josh Donaldson? #Braves | #Nationals | #Twins pic.twitter.com/w1MtgNcLyc

— MLB Network Radio on SiriusXM (@MLBNetworkRadio) January 5, 2020
Those of you who don't want to see Kris Bryant traded – especially to the Nationals – will enjoy this.
Is Kris Bryant the #Nationals next third baseman?

Not if the price is Victor Robles.@Jim_Duquette | @JimBowdenGM pic.twitter.com/FvVxSew4qq

— MLB Network Radio on SiriusXM (@MLBNetworkRadio) January 5, 2020
Time to prioritize whether the Nats would rather have a strong replacement at third for Rendon, or whether they retain Robles who'd provide additional years of solid coverage in center. The Nats need a third baseman; the Cubs need a centerfielder; who will budge first? The Nats took one step toward shoring up the hot corner when they signed Asdrubal Cabrera. However, reports say that they are still considering Josh Donaldson, which would indicate that they aren't fully confident in Cabrera's ability to carry the team defensively at third.
Is Theo asking too much for Kris Bryant? In an NBC Sports Chicago article written by David Kaplan, the Kapman spoke to former GMs and high-ranking baseball execs – on the condition of anonymity – about the Cubs and Kris Bryant. If there's any way to sum up the piece in one sentence, it's that sometimes the truth hurts.
One, unnamed exec certainly thinks so. "The Cubs' asking price for Bryant is a joke," a former GM said. "They want nearly ready major league talent at the level of a Gleyber Torres type or close, and there is no chance a team is going to give them a package of those caliber of players.
"I like Bryant, but he is not a Top 30 player in baseball, in my opinion. He is mediocre at best as a defender at third base. His swing has changed dramatically since 2016, and I question if he is truly 100% healthy. Sure, he has ability, and he is a big, strong man, but his offensive impact is nowhere close to what he looked like when the Cubs won the World Series."
According to Kaplan's article, multiple baseball execs echoed the same sentiment, and this is the same position that I've taken about KB over the past couple of years. Bottom line: He's become overrated.
"I like Bryant, but he is not a player that I would pay $30-plus million a year for. He and Scott Boras are going to want a massive deal, and I would never commit to that type of commitment at this point in time." – anonymous baseball exec, speaking with David Kaplan
Next up, Javy Báez nearly gets picked off.pic.twitter.com/D2ufhDwxd6

— Cut4 (@Cut4) January 5, 2020
"Speaking to people around the game, Kaplan found real skepticism that Bryant remains the foundational superstar he was in 2016. That hasn't stopped the Cubs from asking for the moon, with the same being true of their asking price for Willson Contreras." -TC Zencka- MLB Trade Rumors
Theo to the HOF? Citing the same article by David Kaplan, one of the execs had this to say about Theo Epstein, his mission and the state of the Cubs: "However, if there is one guy I would trust to figure a way out it is Theo Epstein. He will be in the Hall of Fame someday, and while I don't think he will still be there in Chicago in three years, there is no way when his time is up there that he wants to leave Chicago like this."
Nico Hoerner: CubsHQ's Dustin Riese wrote an interesting article about Potential 2020 NL Rookies of the year and named Nico Hoerner as a possible contender. I'd have to agree 100% with Dustin on this one, as all Hoerner is going to need is consistent playing time and the ability to stay healthy.
I knew when the Cubs drafted him from Stanford in June of 2018 that this kid was going to pay huge dividends for Chicago, and I have been touting that opinion ever since. Between Addison Russell's issues (including a demotion to Triple-A) and Javier Baez's injury, the Cubs were almost forced to bring up Hoerner earlier than expected, but the kid never made anyone sorry for that decision.
In 82 plate appearances (78 official at-bats) in 2019, Hoerner compiled a slash line of .282/.305/.436, while adding a double, a triple, three dingers, 17 RBI and three walks (10 strikeouts), all while providing solid defense. Hoerner has said himself, that the best place for him to continue to grow, would be to continue to play at the Major League level. Cocky? Not a bit. Confident? You better believe it.
If the Cubs managed to land Victor Robles in a deal for Bryant, it would most likely set Hoerner back, especially when you consider that they still have Robel Garcia, Daniel Descalso, Tony Kemp and Ian Happ to fill in at second. This could be the one reason that I say to Theo, "Hang on to Bryant – at least for a little while."
Once Hoerner has a chance to strut his stuff daily, I think the Cubs will find that they spent a disproportionate amount of time looking for a second baseman who can hit. As for that Rookie of the Year Award, I think Hoerner has more than a legitimate shot.
Let's get this event sold out! January 15th in Chicago! https://t.co/nkGz651Mzi

— Ian Happ (@ihapp_1) January 5, 2020
Nailed it: Dodgers' current president and part-owner, Stan Kasten, sums up the Dodgers' quiet offseason, but his words may speak volumes for Tom Ricketts, Theo, and the Cubs.
"There are metrics in business that are mostly private that we look at, and I'd say we feel successful there," Kasten said. "But there's no question that all of us who are competitive, from every owner that has a piece of the team to the junior people in the front office, we're laser-focused on winning the World Series….It's obviously not about what you spend, it is about the moves you make, the decisions you make. I think questioning those things, criticizing those things, that's absolutely fair. But just to say there's a [payroll] number you need to hit and if you don't hit it you're not trying, that's just silly."
What a great couple days in the Bahamas covering the @MLB Play Ball event put on by @_TIsaacs10 and @l_fox24. Followed up by the @DontBlink242 on the beach. Great job by my @MLBNetwork crew getting all the coverage! Thanks to all the players that showed to support! Well done! pic.twitter.com/Zzmy5LFZJs

— RyanDempster (@Dempster46) January 5, 2020
Cubs' Birthdays: Celebrating yesterday, were ex-Cubs Ramón Tatís (47), Chris Nabholz (53), Jeff Fassero (57,) Danny Jackson (58), Henry Cotto (59), Bob Dernier (63) and posthumously, Rubén Quevedo (41), Daryl Robertson (84), Riggs Stephenson (122), Chuck Wortman (128), Ervin "Zaza" Harvey (141), Bill Dahlen
Baseball Quotes: "It's the players' minds and their ability to use them. That's what makes the use of a bat, a ball and a glove, brilliant. Baseball is nothing more than another classroom in the educational process. Really, baseball is a metaphor for life." -Augie Garrido
Ted Williams shares some hitting tips ?? pic.twitter.com/si6nMp9RSm

— Baseball Quotes (@BaseballQuotes1) January 3, 2020
MLB and the Hot Stove
Sunday was a quiet day for the Hot Stove, but there was news that that Los Angeles and Cleveland have been discussing a trade for Mike Clevinger this offseason, but to date, no progress has been made.
Angels Interested In Mike Clevinger https://t.co/awXQcIY8ni pic.twitter.com/nzEaoW4iYp

— MLB Trade Rumors (@mlbtraderumors) January 6, 2020

Tags: Cubs Baseball
,
,
,
Kyle Schwarber
,
Willson Contreras
,
Albert Almora Jr
,
Kyle Ryan
,
Addison Russell
,
Robel Garcia
,
Daniel Descalso
,
,
Theo Epstein