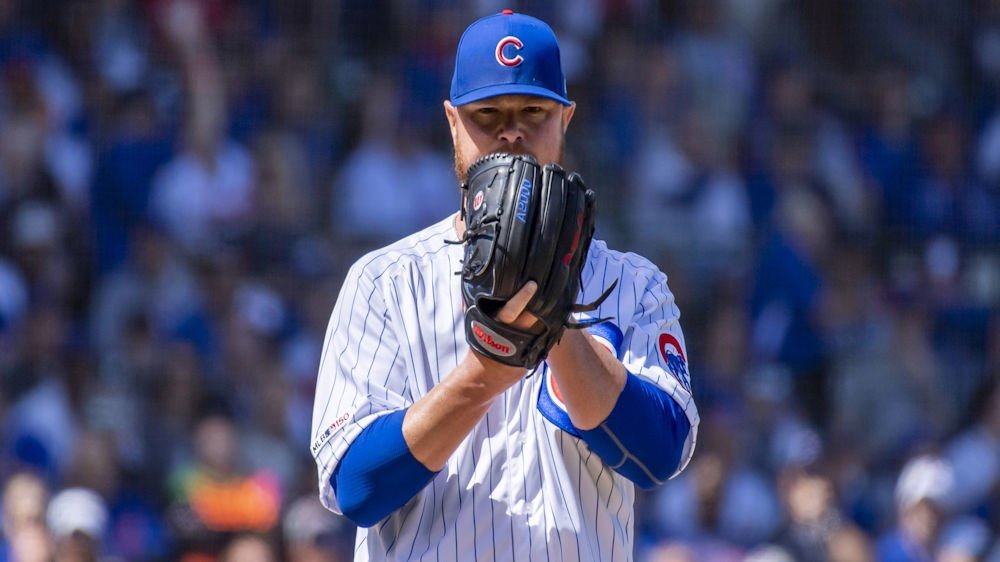 | | |
| --- | --- |
| Cubs News and Notes: Countdown is on, Lester's contract, Third base watch, Hot Stove, more | |
---
| | | |
| --- | --- | --- |
| Tuesday, December 17, 2019, 6:17 PM | | |
CUBS NEWS AND NOTES
The countdown is on: Unlike last winter, this offseason seems to be cruising by, but it never seems to go by fast enough – especially since the Cubs didn't even make the postseason. We've now reached the 100-day mark until Opening Day (March 26th) and I'm more than a little ready.
It was another day of status quo in Wrigleyville. The Pirates named a pitching coach and the Cardinals … well, they just named another new pitcher.
December 17, 2019
While fans continue to remain divided on the Cubs strategy this winter – or lack thereof – it occurs to me that while a good portion of the fans are waiting for news of that Kris Bryant, Willson Contreras or Kyle Schwarber trade, an equal amount are probably at home, wiping their foreheads, thankful that nothing happened again.
Change is coming, it has to be – the question is when?
This should be the final week of normal business operations before the Cubs shut it down for the holidays, leaving just over a month to get things accomplished when they return.
Jon Lester: Patrick Mooney ( The Athletic ) wrote an interesting article this morning (subscription only), entitled, "As the cost of pitching skyrockets, a look at where the Cubs and Jon Lester stand." The article covers the whirlwind pace at which pitchers are signing for the big-bucks, while guys like Lester are just towing the line.
"I have no-trade [rights]. I have a contract that I signed, and I'll abide by that contract until I'm done. I know I have next year and then an option, so if that option comes up, we'll figure it out. But I put my name on that dotted line. I'm not walking away from anything. I'm not a quitter by any means, so I'll be here next year if they want me. If they suggest for me to stay home, then we'll have that conversation. But otherwise, like I said, I signed that line with the intention of playing six years [here]." -Jon Lester
The Hot Corner: According to reports, the Nationals "are now driving the market for Josh Donaldson," making a trade with the Cubs for Kris Bryant look more and more unlikely.
While it isn't yet known if there is a formal offer on the table, the Nats are being described as "aggressive" in their pursuit for JD. According to MLB's Jon Heyman, Washington is "prepared to bid upwards of $90M on a four-year term."
On the Donaldson market: #Dodgers still in, but teams in bidding fear #Nationals will go big on either a four-year deal or three-year contract with a high AAV. A four-year deal would extend through Donaldson's age 37 season.

— Ken Rosenthal (@Ken_Rosenthal) December 17, 2019
Cubs' Birthdays: Celebrating today, were ex-Cubs Juan Mateo (37), David Kelton (40), Marvell Wynne (60), and posthumously, Bill Hutchinson (160).
Baseball Quotes: "I think baseball has such a way of humbling you. You can go 20-20, and before you know it, you're going through an 0-30. It was a way of knocking you back down to earth." -Chipper Jones
I could probably throw harder, but why? When they're in a jam, pitchers try to throw harder. Me, I try to locate better. -Greg Maddux pic.twitter.com/LkvoqCc6jM

— Baseball Quotes (@BaseballQuotes1) December 16, 2019
MLB and the Hot Stove
NL Central News:
Cardinals: The Cardinals have reached a deal with free-agent left-hander Kwang-hyun Kim. This is a two-year/$8M contracts with up to $1.5M each year available in incentives.
New #STLCards hurler https://t.co/R2ujktXBYO https://t.co/GEJZc6Addj

— MLB Trade Rumors (@mlbtraderumors) December 17, 2019
Pirates: Pittsburgh has hired Oscar Marin to serve as their new pitching coach, replacing Ray Searage.
Reds: The Reds have reached an agreement with free agent reliever Wade Miley. This is a two-year/$15M deal.
Free-agent left-hander Wade Miley in agreement with #Reds on two-year, $15M contract, pending physical, sources tell The Athletic. Deal will reunite him with his former pitching coach in Milwaukee, Derek Johnson.

— Ken Rosenthal (@Ken_Rosenthal) December 17, 2019
From the Rest of MLB:
Astros: Once on the Cubs' radar this offseason, Joe Smith has now re-signed with Houston. The Astros have brought Smith back on a two-year deal with an $8M guarantee.
Twins: Minnesota has re-signed reliever, Sergio Romo to a one-year/$4.75M deal with an option for 2021. The option is valued at $5M and comes with a $250k buyout (max value $9.75M over two years).
Expectation within industry is Ryu will exceed Bumgarner's $17M average annual value in deal of at least four years. Two industry people with knowledge of starting-pitching market predict minimum four years, $80M. Teams still in need of starter include #BlueJays; #Angels; #Twins.

— Ken Rosenthal (@Ken_Rosenthal) December 17, 2019
Rays: Tampa has signed 3B/OF Yoshitomo Tsutsugo to a two-year deal.
Angels: According to reports, the Halos are interested in trading for Tigers' LHP Matthew Boyd, but no deal is close.
Royals: KC has signed RHP Braden Shipley to a minor league deal.
#BlueJays' deal with RHP Shun Yamaguchi is for two years and just over $6M, plus performance bonuses. Pending a physical.

— Ken Rosenthal (@Ken_Rosenthal) December 17, 2019