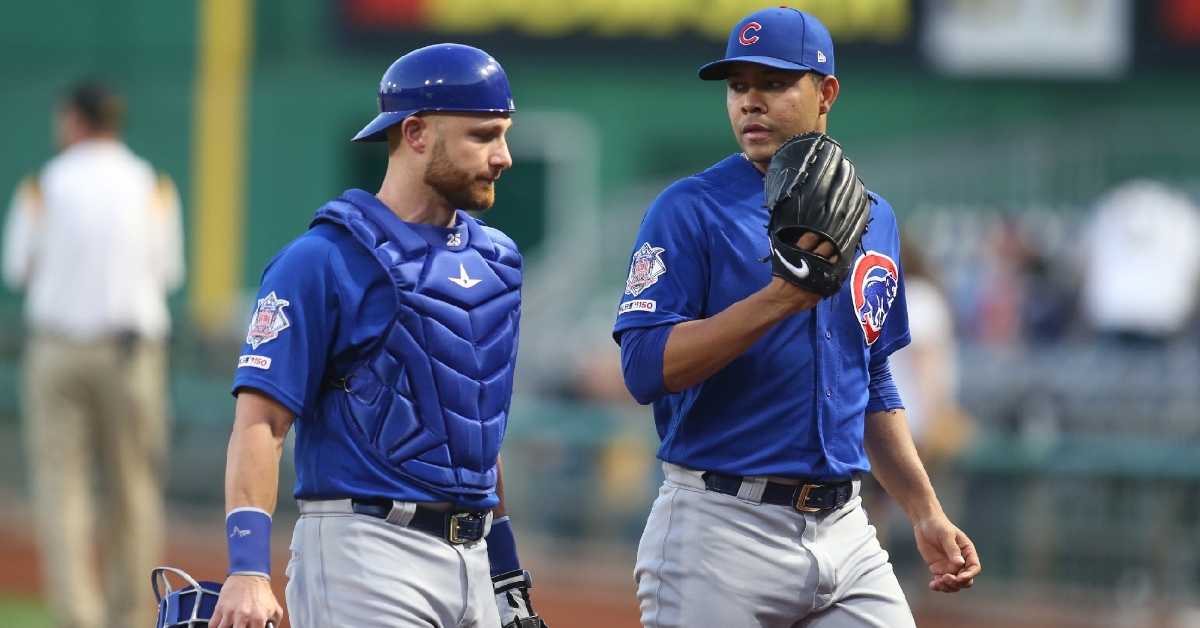 | | |
| --- | --- |
| Cubs News and Notes: Cubs lose again, The 'B' team, Theo speaks, Maddon's future, more | |
---
Next Game: Friday: Alec Mills (1-0, 2.90 ERA) vs RHP Dakota Hudson (16-7, 3.45 ERA). Game information: 7:15 PM CDT; Televised on WGN.
Thursday's Game Recap:
It was one thing to be swept by the Cardinals last week, but to face being swept in Pittsburgh is almost inconceivable. Also, the Cubs took the field attempting to avoid a nine-game losing streak, which would be their first since May 15 – May 27, 2012.
Jose Quintana took the mound for Chicago, trying to become the first Cubs' pitcher to win ten games within the NL Central since Jake Arrieta (10-4, 4.03 ERA) and Jason Hammel (10-5, 3.71 ERA) did it in 2016. Trying to accomplish the sweep for Pittsburgh, was right-hander, Joe Musgrove, who's put together quite the season himself. Meanwhile, Joe Maddon fielded a lineup of younger players, and guys (for the most part) who've seen minimal playing time- a lineup which may very well consist of (mostly) guys that may be fighting for a chance to stay with Chicago.
This one was ugly from the start. By the end of the fifth, the Pirates had already tallied five runs, with the Cubs struggling to get men on base.
The Cubs would come alive in the sixth, posting three runs on Ian Happ's RBI double, then after advancing to third, Happ would score on Lucroy's groundout. Cubs trail 7-3 in the sixth.
Maddon would mercifully end the slaughter of Q in the sixth, but not before Quintana's ERA rose to 4.68; well, at least it won't go any higher this year.
Duane Underwood Jr. would handle the sixth, but the Pirates would tag him for another two runs, making it 9-3 Bucs after six.
Tony Kemp and Nico Hoerner (pinch-hitting) would each hit RBI singles in the seventh, but that's as far as this one would go. Final score: Pittsburgh-9; Chicago-5. That makes nine in a row for the Cubs, who now deal with the Cards for three in St. Louis before we all get a sixth-month break.
CUBS NEWS AND NOTES
Cubs/Cards Probable Pitchers: Saturday: LHP Cole Hamels (7-7, 3.92 ERA) vs RHP Miles Mikolas (9-14, 4.16 ERA). Game information: 6:15 PM CDT; Televised on FOX. Sunday: Cubs TBD vs Adam Wainwright (14-9, 3.98 ERA). Game information: 2:15 PM CDT; Televised on ABC-7.
Three days of scrimmages? It began last night, and I would be surprised to see this continue. Not that Joe's lineup for yesterday didn't include good players, but hardly the landscape that you'd expect to see.
Here is tonight's #Cubs starting lineup.

Stream on @NBCSChicago: https://t.co/rGCuW1XI7C pic.twitter.com/XdHReSPS61

— Chicago Cubs (@Cubs) September 26, 2019
I wouldn't expect a ton from the Cubs in the way of effort for the final three games in St. Louis. After being officially eliminated from any playoff spot last night, Joe Maddon may do the smart thing, and rest his weary and injured players. Little can be gained by risking further injury to Javier Baez's thumb, or to the ankles owned by Anthony Rizzo or Kris Bryant. Craig Kimbrel is done with the IL, but there's little doubt that he's not 100%, as demonstrated in his last couple of outings.
Cubs shutting down Kyle Hendricks and Yu Darvish for the season. No need to push either at this point, esp with Darvish's innings jump this year and the forearm issue he dealt with.

Rizzo also likely done. Maddon not sure yet about Zobrist/Heyward.

— Tony Andracki (@TonyAndracki23) September 26, 2019
Playing tough against the Cards- even if they can do so- only serves to benefit the Brewers, and does nothing for Chicago, with the exception being some sort of last-minute morale boost.
Go Joe! Joe Maddon hasn't given me a bunch to praise him on this year, but man, I love this gem! After planning to continue to use his "B-team" until the end, Joe basically told the Brewers and their fans just what he thinks about them hoping that the Cubs could help them with the Cards.
With Cubs out, Maddon isn't playing his "A" lineup in St. Louis, so @Brewers can start their bitching now: "Of course they're going to bitch, and I get it, but quite frankly, there are certain things I really don't give a shit about, and that would be one of them."

— Paul Sullivan (@PWSullivan) September 26, 2019
This is the season that could've been, but never was, and the Cubs need to tough it out for the next three games, then take the winter off to recoup and regroup. Significant changes coming soon to a ball club near you.
Theo Epstein acknowledges 'change needed' after the Cubs fall short of the playoffs for the 1st time in 5 years https://t.co/CvDGafDLk1

— Mark Gonzales (@MDGonzales) September 26, 2019
Nick Castellanos: "There's no way around it. It sucks. I wish I could have done more." That's a pretty admirable attitude form "the new guy," and I don't doubt the entirety of the team feels the same way, but really- how much more could Castellanos have done? I think there's a pretty good chance he'll be back next year though, and if he is, watch as he shatters the all-time double record which stands at 67.
A frustrated Castellanos on Cubs' elimination pic.twitter.com/0A5GcBttsm

— Mark Gonzales (@MDGonzales) September 26, 2019
Theo Epstein: The following are from Theo's appearance on 670 The score yesterday. "If you're holding onto the past you're not moving forward."
About Craig Kimbrel, Theo says "We knew that given that he wouldn't have a normal spring training, given that he was trying to do something that very few had ever done before, which was join the team midstream in a closer's role, that there would be some risk."
Theo also says that next season will be more challenging than this season, in some ways.
Maddon's future: Joe Maddon says that he'll be talking to Theo and the rest of the bosses about his future in Chicago. He says that he thinks he'll have an answer before the weekend is over.
Maddon will keep talking with Theo and Co. in coming days about his unsettled contract situation. Believes he'll know team's decision by Monday before he heads to Hazleton to start this offseason.

— Jordan Bastian (@MLBastian) September 26, 2019
Congrats Marty: Congratulations to Reds announcer, Marty Brennaman, who's signing off for the last time after calling Reds games for 46 years.
Congratulations on a fantastic career Marty. It has been a pleasure to listen to you growing up on 700. This one belongs to you. Much respect! #Legend https://t.co/5iqhUe6kun

— Kyle Schwarber (@kschwarb12) September 26, 2019
Cole Hamels on the Cubs: "When you make a lot of errors in the field when you make a lot of errors in the baserunning, that's momentum. That's an area that could get corrected. There's still a lot of players in here that are still learning." Hamels went on to say, "Especially in this city, with the expectations on this franchise, you have to stay a little bit more on it [the little things]. Giving away games, early in the year, understanding they will come back and bite you."
Darvish shut down: After announcing that Yu Darvish was shut down for the year, Maddon has the following to say: "We were really pushing him this year over last year a lot. To his credit, he's just been that good. There's really no reason to push it any further right now. That's all it is. He's fine."
Baseball Quotes: "I imagine myself as the broadcaster for a Cubs-White Sox World Series, a Series that would last seven games, with the final game going extra innings before being suspended because of darkness at Wrigley Field." -Jack Brickhouse
There are two theories on hitting the knuckleball. Unfortunately, neither of them work. -Charlie Lau, 1982 pic.twitter.com/91bgm88fFr

— Baseball Quotes (@BaseballQuotes1) September 25, 2019
Cubs' Birthdays: Celebrating yesterday, were ex-Cubs Dave Martínez (55), Steve Buechele (58), Bobby Shantz (94), and posthumously, Al Lary (91), Clarence Maddern (98), and Bert Humphries (139).
THIS WEEK'S NL CENTRAL SCHEDULE:
(Wins in green, losses in red)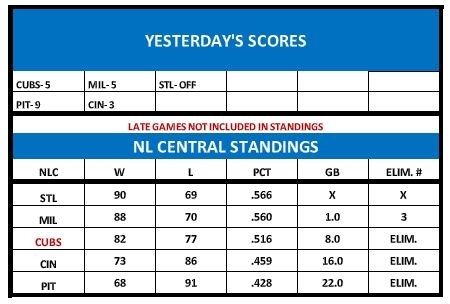 Tags: Cubs Baseball
,
Jose Quintana
,
Jake Arrieta
,
Jason Hammel
,
,
Duane Underwood
,
Cole Hamels
,
,
Anthony Rizzo
,
,
Kyle Hendricks
,
Yu Darvish
,
Kyle Schwarber
,
Joe Maddon
,
Theo Epstein