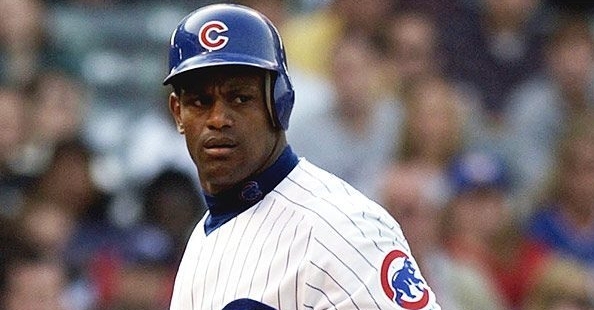 | | |
| --- | --- |
| Cubs News and Notes: Sosa's call for help, 2020 Cubs Convention, Taylor Davis, Hot Stove | |
---
CUBS NEWS AND NOTES
Next Game: Next Game: 37 days – Saturday, February 22, 2020: Athletics vs Cubs (Sloan Park)
Opening Day: 70 days – Thursday, March 26, 2020: Cubs vs. Brewers (Miller Park)
Sosa lays out his case (again): The Athletic's Mark Craig received an interesting call on Wednesday; it was Sammy Sosa.
So I'm driving home the other day, just minding my own business, when I get a call from a chatty stranger.

It's Sammy Sosa.

My column: https://t.co/F29GZge4cH

— Marc Carig (@MarcCarig) January 15, 2020
As usual, Sosa wanted to make sure that his name doesn't fade into the ivy at Wrigley Field, especially with the Hall of Fame balloting about to be concluded, but the steroid scandal continues to loom overhead.
I'll always remain conflicted over Sammy. I can't stand cheating, but he did so much for a game that needed his help, even if that help was chemically induced. I genuinely believe that Sosa would have a much better chance of getting voted into the HOF if he'd just come out and admit his guilt, citing the positives that he brought to the game.
Are you ready? Cubs Con kicks off tomorrow night and continues through the weekend. Unless something drastic occurs, you can expect to see Kris Bryant (among others) attend the Opening Ceremonies in a Cubs' jersey. The Cubs have a ton of festivities planned for the weekend that unofficially kicks off the 2020 season, including autograph sessions and the always-awaited Ryan Dempster show.
Winter comes just in time for #CubsCon! https://t.co/GbR9KanHPf

— South Bend Cubs (@SBCubs) January 16, 2020
Receiving a ton of grief from the fans, the Ricketts' family has declined to host a panel this year (this marks two years in a row), but who could blame them? Tom doesn't want to tip his hand, and he'd likely hear jeers, referencing "a lack of spending." The Cubs spend a ton of money, and it's just that Ricketts has decided to spend less this year.
Springtime in baseball is a time for optimism and renewed energy, and that's just what I need right now https://t.co/T7TMjkFGz3

— Bernie Miklasz (@miklasz) January 16, 2020
Bryant to Colorado? during Wednesday night's episode of MLB Tonight, a hypothetical deal was discussed, which would see Kris Bryant winding up in Colorado. In this scenario, Nolan Arenado would go the Braves for prospects, with Colorado then trading those prospects to Chicago for KB.
Citing that the Cubs want to "grow younger" while the Rockies want to "win now," Bryant's style at the plate could produce big numbers at Coors Field for the Rox while allowing the Cubs to acquire some of the prospects that they desire.
Although reports say that talks between St. Louis and Colorado have failed to progress, MLB says the Cards do have the pieces it would take to land Arenado.
"The Cardinals do have the right mix of pieces, I believe, to potentially entice the Rockies to make this deal."@jonmorosi breaks down the latest in the Nolan Arenado sweepstakes on #MLBNHotStove. pic.twitter.com/TJa2hGHuqP

— MLB Network (@MLBNetwork) January 14, 2020
Taylor Davis: Former Cubs' catching prospect Taylor Davis is now a member of the Baltimore Orioles pending a physical. No details have emerged, but this is likely a minor league deal.
Taylor is just one of those guys that you have to like and root for, even if his career appears to be destined to be played out in the minors. A gritty, blue collar type of guy, Davis always came in and made the best of his limited playing time with the Cubs but because he stuck in the shadows of Willson Contreras and Victor Caratini, Davis could never find any sort of regular playing time with Chicago.
Best of luck, Taylor – and we'll always remember your clutch grand slam.
Apparently the Orioles are talking with catcher, Taylor Davis. Yes, the Taylor Davis who became famous for always finding the camera and starring directly into it. Give me him. pic.twitter.com/E8e3pf95kt

— Barstool Are Dee Tee (@editti22) January 16, 2020
Baseball legends Hank Aaron & Ernie Banks before a Milwaukee #Braves vs. Chicago #Cubs game at Wrigley Field (1957) You can see that Ernie has a protective insert in his hat! #MLB #History #NationalHatDay pic.twitter.com/ZnvW2aFyzx

— Baseball by BSmile (@BSmile) January 15, 2020
Cubs' Birthdays: Celebrating yesterday were ex-Cubs Ray King (46), Delino DeShields (51), William Brennan (57), and posthumously, Dick Culler (105), Grover Lowdermilk (135), and Jock Menefee (152).
Baseball Quotes: "I can push through a lot of things, whether that's failure or success. I've learned how to overcome things that get thrown at you. In baseball, nothing's for certain, just like life. You have to roll with the punches. If you get knocked down, you need to stand up." -George Springer
In 1987, Joey Meyer of the Denver Zephyrs hit the longest verified home run in professional baseball history!

This blast went a whopping 582 feet! ?????? pic.twitter.com/EHeRfLUXEB

— Baseball Quotes (@BaseballQuotes1) January 15, 2020
MLB and the Hot Stove
The dragnet grows: MLB has yet to decide Alex Cora's punishment, but you can rest assured that it will be stiff – probably more so than AJ Hinch's was, but Rob Manfred still isn't finished.
Next on the hit list may be newly appointed Mets' manager, Carlos Beltran.
According to Manfred, Beltran discussed with teammates how to "improve on decoding opposing teams' signs and communicating the signs to the batter." Beltran would be the first player to receive punishment for his role in the scandal.
What's next for Carlos Beltran? Jim Duquette explains:@Jim_Duquette | @Mets | #Mets pic.twitter.com/tBUvaV55Iq

— MLB Network Radio on SiriusXM (@MLBNetworkRadio) January 15, 2020
Red Sox: With Cora out, the Red Sox, Houston and now potentially the Mets all have to worry about finding new managers with just over a month until the first spring training game. Dustin Pedroia has emerged as a candidate in Boston, as have former Cubs' manager Dusty Baker and Jason Varitek. Of the three, Varitek is currently considered the favorite to land the job.
Pushing the scandal aside, the Red Sox have acquired LHP Jeffrey Springs from the Rangers for 1B/OF Sam Travis. In turn, the Sox have designated LHP Bobby Poyner for assignment.
Meanwhile, the Astros will be interviewing veteran manager John Gibbons to replace Hinch.
#Astros scheduling interviews ... https://t.co/ybxXNPxTTA pic.twitter.com/PyE0TiIMRt

— MLB Trade Rumors (@mlbtraderumors) January 16, 2020
Padres: San Diego has signed RHP Jerad Eickhoff to a minor league deal, with an invite to Spring Training.
Rangers: Texas has signed catcher Robinson Chirinos, INF Todd Frazier to 1-year deals with club options for 2021. In turn, the team has designated LHPs Kyle Bird, Jeffrey Springs, for assignment.
Diamondbacks: Arizona has signed outfielder Travis Snider to a minor league deal.
Marlins: Miami has acquired LHP Stephen Tarpley from the Yankees for infielder James nelson and cash. In turn, the Marlins have designated LHP Brian Moran for assignment.
Giants: SF has placed veteran infielder Zack Cozart on release waivers.
Braves: The Braves have signed infielder Yangervis Solarte to a minor league deal.
Nationals: Washington has signed outfielder Mac Williamson to a minor league deal.
Dodgers: The Dodgers have DFA'd RHP Casey Sadler.
White Sox: The Sox have signed utilityman Andrew Romine to a minor league deal.