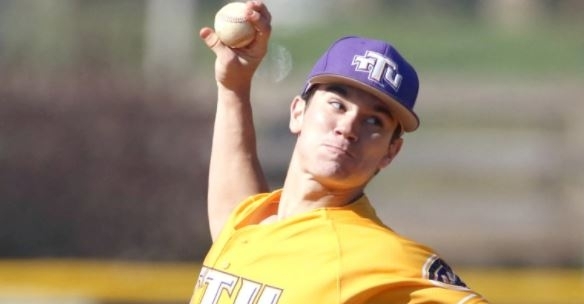 | | |
| --- | --- |
| Cubs News: Ethan Roberts could be a huge bullpen piece in 2022 | |
---
| | | |
| --- | --- | --- |
| Saturday, November 20, 2021, 11:01 AM | | |
For those of you who follow the MLB offseason as closely as the regular season, then you would realize the significance of November 19. For those unfamiliar with this day, it is the deadline for teams to add minor league players to their 40-man roster or risk losing them via the rule 5 draft.
The Cubs are no different as they have several tough decisions to make regarding Cam Sanders and Nelson Velazquez, but after the Fall League that Velazquez, there is no way the Cubs do not add him to that 40-man roster.
Another name that is an intriguing option that was added was Ethan Roberts.
For an organization starving for pitching help, Roberts may be one of the closest prospects to earning a spot on the major league roster. Unlike the rest of the farm system loaded with starters, Roberts is a reliever first and will be a reliever from here on out when you look at his numbers. Not only has Roberts been as reliable as they come, he did deserve a 40-man roster spot just as much as Velazquez.
Taken in the fourth round of the 2018 MLB draft, Roberts is very small when you look at pitchers standing at just 5-9. However, his story goes way beyond that, as he is the first player from his hometown to play division 1 college baseball in over 25 years. During the 2019 season, when Roberts first broke onto the scene, his fastball was around 90 MPH which is well below the standard in today's game.
Considering the Cubs' goal when it comes to adding more velocity to their staff, Roberts may not be a pitcher fans consider, and they may shy away from him. However, the numbers don't lie and can back up his performance as he continues to be impressive. Not only does he have a 4.2BB/K ratio, but he averages nearly 10 punchouts per nine innings which is excellent for any minor league reliever.
Across three minor league seasons, Roberts has seen action in 94 games, all relief appearances, and has compiled an 8-7 record with a 3.09 ERA. Roberts has also recorded 17 career saves in 24 chances, walking 33 and striking out 139 in 128 innings of work. When you look at numbers like that, you would think Roberts would be a hard thrower who blows hitters away. Part of that is accurate when you talk about blowing hitters away, but it isn't the traditional way you think.
In a league that is precedent on velocity, baseball has done a better job prioritizing pitchers with unique attributes in recent years. Roberts may not be a hard thrower, but his best attribute is the spin rate on a baseball where he lands in the 97th percentile. His fastball sits around 2700 RPMs which is excellent in itself, but his breaking ball has a spin rate of 3100 RPM, which is all world. This all stems from his short stature, which may be his ultimate advantage.
His 5-9 frame was initially a disadvantage, but now it appears to be a huge advantage. Roberts can release the ball from a lower arm slot that gives him a flat vertical angle when releasing the ball. In a generation where hitters are taught to hit via the launch angle, Robert's release neutralizes launch angle as hitters have difficulty getting under the baseball. Add in that his pitches tend to look faster than they are, and you have a deceptive reliever who continues to do great work.
While his strikeout rate was always good, sitting around 21.8% across his first two seasons, Roberts increased that to 32.4% Percent in 2021, landing him in the elite category. What makes that increase even more impressive is that he did that splitting time between AA and AAA, so higher-level competition has just as many struggles as the lower competition did.
Roberts counters that fastball with a slider and cutter where all the velocities are within five MPH of each other. Typically you want a bigger velocity gap than that, but when you have the spin rates he has, it can often offset velocity at its finest. Roberts has turned back the clock and has made the Cubs organization forget about velocity and instead focus on his strengths. He has proven that he can pitch against some of the best minor league competition.
The next step for him will be to land in AAA to start the season and continue doing what you do for an entire year. If the numbers continue at the rate they have been, he will be a massive part of the Cubs bullpen in 2022 and beyond.