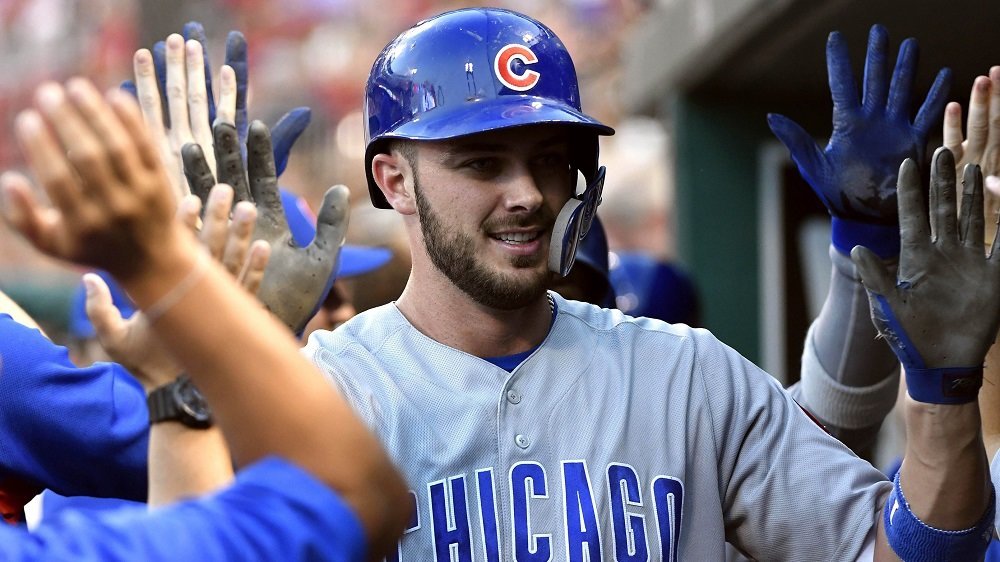 | | |
| --- | --- |
| Cubs News: Latest news and rumors: KB and Russell's rehab, latest trades, and FA signings | |
---
| | | |
| --- | --- | --- |
| Thursday, December 13, 2018, 8:53 AM | | |
So, here we are on the final day of the meetings. The pitching market has started to move, and the Rule 5 Draft takes place later this morning. It only took 75% of the winter meetings for things to start happening, but here we go. The Reds blew into town talking to everyone, and they seem to be the ones who are kicking you know what and taking names (back to Cincinnati) in the process.
Cubs' news and notes
2019 Cubs' Opening Day: 105 days.
Kris Bryant: KB reportedly visited the Cubs' suite yesterday. Per Jed Hoyer, "It was good to see him. He looks great. He looks focused. No issue with the shoulder."
Boras on Russell: "Addison (Russell) is well into working with local groups he is well into his therapy. This process has really been educational and defining for him."
Jed Hoyer: Hoyer states Cubs unlikely to complete any trades at winter meetings.
Brandon Hyde: For some reason the Orioles are stalling on announcing Hyde as their new manager. Ken Rosenthal thinks the delay is out of courtesy for the others interviewed, until they can first be notified of the club's decision, but GM Mike Elias's words seem a little unclear: "In my position I can't be out in front of events or the one who's naming names or specifying timelines in public, obviously. But I think we're in good shape. I'm hopeful that we'll be able to have a good hire in due time."
Rule 5 Draft: Cubs could lose RHP Trevor Clifton - C Jhonny Perada and RHP Erling Moreno today in the Rule 5 Draft.
Latest from the winter meetings:
Players are starting to move

Craig Kimbrel: According to Jayson Stark of The Athletic, the lack of action surrounding Kimbrel may be due to the price he has set for himself- reports say he is seeking $100M.

Angels: The Angels have agreed to a deal with 1B Justin Bour. Details are being withheld, pending a physical.

Dodgers: La signs Joe Kelly to a three-year, $25M deal. The Dodgers are also said to have contacted the Pirates regarding catcher, Francisco Cervelli. LA's latest ties to the Reds have Homer Bailey going in exchange for Matt Kem and Alex Wood.

Mets: NY re-signs free-agent RHP Jeurys Familia to a three-year, $30M deal. Familia had been with the Mets' organization since 2007 but was dealt to Oakland last July. The Mets are said to be unwilling to meet Miami's asking price for Realmuto and have talked to the Braves and Dodgers about Albies and Bellinger, respectively.
While you may have been sleeping... two relievers reportedly came off the market. #MLBNHotStove #Winter Meetings

Jeurys Familia returns to the @Mets.
Joe Kelly signs with the @Dodgers. pic.twitter.com/jnf5aJajuq

— MLB Network (@MLBNetwork) December 13, 2018
Nationals: Washington said to be considering Anibal Sanchez and Wade Miley as a possible replacement for Tanner Roark. The Nats are also looking into Yusei Kikuchi.
Padres: SD is now showing interest in Marwin Gonzalez.
Rangers: Texas has reached a deal with RHP Lance Lynn. Details still emerging, but this is said to be a three-year deal for $30M.
Reds: The Reds have acquired RHP Tanner Roark from the Nationals in exchange for the right-handed reliever, Tanner Rainey. The Reds have also opened talks with the Marlins for JT Realmuto. Cincinnati also reportedly seeking a deal for Jays' Marcus Stroman.
White Sox: Chicago showing interest in Adam Ottavino.
Yankees: NY agrees to deal with JA Happ, reported to be three years, $30M, although some reports saying two-year deal with an option for the third year. Yankees say they'll continue to look for more starters.
Stay tuned to CubsHQ for the latest, signings, trades, and more, including Rule 5 Draft picks.