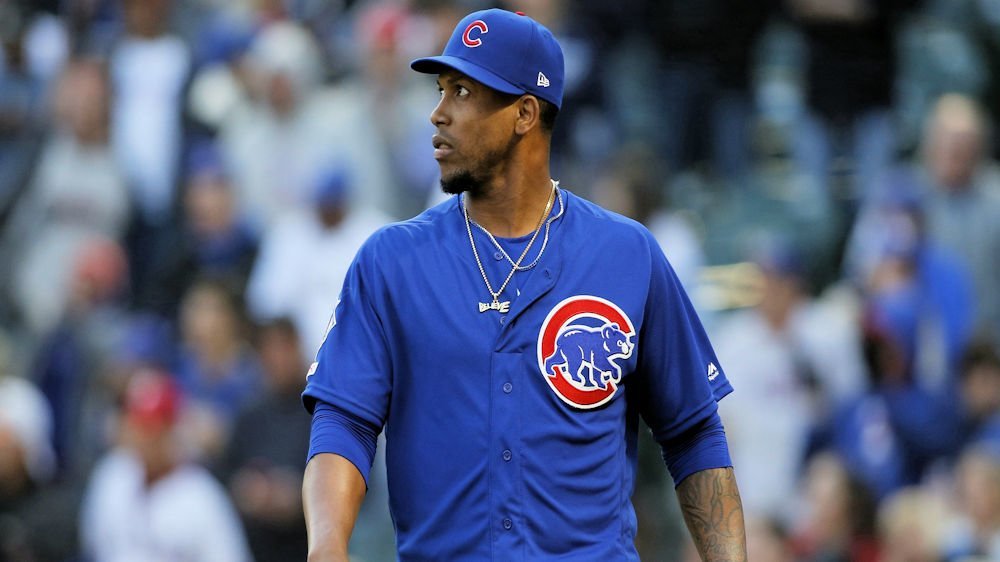 | | |
| --- | --- |
| Cubs News: Report Card Grades: Strop, Kintzler, Cishek, more | |
---
| | | |
| --- | --- | --- |
| Monday, October 21, 2019, 8:31 AM | | |
One of the biggest reasons as to why the Cubs had the best bullpen in the NL in 2018 was the performance of their middle relievers. That became especially important when then Closer Brandon Morrow went down with an injury and never returned. Hoping that would be a strength once again for the Cubs, turned into a first-half nightmare before settling back into a more consistent showing.
The Cubs brought most of their middle relief options back from 2018 except for signing Brad Brach over the winter. That proved to be an epic fail as Brach posted an ERA around seven and would be given an F– for a grade if that was such a thing. Thankfully the Cubs cut ties with him, and he was released, but another formidable Cubs arm suffered a horrendous season before being let go himself.
That man was 2016 playoff hero Carl Edwards Jr as he has been a shell of himself the past two seasons. Whether just not mentally ready to continue to pitch in high leverage situations, Edwards saw his command and ERA both raise since 2017 to the point where he was demoted twice this season. Eventually, he was traded to San Diego in exchange for Brad Wieck as that helped the Cubs bullpen. Here are the middle relief report cards for 2019.
BRAD WIECK: Acquired late in the season for Edwards, Wieck was sent to Iowa immediately as he looked to redefine some of his pitches. That appeared to be the perfect situation for him because once he came to Chicago, he became the lefty that the Cubs lacked all season.
Armed with a plus fastball and tremendous curve, Wieck made a strong impression with the Cubs in 19, where he may have solidified a spot for 2020. He may have only pitched in 14 games, but those 14 games were generally high leverage situations where he managed to finish the season 2-1 with a 3.60 ERA. Most of that ERA came from a rough outing the final week of the season. Otherwise, Wieck was strong his entire time with the Cubs.
Season Grade B: Ideally, I would have given him a higher grade, but there was just not enough of a sample size to do that. From what I saw, though, Wieck reminds me a lot of former lefty reliever Sean Marshall except with bigger velocity. He is tall and lengthy, just like Marshall, and possesses a similar curve that makes lefties buckle at the knees. His command was a little worse than Marshall's, but a 4BB 18K ratio is still excellent. I fully expect to see him as the Cubs lefty specialist next season.
STEVE CISHEK: In 2018, Cishek posted a 2.18 ERA and was quite possibly the team's co-MVP in the bullpen. Looking for similar results in 19, Cishek was a far cry from his 2018 season, but still, put together another solid year of relief. Known for his submarine style of pitching, Cishek did struggle with his command for the first time in his career, walking 29 men and striking out 57.
That was mainly in part to a hip injury that he tried to pitch through in July, which forced him to overcompensate at times. Despite that, Cishek still managed to appear in 70 games for the Cubs going 4-6 with a 2.95 ERA. Keep in mind, Cishek had five horrendous appearances this season where his ERA was north of 18. Take those away, and once again, you are looking at a guy who posted a sub 2.5 ERA in 70 games.
Grade B: I am going to ignore the fact that he had some bad outings this season because everyone does. Take those away, and you once again have a dominating middle inning man who has experience as a closer. The only thing I did notice this season was that his ground ball and strikeout rates were down while walks and fly balls went up. Maybe that was a product of him overcompensating for his hip injury, but that must be taken into account for his grade. I will not be surprised in the slightest to see the Cubs entertain the idea of bringing him back, given his track record, but the price must be right as he just finished making 6 million in 2019.
PEDRO STROP: Strop was the co-MVP of the Cubs bullpen in 2018 as he moved from set up role to closer raking up a career-high 13 saves in the process. Knowing he would be the closer to enter 2019 with the loss of Morrow, the Cubs felt extremely confident in Strop moving forward as their man gave what he showed them in his previous six seasons with the Cubs.
Unfortunately, 2019 was a year to forget for the tilted hat man as a spring training hamstring injury derailed his season before it started only to see the injury bug continue to bite him throughout much of the first half. That was a large part as to why he posted his worst season with the Cubs going 2-5 with a 4.97 ERA in 50 total games of relief.
Grade C-: You can't hide the fact that Strop was awful this season. Injuries did play a massive role in his season, and when he was healthy, his confidence just wasn't there as he went from closer to middle reliever to eventual mop-up duty man. However, looking at his seven-year run with Chicago, this was the first time he posted an ERA north of 3.2, which is why he ranks second all-time among Cubs relievers in terms of ERA.
The biggest question for Strop this offseason will undoubtedly be will the Cubs bring him back after the season he had. I do expect them to be a lot of talks between the two, but after making nearly 6 million last year would Strop be willing to take a pay cut to remain in Chicago. I fully expect the Cubs to offer him some deal, and it will be up to Strop to accept it or not.
BRANDON KINTZLER: After wearing out his welcome to Chicago in 2018, many were surprised to see Kintzler back on the North Side in 2019. The Cubs proved bringing him back was the right choice as he was the team's best middle reliever all season long until a series of late-season chest injuries set him back down the stretch.
Even with those injuries costing him three weeks of his season, Kintzler was phenomenal in his 62 appearances, going 3-3 with a 2.68 ERA. 13 walks and 48K. Both the walks and ERA were career lows for him as he proved this season that he is still an effective reliever at age 35. Entering what could be his final free-agent season, Kintzler is certainly going to look at the market to see what he can get, but the Cubs would be wise to bring him back on a one-year deal with a second-year option given production.
Grade A: You must give this man an A, especially looking as bad as he did in 2018. After the Cubs elected not to pick up his 10-million-dollar team option, Kintzler chose to use his 6-million-dollar player option to remain in Chicago. The Cubs indeed was glad he did that because who knows the state the Cubs bullpen would have been in.
Other names who appeared in middle relief that were not graded were as follows: Dillon Maples, Randy Rosario, Xavier Cedeno, James Norwood, and Allen Webster as only Maples saw action in more than ten games.