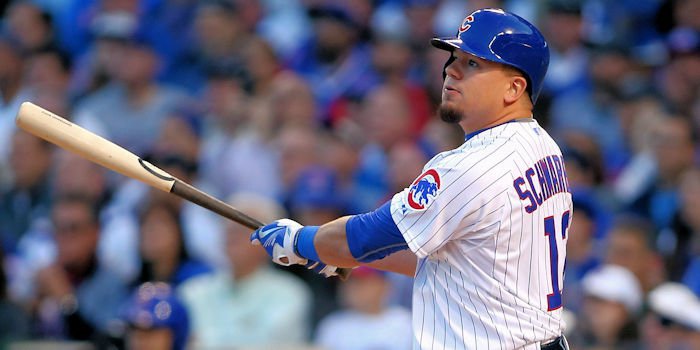 | | |
| --- | --- |
| Cubs News: The "Big 2", Schwarber, and the moves you don't make | |
---
| | | |
| --- | --- | --- |
| Thursday, October 27, 2016, 11:48 AM | | |
CHICAGO -- From May into June, right down to the day the Indians finally pulled the trigger on a trade for Andrew Miller before the deadline (about a week after the Chicago Cubs had agreed to acquire Aroldis Chapman for another hefty lot by its own rights), there were rumors and rumblings thrust about regarding the possibility of a swap that would have seen Miller coming to the Northside of Chicago, and Schwarber heading to the Bronx--with or without Chapman is something we'll never know. The Cubs held their ground and did not give into the asking price of Schwarber for any deal surrounding Andrew Miller, instead relying on pieces from their farm to include in the deal as well as stabilize the spots left void from others who were dealt.
The Cubs sent top prospects SS Gleybar Torres & OF Billy McKinney, who had been acquired from the A's in the Samardizija/Hammel A's deal two seasons prior. Also included was Adam Warren, whom the Cubs had acquired this past off-season in the Starlin Castro deal. Warren never seemed to find his way in Chicago, but depth allowed for them to send him back to New York where he had prior success and seemed to work things out down the stretch after his return. The last piece was low-minors OF Rashard Crawford. Another reliever who has played a big piece, LHP Mike Montgomery, was acquired as relief help from Seattle by the Cubs, as well.
The Indians would subsequently pay a big package for Miller after other teams, including Washington and San Francisco, came up short--forfeiting top-prospect Clint Frazier, among others in return for 2+ years of Andrew Miller, a relief "ace" some are now touting the best reliever in baseball thanks to his lack of ego, versatility, and ability to go multiple innings and pitch whenever they ask of him, all without letting anything go to his head. Which in these days where closers make a premium, that is something to say--only, there are few who are made of what Andrew Miller is made of, and few that are used as he has been--especially recently. He is one of the few relievers who have begun to show a re-emergence of the "Fireman" role that was popular up and into the late '80s and early '90s for a number of squads still. Playoffs are definitely a function of this, as are pitch counts and pitchers forced to pitch on shorter rest, etc. But it is also something we may be seeing making a comeback, and Miller is front and center when it comes to the best among the best "Firemen" types left in baseball.
Most definitely a weapon any team would love to have for a World Series match-up of the ages--let alone 2 years under control after that, as well. This Cubs team could have used him as well, even with a far deeper staff and less cracks to fill or a need for an old-school "Fireman" reliever as much as they had needed one more reliever to SLAM the door shut, pushing Rondon and Strop back an inning and letting others (Grimm, Cahill, Wood, Zastrynicky, Edwards, J.Smith, etc. al) move into situations of less pressure, as well. The only problem with this is it never had much time to come into fruition in the regular season, as injuries to Strop and Rondon forced unconventional bullpen use for the Cubs, at least regarding their 7-8th inning plans to bridge en route to Chapman in the 9th.
As I watched the Cubs pen struggle their way to the World Series--including Chapman, for that matter, I wondered: would we have been better off if we just sent the Yankees Kyle Schwarber, where he couldn't hurt us at least, and secured both Miller and Chapman? But then, of course, who was to see the injuries to Strop and Rondon coming when they did? Who expected Chapman to struggle against LHP as he did in the earlier rounds mightily, to the likes of Connor Gillaspie, and others of lesser name. Even still, Chapman battled, and as great as Miller was and had been for ther Indians in the NLDS and NLCS, the Cubs were still going to the World Series and they still had Schwarber for next year.
And then the news broke: Schwarber may play in the World Series. This could be a game-changer. And sure as God made green apples, this is a game-changer.
The Cubs post-season home run leader, Kyle Schwarber, coming off his only post-season and rookie year at age 22, in which he hit 5 home runs to become the all-time leader in post-season home runs, bypassing the tie between both Cubs of yesteryear, Aramis Ramirez and Alex Gonalaez (all 4 home runs a piece having come in the '03 playoffs for the pair).
This wasn't just a great post-season, but also a rookie season at age 22 which saw him hit 16 HR in AAA ball, 16 HR in the majors, and then those franchise-leading 5 post-season bombs to put the cherry on the top. Expectations heading into 2016, needless to say, were gigantic... only for Kyle to tear his ACL and MCL in the first series of the season after starting the year 0-4. He was not expected to be back until spring training, leaving many Cubs fans asking if it was worth 2+ years of Andrew Miller, who undoubtedly has helped the Indians in their quest to the World Series as they nearly ran the table undefeated--the AL before reaching the World Series, beating both heavily favored Boston Red Sox and Toronto Blue Jays (who took 1 game, giving them their only L) teams to get here. This all after dejecting blows to the team and fan base when pitcher Carlos Carrasco went down for the season with a broken pinky, first-half all-star Danny Salazar's season and playoffs were in doubt, and then of course we have the incident with Bauer and his drone his pinky on a drone, which may go down in folklore with tales of Arachnophobia and Glennallen Hill's nightmares (causing him to fall through glass coffee tables) as far as freak injuries go.
Had it not been for Miller, the loss of these 3 pitchers--Bauer, not making it out of the 2nd in his first playoff start, but now back, cut seemingly sealed and healed--& Salazar, having been added to the WS roster after rehabbing during the prior rounds--the lack of adversity in their bullpen, particularly the ability to use Miller in the way they have, may have prevented the Indians from making it through the Red Sox AND Blue Jays to begin with.
After watching Schwarber over the last two nights, including his 2 RBI so far tonight, I can safely say I'm more than comfortable to have him on the Cubs train for years to come. Whether Chapman will re-sign with the team or not at this point is moot: the move wins a World Series, the move is a winner to me regardless. Keeping Schwarber, AND using Schwarber in this World Series may actually force Tito to deploy Miller at times as the most dominant Lefty in their pen simply to stop Schwarber in key spots. That alone could wind up paying dividends. I hate to bring up a dirty word, but in a way, Kyle Schwarber is the Cubs' "Trump" card in this series and may force the Indians' hand in more ways than one. Holding out on the Yankees demands may have been the best move the Cubs made all year.
They do say, sometimes it is the moves you don't make that turn out the best. This is a little bit of the best of both worlds, and as Schwarber steps into the batter's box again after 2RBI on the night already, I'll stamp this thing and sit back and enjoy the lead,hoping he can pile some more on top. If not, that's OK--he feels like a cherry, or icing on this cake right now. Just 1/6 players who are 24 or younger, this team will be here for more than just World Series performance, as god made green apples and Harry was a Bud man. Schwarber will be a part of this 24-and-under core for years to come, now, with or without Chapman and that's a gift in itself, as he contributes to the chase for a ring as I write this.
I can only hope the Cubs made the right choice. On paper, they certainly did, even with a position for Schwarber still up in the air. Bats like his do not come along every draft, or every 5 drafts. He is a player who is helping after barely 2GP before going out for the year and will continue to help this team as it looks to make its mark in MLB as a dynasty for years to come.