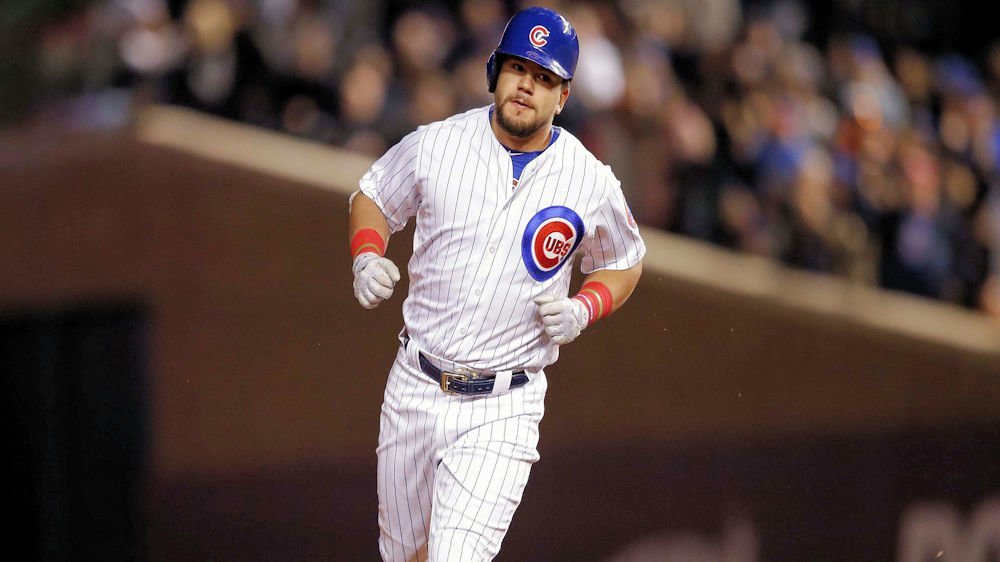 | | |
| --- | --- |
| Cubs News: The curious case of Kyle Schwarber | |
---
| | | |
| --- | --- | --- |
| Saturday, July 23, 2022, 12:00 PM | | |
The Midsummer's classic was this week, as the American League captured their ninth straight victory over the national league. The Cubs sent catcher Willson Contreras and outfielder Ian Happ to the game as representatives. Former Cub Kyle Schwarber was there as well.
The Cubs drafted Kyle Schwarber in 2014 with the fourth overall pick in the draft. Schwarber was a part of a string of first-round picks that made an impact in Chicago (2011 - Javier Baez, 2012 - Albert Almora, 2013 - Kris Bryant, 2014 - Kyle Schwarber, 2015 - Ian Happ) as the Cubs proved to be good at selecting hitters.
Schwarber made his way through the minors quickly, being called up in June of 2015 during interleague play to be a Cub. That 2015 season saw the Cubs bring Kris Bryant and Addison Russell up to the majors for the first time, and Jorge Soler and Javier Baez became regulars. Schwarber was the youngest in the wave of youngsters coming to Chicago and performed admirably in his rookie year. The left-hander finished playing 69 games, clubbing 16 home runs, and driving in 43 runs — including launching a few iconic home runs in the Cubs' storied playoff run in 2015 before losing to the Mets.
Then came 2016, when many expected Schwarber to take a big step as a major league hitter. Instead, he was injured in the Cubs' first series of the season in Arizona, with a gruesome knee injury that would keep him out the season. Or so we thought? Schwarber made a miraculous return to the team during the 2016 World Series. He did not have enough stability to catch or play the field — but he could hit. After a nearly eight-month hiatus, Schwarber returned to be a designated hitter only in Cleveland or a pitch hitter in Chicago. He played hero — hitting .412 in five games and led off the top of the 10th inning of game seven with a base hit to start the Cubs rally.
Schwarber was revered in Chicago as a World Series legend, but the rest of his time was tumultuous. In 2017, Schwarber was sent down to the minors to work on things, and Schwarber never hit above .250 in his Chicago career. Schwarber was known for his power, and that was always prevalent. In 2017 Schwarber hit 30; in 2018, he hit 26; in 2019, he clubbed a career-high 38. After that 2019 season, many expected Schwarber to take the next step as a slugger finally, but COVID partially derailed that plan. In 2020, Schwarber led the team with 11 home runs but only drove in 24 runs, hitting a low .188.
With the Cubs in a financial deficit because of the pandemic, the Cubs did not even offer Schwarber a contract after the 2020 season — beginning the firesale that eventually saw Jon Lester, Yu Darvish, Victor Caratini, Kris Bryant, Anthony Rizzo, Javier Baez, Trevor Williams, Craig Kimbrel, Ryan Tepera, Andrew Chafin, Joc Pederson, and Jake Marisnick find new teams.
The early indication from many was that Schwarber just simply never lived up to his expectations and that the Cubs brass (Theo Epstein and Jed Hoyer) were too loyal to Schwarber and other pieces of the core instead of striking when the value was high and maximizing trade value or extending for a club-friendly price. Instead, the Cubs got nothing back for Schwarber.
Since he left Chicago, Schwarber has played for three teams and hit over 60 home runs — making two all-star appearances after not making any during his six years in Chicago. Now many are saying the Cubs should have kept Kyle.
Hindsight is 20/20, right?
When the Cubs selected Schwarber at No. 4 overall in 2015, they did not expect to get a gold glove defender or stellar base runner. They drafted the slugger out of Indiana because they trusted his bat and expected him to make all-star teams and crush baseballs. They weren't wrong; he's just doing it for other teams.

Tags: Cubs Baseball
,
Willson Contreras
,
Ian Happ
,
Kyle Schwarber
,
Albert Almora
,
Kris Bryant
,
Addison Russell
,
Jorge Soler
,
Jon Lester
,
Yu Darvish
,
Victor Caratini
,
Anthony Rizzo
,
Trevor Williams
,
Craig Kimbrel
,
Ryan Tepera
,
Andrew Chafin
,
Joc Pederson
,
Jake Marisnick
,
Theo Epstein