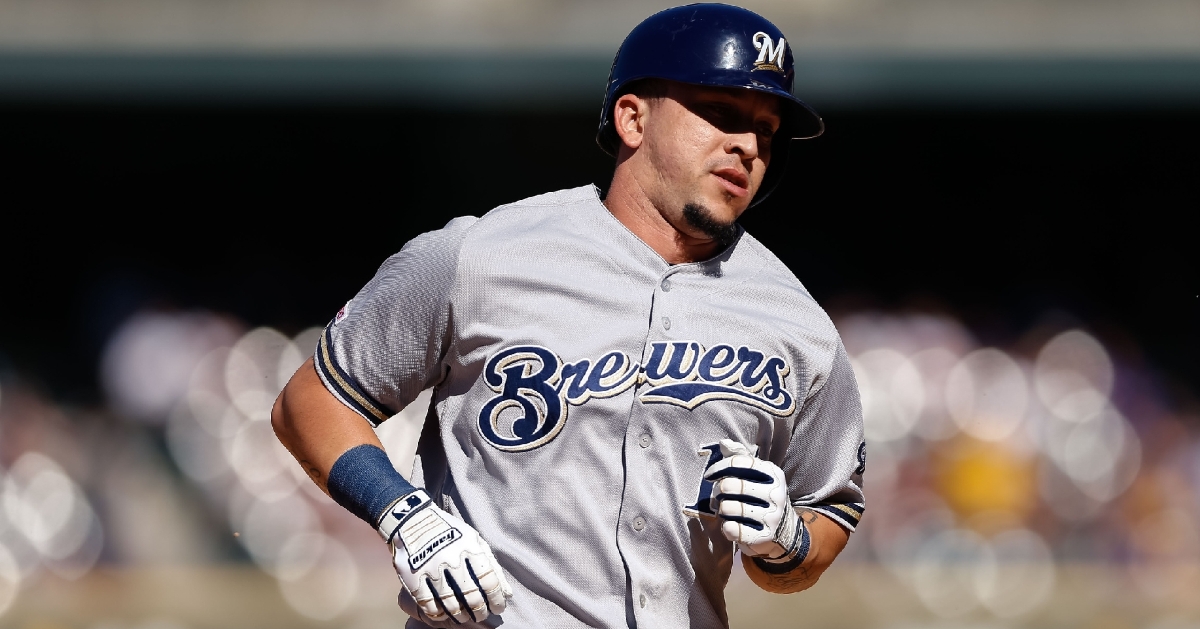 | | |
| --- | --- |
| Cubs Odds & Ends: Cubs sign Hernan Perez, Top-10 remaining free agents | |
---
Hernan Perez: The Cubs' diamond in the rough?
Late yesterday afternoon, the Cubs announced that they'd signed a minor league deal with former Brewer utilityman, Hernan Perez. Included, is a non-roster invite to MLB Spring Training, with Perez earning $1M in the majors, with another $1M available in incentives.
Contrary to what some on social media are saying, I actually like this move – a lot. Not that Perez doesn't come with some baggage – his offense has been in the tank for two to three years – but there is plenty of positive here.
While Perez was once an absolute threat to steal bases, getting on base has become quite a problem for him in recent years. In 2019, Perez slashed just .228/.262/.379 in 246 plate appearances (232 at-bats), accumulating just five stolen bases.
Cubs To Sign Hernan Perez https://t.co/L2ELRs8EMk pic.twitter.com/DuMG9ZWXMX

— MLB Trade Rumors (@mlbtraderumors) December 18, 2019
Perez hasn't always been terrible at the plate, but he's regressed a bunch since his 2016 campaign, which saw him slash a very respectable .272/.302/.428 with a .730 OPS and 34 steals.
On the upside, Perez is still relatively young – he'll only be turning 29 on Opening Day – and could turn into quite the asset for the Cubs, should he be able to figure out his offensive issues. Not that Anthony Iapoce doesn't already have a full plate with Albert Almora Jr., Jason Heyward and others who've hit the offensive skids, but somehow Perez just seems more salvageable.
Defense has never been an issue for Perez, in fact, with the exceptions of the CF and catcher positions, Perez provides quality glovework from every other spot on the diamond. This is a guy who could potentially add tremendous depth from the Cubs' bench, or perhaps become a suitable replacement at the hot corner for Kris Bryant, should the Cubs ever find a suitable trade partner.
Let's hope that Javier Baez can stay healthy this year, but with the ambiguity surrounding Nico Hoerner's immediate future, and now that Addison Russell is gone, Perez would also certainly provide a sound backup for Baez at short. Depending on what Theo does this winter, there may or may not be a hole to fill at second base, and Perez also possesses the ability to fill in as a corner outfielder, depending on how David Ross may choose to align his outfield.
All they have to do is fix that bat…
Top-10 remaining free agents
While Theo Epstein has managed to pluck a couple of the lower-tier free agents off the board (Hernan Perez, Daniel Winkler), the groundwork was laid a couple of weeks ago: The Cubs couldn't even sign lower-tier free agents without a written permission slip from Tom Ricketts.
As the cream of the crop continues to fly off the shelves, MLB Trade Rumors has now compiled their list of the Top-10 remaining free agents. Although it's highly unlikely that any of these players may wind up in blue pinstripes this year, the list does have some implications for Chicago – most notably with regard to impending trades.
With Anthony Rendon signed, 3B Josh Donaldson (originally ranked #5) moves to the top of the list. Donaldson is single-handedly holding up any deal for Kris Bryant, although this may not be a bad thing for the moment. While the Cubs wait for the arbitrator's final decision on KB's grievance, team's have more and more time to consider whether or not Donaldson or KB may be the right player to solve their problems at third base.
Hard-hitting #2 Nicholas Castellanos (originally ranked #8) seems to be the wildcard for half the league. The Cubs now have a deal in principle with Castellanos, meaning nothing more than an offer has been made, with the Cubs asking Castellanos to wait on them. A reunion in Wrigleyville would suit the Cubs just fine, but KB would almost certainly have to move before the Cubs could commit to Nick.
Moving up to #3, is former Dodgers' LHP Hyun-Jon Ryu, who was originally ranked #9. Not that the Cubs couldn't use Ryu to replace Cole Hamels, but the last thing Theo is going to be allowed to do, is spend $100M+ on another 33-year-old starter.
Outfielder, Marcell Ozuna, has moved up to the #4 spot from his original ranking of #11. Considered very comparable to Castellanos, Ozuna was on the Cubs' radar earlier in the offseason, but like every other free agent target, the rumors have faded. Wrigley Field would suit Ozuna's offensive style, but no more so than it does the style belonging to Nicholas Castellanos.
Number 5, LHP Dallas Keuchel (originally ranked #14), was another early target for Theo and Company, but (outward) interest quickly faded. Much like Craig Kimbrel, Keuchel didn't sign until June of last season and paid the price for it in terms of performance. If the Cubs were to grab a free agent lefty, Keuchel stands a better chance of being snatched up by the Cubs then does Ryu, but neither seems like any sort of viable option at this point.
Now ranked #6, RHP Julio Teheran (originally ranked #21) offers little to perspective clubs, other than an ability to chew up innings (which unfortunately fits Theo's agenda). Teheran's WHIP currently stands at 1.323, with the majority of that stat being attributable to a walk rate of over four men (4.3) per nine innings. Teheran had a $12M option for 2020, but the Braves quickly passed on it.
RHP Will Harris (originally ranked #22) has moved up to the #7 spot. Harris proved to be useful to the Astros in 2019 and was tied to the Cubs earlier this winter, but the interest seems to have subsided – which is just as well – as Harris turns 36 mid-season in 2020. The Cubs could still try to snag Harris as winter winds down, but only once the pile of relievers has been picked through several times over with Harris remaining at the bottom of the heap.
Moving up to #8 from #25, is OF Corey Dickerson. Dickerson had a solid offensive year in 2019 (.304/.341/565; .906 OPS), but saw very limited action between Philly and Pittsburgh, appearing in only 78 games. Should the Cubs get a wild hair and decide to move Kyle Schwarber, a guy like Dickerson could factor into Theo's plans, but with the way that Schwarber's offense has improved, a trade involving Schwarbs would be highly unlikely at this point.
RHP Daniel Hudson has moved up 19 spots to #9. The Nationals had hoped to re-sign Hudson and his 2019 ERA of just 2.47, but the two sides are rumored to be very far apart. After landing Strasburg again, the team had to bid adieu to Anthony Rendon, so it's highly unlikely that they'll be able to pay Hudson what he'll be wanting. Hudson could be a prime target to replace Brandon Kintzler should the Cubs fail to re-sign him, but oh, those aching budget constraints.
Rounding out the top-10, catcher Robinson Chirinos (originally ranked #33) serves little purpose to the Cubs, other than perhaps acting as a slight deterrent to any trade involving Willson Contreras. Despite entering his age-36 season, Chirinos still has a desire to play and still moves reasonably well behind the plate, even if his batting average is in the tank.

Upgrade Your Account
Unlock premium boards and exclusive features (e.g. ad-free) by upgrading your account today.
Upgrade Now

Tags: Cubs Baseball
,
Albert Almora Jr
,
Jason Heyward
,
,
,
Addison Russell
,
David Ross
,
Cole Hamels
,
Craig Kimbrel
,
Kyle Schwarber
,
Brandon Kintzler
,
Willson Contreras
,
Theo Epstein
,
Anthony Iapoce