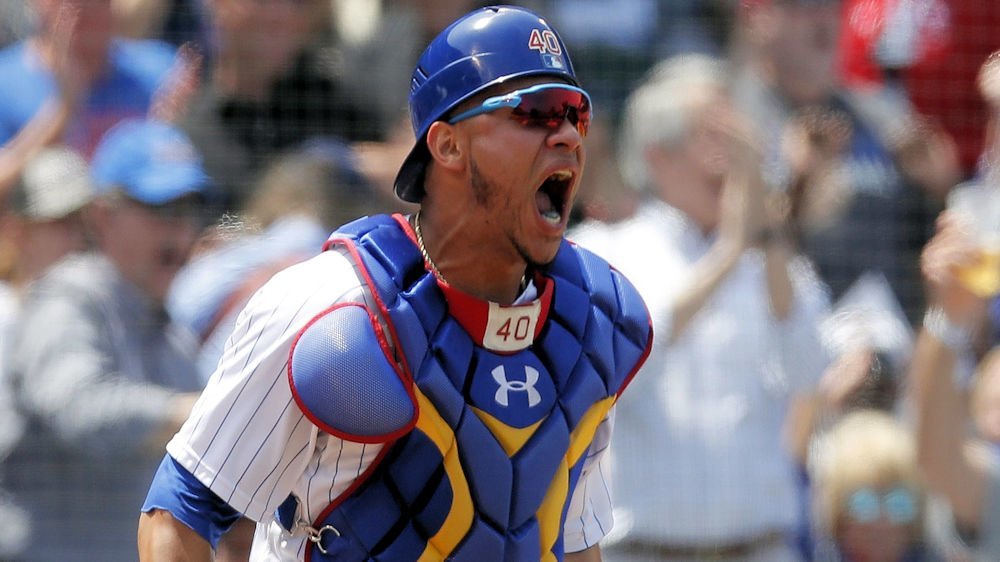 | | |
| --- | --- |
| Cubs Odds and Ends: Trade Speculation with Willson Contreras, Rule 5 roster moves, more | |
---
| | | |
| --- | --- | --- |
| Thursday, November 21, 2019, 8:15 AM | | |
As the hot stove heats up, rumors continue to fly about the possibility of Kris Bryant or Willson Contreras being traded; this time around, it's all about Contreras.
"Can they generate enough of a market for either of those players to make a trade worthwhile? They're not going to trade guys just to trade them. That would be stupid, that would be foolish, that's the antithesis of what Theo Epstein and Jed Hoyer are. At the same time, they also recognize that status quo is not something that's gonna work for this team." – Jeff Passan, ESPN
In an article written by my buddy Tim Stebbins of NBC Sports Chicago, Tim lays out three potential landing spots for Willson Contreras. Among Tim's choices are San Diego (in exchange for prospects), Tampa (in exchange for either (C)Travis d'Arnaud or (C) Mike Zunino) or to the Reds for pitching prospects (any combination of RHP starter Hunter Greene (Note: Greene, the No. 2 overall pick in the 2017 MLB Draft, but had Tommy John surgery in April), LHP starter Nick Lodolo (No. 7 pick in 2019) and/or Righty starter Tony Santillan.
I have trouble with a lot of Tim's speculation on this one, and I'd rule out San Diego and Cincinnati for the fact that the Cubs need MLB ready players. According to Stebbins, Theo Epstein said at the GN meetings that he wasn't opposed to dealing with division rivals, but there is little chance that the Cubs are going to be working with either Milwaukee or St. Louis.
Tampa would seem to be a decent fit, but why trade for D'Arnaud, who's a couple of years older than Willy? Pitch framing is the short answer, but lest we forget that MLB is likely to implement the electronic strike zone in the not too distant future (I would estimate by 2021 or 2022 at the latest), which would make pitch-framing a nearly unnecessary task.
Miguel Amaya isn't ready to step up to a full-time MLB role yet, so trading Contreras would leave the Cubs very inexperienced in the backstop department. Victor Caratini has progressed immensely, but while his pitch framing is unarguably as good as Contreras', his arm doesn't come close. Adding Amaya at this point would leave the Cubs far too inexperienced behind the plate, making a Contreras trade almost nonsensical – yet it somehow continues to gain traction.
So, trade KB then?
I'd say so. There are plenty of teams looking for a quality third baseman, and KB certainly offers that.
Before I get started, I've seen a lot of speculation on social media over the past few days, that has people wondering if Kris might be more inclined to stay in Chicago, now that he and his wife are expecting a baby (boy) in April; are you kidding me? First of all, Bryant only lives in Chicago during the season, then migrates (wisely) back to the warmth and dryness of Las Vegas, Nevada, during the offseason. "KB to be" wouldn't even be starting kindergarten until sometime around 2025, which would also be right around the time that Kris senior starts to wind his MLB career down (he'll be just about 33 at that point). Put that notion out of your mind, as it has no bearing on Bryant's future with Chicago.
I read an unfounded rumor a while back, about a deal that would send Contreras to Atlanta for Max fried and others; I scoffed at it then, but once Mark Feinsand (MLB.com) reworked the same trade with KB being shipped instead of Contreras, I began to like it a lot more. The deal would be KB for Max Fried, Drew Waters, Bryse Wilson, and William Contreras (note the spelling- NOT Willson Contreras ).
Fried would add a young (turns 26 in January), cost controllable, left-hander to the Cubs' rotation, which would fill in the void left by Cole Hamels, while allowing Tyler Chatwood to continue functioning as a swingman. Fried won 17 games last year (33 appearances, 30 starts) while posting a 4.02 ERA.
Not that the ERA is worthy of a Cy Young Award, but when you consider the Cubs regular rotation posted an average ERA of 4.08, it doesn't seem all that bad.
Waters is a switch-hitting, minor league OF prospect who posted a slash line of .319/.366/.421 with a .847 OPS in 2019 (108 games AA and AAA level). His defense seems reasonably reliable (12 total errors in three seasons), and his age is appealing, as he won't even turn 21 until December 30. Not that Waters is ready for MLB action yet, but if he continues to post decent numbers, he could be soon.
Bryse Wilson has logged just 27 innings at the MLB level, and his ERA is in the tank – 7.00. His WHIP is nearing 1.900, making him a rather unattractive trade chip, but that's not to say that the Cubs couldn't give him a season at the AAA level to see if he improves, before trading him by the July 31st deadline.
Finally, William Contreras is an almost 22-year-old catching prospect, who happens to be the younger brother of Willson Contreras. For five minor league seasons, the younger of the Contreras brothers has slashed .279/.345/.402. William has not seen any time in the majors, nor has he advanced to the AAA level yet, but he does show promise.
Rule-5 Roster moves
To protect prospects from becoming eligible for the Rule-5 Draft, MLB teams had until yesterday to add players to their 40-man rosters to protect them. There were a handful of teams who made no moves (unless they've just not been reported yet), but here's the complete list, otherwise.
For those who may not fully understand the Rule-5 Draft, here's MLB's definition:
Held each December, the Rule 5 Draft allows clubs without a full 40-man roster to select certain non-40-man roster players from other clubs. Clubs draft in reverse order of the standings from the previous season. Players who signed with their current club at age 18 or younger and have played professionally for at least five years are eligible to be selected, as are those who signed at 19 or older and have at least four years of professional experience.
Not every club will make a selection, but those that do pick a player must pay $100,000 to the club from which said player was selected. Rule 5 Draft picks are assigned directly to the drafting club's 25-man roster and must be placed on outright waivers to be removed from the 25-man roster in the subsequent season. Should the player clear waivers, he must be offered back to his previous team for $50,000 and can be outrighted to the Minors only if his original club does not wish to reacquire him. A Rule 5 Draft pick can be placed on the Major League injured list, but he must be active for a minimum of 90 days to avoid being subject to the aforementioned roster restrictions in the next campaign.
Clubs may trade a player selected in the Rule 5 Draft, but the same restrictions apply to the player's new organization. However, a club may also work out a trade with the Rule 5 pick's original club to acquire his full rights, thereby allowing him to be optioned to the Minors under traditional circumstances.
NL Central
Cubs: The Cubs have added C Miguel Amaya, RHP Tyson Miller, RHP Manuel Rodriguez, and INF Zack Short. Their 40-man roster now stands at 36 players.
Brewers: OF Corey Ray and RHP J.P. Feyereisen.
Cards: RHP Jake Woodford, RHP Alvaro Seijas and INF Elehuris Montero.
Pirates: The Bucs have designated LHP William Jerez, RHP Dario Agrazal, RHP Montana DuRapau, and RHP Luis Escobar for assignment.
Reds: RHP Tejay Antone, RHP Ryan Hendrix, Tony Santillan and catcher Tyler Stephenson.
NL East
Marlins: RHP Edward Cabrera, RHP Humberto Mejía, RHP Nick Neidert, RHP Sixto Sánchez, IF Jazz Chisholm and IF Lewin Díaz.
Phillies: RHP Garrett Cleavinger, RHP Mauricio Llovera and LHP JoJo Romero
NL West
Rockies: LHP Ben Bowden, RHP Ashton Goudeau, RHP Antonio Santos and INF Tyler Nevin.
D-Backs: INF Wyatt Mathisen, INF Andy Young, RHP Riley Smith, and RHP Taylor Widener.
Padres: OF Jorge Ona.
AL East
Blue Jays: IF Santiago Espinal and (former Cubs' prospect) RHP Thomas Hatch.
Orioles: LHP Keegan Akin, RHP Dean Kremer, IF/OF Ryan Mountcastle and OF Ryan McKenna.
Red Sox: IF CJ Chatham, IF Bobby Dalbec, OF Marcus Wilson, LHP Kyle Hart, and LHP Yoan Aybar.
Yankees: OF Estevan Florial, RHP Deivi García, RHP RHP Brooks Kriske, RHP Luis Medina, RHO Nick Nelson, and RHP Miguel Yajure.
Rays: INF Vidal Brujan, INF Jake Cronenworth, INF Kevin Padlo, INF Lucius Fox, and catcher Ronaldo Hernandez.
AL Central
Twins: RHP Jhoan Duran, RHP Dakota Chalmers, OF Gilberto Celestino, OF Luke Raley and IF/OF Travis Blankenhorn.
Tigers: IF Isaac Paredes, OF Daz Cameron, OF Derek Hill, RHP Beau Burrows, RHP Kye Funkhouser, and RHP Anthony Castro.
Royals: LHP Foster Griffin, RHP Carlos Hernandez, SS Jeison Guzman and OF Nick Heath.
White Sox: C Yermin Mercedes, OF Blake Rutherford, LHP Bernardo Flores, RHP Zack Burdi, RHP Dane Dunning, RHP Matt Foster, and RHP Jimmy Lambert.
Indians: OF Daniel Johnson, RHP Triston McKenzie and LHP Scott Moss.
AL West
Athletics: RHP Daulton Jefferies.
Rangers: INF Sherten Apostel, OF Leody Taveras, RHP Demarcus Evans and RHP Tyler Phillips.
Astros: 1B/LF/RHP Taylor Jones, RHP Cristian Javier, RHP Enoli Paredes and RHP Nivaldo Rodriguez.
Angels: 2B/OF Jahmai Jones and LHP Hector Yan.

Tags: Cubs Baseball
,
Willson Contreras
,
,
Miguel Amaya
,
Victor Caratini
,
Cole Hamels
,
Tyler Chatwood
,
Tyson Miller
,
Manuel Rodriguez
,
Thomas Hatch
,
Theo Epstein