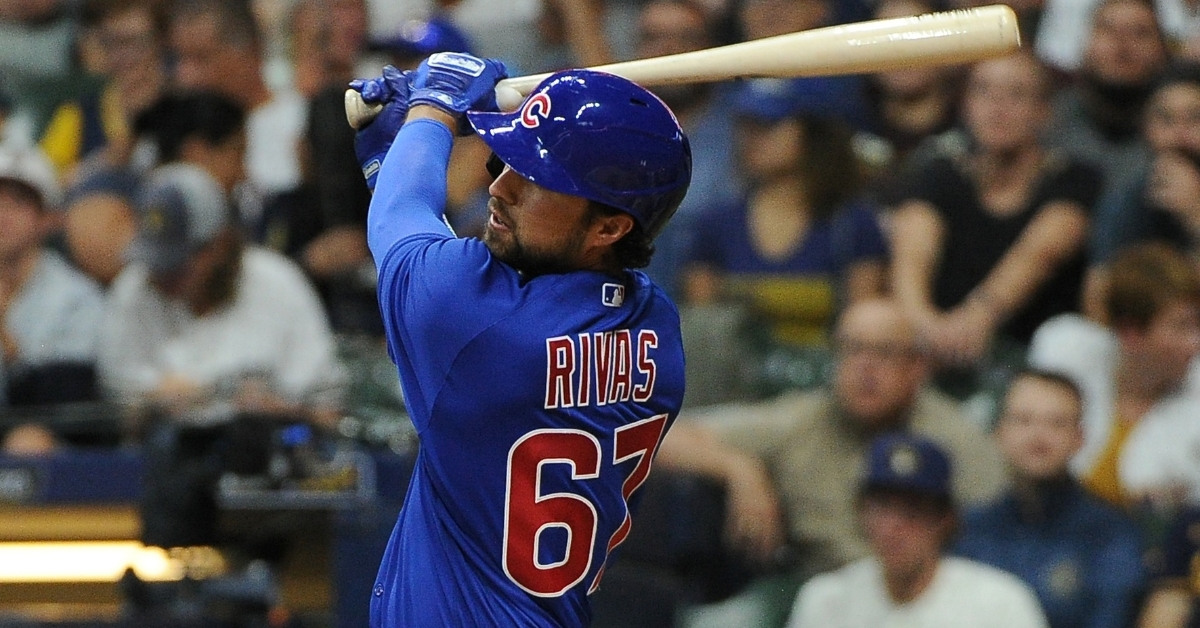 | | |
| --- | --- |
| Cubs Prospect Focus: Alfonso Rivas | |
---
| | | |
| --- | --- | --- |
| Friday, November 19, 2021, 9:17 AM | | |
The Cubs farm system has gone through a significant makeover the past several seasons in hopes of being one of the best in baseball soon. After building up the best farms system in baseball to help this team achieve a World Series title in 2016, the Cubs went against the grain traded organizational pieces to try and sustain long-term success.
Not only did that backfire, but they gutted the farm system in the process as they went from the top-ranked system down to 29th in baseball. Knowing they will need to beef up the system once again if they want to compete for the long-term, the Cubs have done a great job retooling their farm system to the point where they are a top 20 system again. I would even argue that they are better than their ranking shows, and this season could be a huge step in proving that.
While adding from within the draft has helped this team, so has trading away some of their key pieces over the last several years. Those trades not only got rid of pending free agents and high-paying contracts, but it also brought in several new prospect faces to the organization who will play a significant role in the next great team. When that happened, many of the former top 30 prospects fell out of the rankings, which shows you the quality of players the system has once again.
One of the names to keep an eye on this season happens to be Alfonso Rivas, who checks in at No. 30 on the Cubs top prospect list. A fourth-round pick of the Oakland A's in 2018, Rivas was acquired in 2020 as part of the Tony Kemp trade to Oakland. Chicago was linked to Rivas long before they acquired him, as they wanted him back in 2018 only to see the A's draft him one pick before they could get him. With the Cubs, Rivas is hoping to play more of a role next season after making the MLB roster this season.
Unlike many left-handed-hitting first basemen, Rivas is not known for his power hitting, but instead is a pure hitter with a picture-perfect left-handed swing. Look no further than his minor league numbers, where he has combined for a .288 average across three seasons, including a .284 with Iowa this year. Home runs are not part of his game as he has connected for 14 homers to go with 120 RBIs, but it is his eye at the plate that stands out. Not only does he display the bat-to-ball skills, but his patience at the plate is what the Cubs are lacking, and they hope that contributes at the MLB level.
After missing the first seven weeks of the season last year, Rivas bounced back and put together a solid two-month showing with Iowa. His consistent approach, coupled with the trade of Anthony Rizzo, helped him land on the MLB roster, where he played in 18 games this season.
Most of his games were in right field, showing that he has versatility, but his future will be at first base. Over those 18 games, Rivas had 44 at-bats, where he hit a .318 with one homer and three RBIs. His three walks to 16 strikeouts didn't fall in line with his career marks, but it wasn't surprising when you look at the MILB to MLB transition.
In a game predicated on hitting a home run or strikeout, Rivas is the exact opposite of that hitter as he is a line-drive hitter who likes to use the whole field. Although a much better fastball hitter than most, power is the worst tool among his traits, although he should get more power with experience. He slugged just a .411 across his first three minor league seasons, but the Cubs love his approach and feel he can eventually turn into a 15-20 homer guy.
What Rivas lacks in power, he makes up for with other tools hence the versatility to bounce around. He is good with the glove and provides much better speed when compared to most first basemen. The glove is far from polished in the outfield, but he has extremely soft hands at first, making him a reliable defender with a strong arm.
His ability to play the corner outfield spots makes him a versatile player, which should help get his bat in the lineup more often. Although less experienced than Frank Schwindel, who busted out with the Cubs this season, Rivas has a consistent and proven track record in the minor leagues. He knows the type of hitter he is and is someone the Cubs need in the their lineup from an approach side of things. He may not be an opening day roster candidate next year, but he will be on the roster at some point, playing a platoon role at worst.