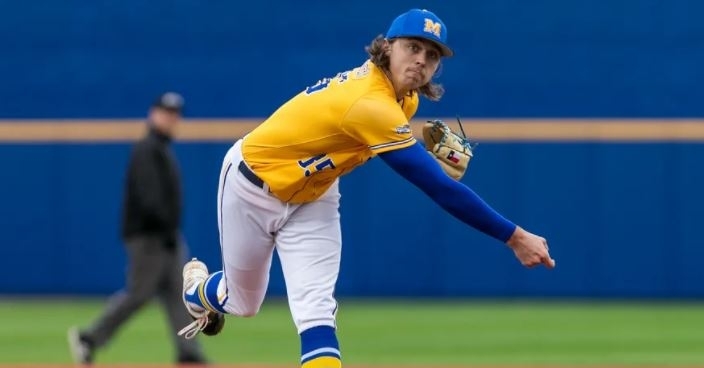 | | |
| --- | --- |
| Cubs Prospect Focus: Cayne Ueckert | |
---
| | | |
| --- | --- | --- |
| Monday, January 10, 2022, 1:00 PM | | |
One of the best parts of the MLB draft is that it has so many rounds. Even though the rounds have been cut in half from 40 rounds down to 20, it gives teams plenty of opportunities to find talent. Unlike the NBA, NHL, or NFL, the MLB draft is known for late-round talent, which makes baseball special.
Add in the four-level Minor league system, and players have a proper amount of time to develop into something special, giving everyone an equal playing field of sorts. For the Cubs, they haven't had a ton of late-round talent despite having several late-round selections on their team. Kyle Hendricks was taken after the 25th round, but the Cubs had to trade for him, so he isn't their product.
The Cubs also had Carl Edwards Jr. at one point, who was a 37th round pick and emerged as a valuable postseason weapon for several years. These are stories you hear about all the time and ones that make me love baseball more than any sport out there. Looking across the Cubs system, most of their highly regarded and potential stand-out prospects are middle to upper-round draft picks.
However, there are some under-the-radar names you can't count out, with Cayne Ueckert being one of those names. A 27th round draft pick in 2019, Ueckert is not only being looked to contribute this season but is one of the higher draft selections in the Cubs system that they are counting on at this point. A stand-out starting pitcher from McNeese St. Ueckert is still figuring out his role at a professional level, and the Cubs are hoping that his role becomes more defined this season.
Ueckert has been around for two seasons now, and the results have been incredible so far. During the 2019 season, when he was drafted, Ueckert wasted no time reporting to Cubs camp getting to Mesa for the ACL summer league. He was one of the rare pitchers that spent time with both the ACL 1 and ACL 2 two teams that season as that was the last year the Cubs had two teams in Arizona.
Over the season, Ueckert appeared in 15 games, all in relief, where he logged 23 2/3 innings of work. Although his record was 0-1, Ueckert pitched phenomenal posting a 1.90 ERA with a 12BB/26K ratio. All of that was great for a rookie, which led the Cubs to having high hopes for his 2020 season. Once it was revealed that COVID would cancel the minor league season, Ueckert, like most minor leaguers, had to figure out what they would do with their time.
After losing a year of development, Ueckert entered the 2021 season as a mystery, with the Cubs not knowing what to expect from him. He wasn't a top-tier prospect who was going to head to the instructional league, and it was hard enough to get invited to the Alternate site to have any form of competitive work. What they got was more than impressive, and the organization is starting to believe in him as a pitcher.
Like in 2019, Ueckert spent the season between two levels splitting time with High A South Bend and AA Tennessee. Expected to go through some struggles, Ueckert did everything, but struggle which is a pleasant surprise. Ueckert was once again a beast in relief across 26 combined games and 31 innings of work, going 1-1 with a 1.45 ERA 12BB and 37K. He also added eight saves in nine tries to his name.
Ueckert has given the Cubs 54 2/3 innings of work spanning 41 games in two minor league seasons, all in relief. His 1-2 record is what it is, but his 1.65 career ERA, 24BB/63K, and 11 saves in 12 chances prove he has what it takes to be a late-game reliever.
Unlike most high leverage relievers, Ueckert wasn't known for his heater as he was in the 92-94 range most of his career. That was until last season when he saw his velocity tick up to 95-97. Despite his delivery requiring a ton of effort, Ueckert pounds the strike zone, which is why he has been so successful early on.
Not only has his fastball dramatically increased, but his slider not only has some good velocity at 91, but darts away from hitters forcing them to whiff more often than not. Given that he was a 2019 pick, he doesn't need to be on the 40-man roster for another year, allowing the Cubs to develop him at their own pace. He has a high leverage reliever written all over him, and I expect him to be used in more of a closer role in 2022.