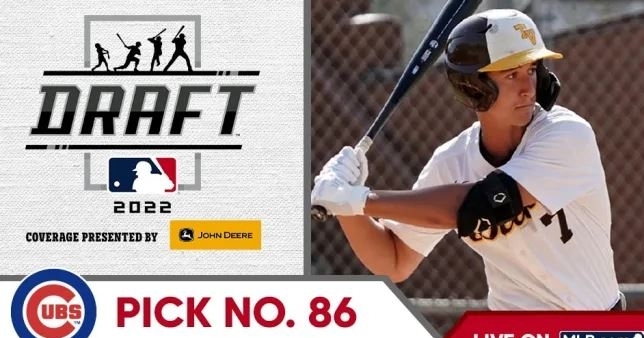 | | |
| --- | --- |
| Cubs Prospect Focus: Christopher Paciolla | |
---
| | | |
| --- | --- | --- |
| Thursday, February 2, 2023, 8:48 AM | | |
One of the best parts of the Cubs minor league system is their depth. Not only are they built for success now, with three teams making the postseason a year ago, but they are built for long-term success as several of these kids have a chance to seriously impact this team's future.
Chicago Cubs are some of the most knowledgeable baseball fans, and that is a good thing. They not only follow the Major League club closely, but unlike most organizations, they know a thing or two about their minor league system. That includes who the prospects are and where they are going to be.
However, now and then, you have that one guy that sneaks up on a lot of people and comes out of nowhere. When that happens, people take notice as they may not have heard of who this player was before. One of those guys has risen to No. 24 in the Cubs system in shortstop Christopher Paciolla.
To the most casual Cubs fan, this might be another name you have probably never heard of. However, for those who follow this team a bit more closely, Paciolla was drafted in 2022 and was the third-round pick by Carter Hawkins and Jed Hoyer.
The fact that he is not only in the top 30, but sitting at 24 after just seven games of professional experience shows what many scouts think this kid can be. After the Cubs drafted him, Paciolla took a little time to get his bearings together before reporting to Mesa for the ACL.
While there, he went through some rigorous workouts, but only game action in seven games. Across those seven games, Paciolla logged 21 at-bats, going 3-21 for a .143 average. One of those three hits was a homer, but he has had a minimal sample size.
When the Cubs took him in the third round, it was a surprise as most scouts pegged him as a fifth or sixth-round talent. However, the Cubs saw something in him they liked and wanted to jump on him before it was too late. What made this pick more surprising was that he was the only position player drafted by the Cubs in the first 14 rounds.
Initially a UCLA commit, Paciolla turned down the opportunity to go to college and instead signed for 900K. Unlike many old college bats that the Cubs have drafted who thrived on power, this organization is going in a different direction and wants more on-base percentage and fewer homers. That is what Paciolla can do for you, as his bat-to-ball skills allow him to make consistent contact.
At 6-2, he uses a surprisingly short and compact swing, but he does generate plenty of bat speed with that swing. That allows for some natural loft which could lead to an increase in power once he fills out his frame more. Like the Cubs saw during his brief time in the ACL, Paciolla can get pull-happy at times, but he does a great job of not trying to do too much most of the time.
A shortstop by trade, Paciolla is one of the least athletic shortstops in his class which might force him to move to third. Considering the Cubs depth at that position, it may be a good thing for him, and the organization as that may get him to Chicago sooner.
Even with a lack of athletism to stick at short, Paciolla has excellent instincts in the infield, led by the first-step quickness that makes him look faster than he is. Throw in his above-average to good arm, and he should have no issues holding down the hot corner if the Cubs feel that is the best move for his career.
He is expected to begin the season in Mesa again to gain more experience. Look for the Cubs to bounce him around various infield positions at the start of his career. The more places he can play, the more opportunities he will have to make an impression. This is one of those kids several years away, but I wouldn't be surprised to see him finish up in Myrtle Beach this summer.