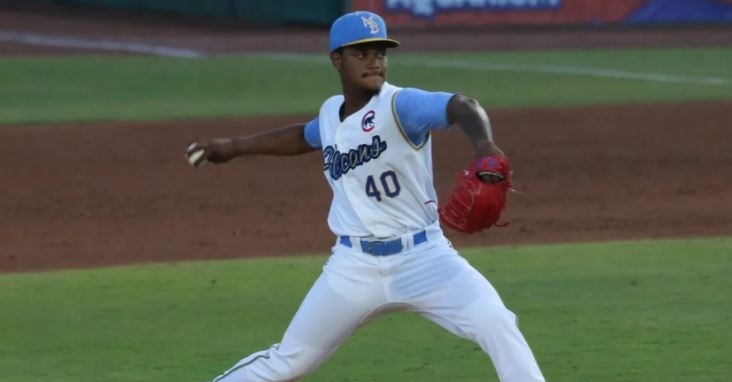 | | |
| --- | --- |
| Cubs Prospect Focus: Danis Correa | |
---
| | | |
| --- | --- | --- |
| Friday, November 12, 2021, 9:49 AM | | |
Although the 2021 Minor League and Major League seasons may be over, baseball is still going on in some capacity. Not only are the Winter Leagues set to begin in a few weeks, but the Arizona Fall League is entering the final week of their regular season after beginning play in October.
For those unfamiliar with the Arizona Fall League, it is a prospect-laden fall league filled with six teams, five organizations per team. The Cubs are part of the Mesa Solar Sox team joining forces with Miami, Baltimore, Toronto, and Oakland. Coming off their 12-9 win over the Surprise Saguaros on Saturday, Mesa sits at 11-9 and leads their division by four games.
The Cubs system has been a big reason for their success as several prospects are taking part in this league. While some are top 30 prospects and some aren't, the development these players get in this league will be substantial stepping stones for their future. Add-in Manager Lance Rymel, who was the ACL Cubs manager this season, and they are well represented down in Arizona.
Today, we are focusing on another pitcher in Danis Correa. One of the lesser-known Cubs prospects, the 22-year-old Correa, is doing a fine job during the Fall League and could be on the verge of breaking out next season. Despite his 5-11 150 pound frame, Correa pitchers bigger than his stature and will likely put on plenty of pounds across the next several years.
Correa is coming off an impressive 2021 season in which he spent time with South Bend and Myrtle Beach. Across 26 combined games, Correa tossed 37 innings posting a 4-2 mark with a 1.95 ERA. He pitched well for South Bend across his eight games, but in 18 games with the Pelicans, he emerged as one of their best bullpen arms.
With the Pelicans, not only did he go 3-0 across his 26 innings, but his 1.73 ERA is what stood out the most. Add in his 12BB to 44K ratio to go with a .133 average, and you can see why he could be on the verge of a solid breakthrough season. Correa also went the entire season without allowing a homer and has yet to give up a homer during his minor league career.
Signed as an International Free agent in 2016, Correa is still a ghost in terms of where he fits in this team's future, but it is hard to argue the success he has had. Not only did he go the entire season without allowing a homer, but across 73 minor league innings, he still hasn't allowed a homer which bodes well to being a top-flight bullpen arm in the future.
The Columbian-born Native went through a pair of injury-filled seasons to begin his career, but since 2018, scouts have praised his rapid increase in development as he is moving closer and closer to becoming a top 30 prospect in the Cubs system. Correa made his DSL debut at just 17 years old, posting a 3.62 ERA across his eight starts that year.
He struck out just 17 hitters in 32 innings that season, but did enough to land in Mesa before the season's end. Although limited to just two games with the ACL Cubs that year, Correa struck out six hitters in 8 1/3 innings of work while allowing just two earned runs in the process. The following season saw Correa miss most of the year dealing with injuries before returning to his old self, if not better in 2019.
Now coming off the season he had and the start he has gotten off to in the Fall League, fans wonder what is next for the young and improving right-hander. From a stuff side of things, Correa can bring the heat where his heater sits in the 93-100 MPH range. Although triple digits are scarce, he does tend to average 95-98, which the Cubs major league roster could desperately use.
That fastball may be his only plus pitch at this stage in his career, but his off-speed pitches continue to get better. To compliment that heater, Correa uses a change-up and curveball that sit in the low to mid-70s, but continue to get better with more experience. Although Correa is still a mystery at this point, very few can argue his stuff.
This 99 mph by Danis Correa pic.twitter.com/jEleFZwV1r

— Todd ?????? (@CubsCentral08) August 5, 2021
If you ask some scouts, they will rank him ahead of Kohl Franklin, who is widely regarded as one of the Cubs better pitchers in the system. This was a big year for Correa, and someone fans didn't know a ton about heading into the year. That won't be the case too much longer as he could be on the fast track to the MLB given his success since returning from an injury-filled 2018.