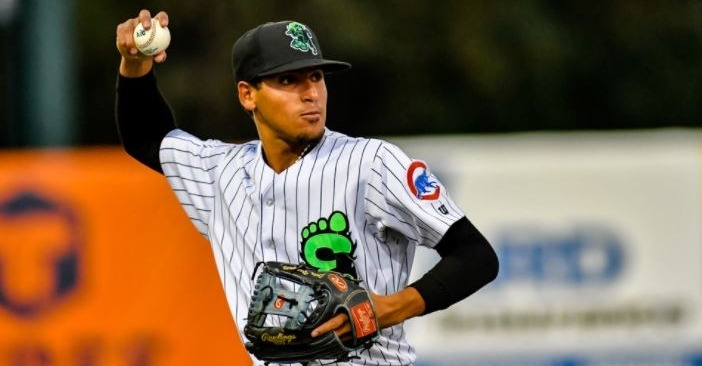 | | |
| --- | --- |
| Cubs Prospect Focus: Luis Vazquez | |
---
One of the best things about the Arizona Fall League is that it gives fans a chance to see some unknown prospects get extra reps with hopes of improvement for the future. Given that I have followed the Minor Leagues quite extensively the last several seasons, nothing surprises me anymore in terms of prospects as the Cubs have plenty of under-the-radar names to look forward to.
With a farm system loaded with shortstop talent from the top-down, another shortstop is playing for Mesa right now that could land himself in the top 30 conversation soon enough. Luis Vazquez is his name, and someone Cubs fans may want to pay attention to soon. At 22 years old, Vazquez is older than every other shortstop in the system, but ranks lower than all in terms of his ceiling, as many don't know what that ceiling will be.
While his offensive ceiling is still a bit unknown, the glove stands out the most as he may have the best glove in the entire system, which is telling you something. A 2017 fourth-round pick, Vazquez has had his ups and downs as a pro, but it seems like he is starting to figure things out at the perfect time.
Vazquez was placed in rookie ball following his fourth-round selection, where he struggled across his 29 games, hitting just a .184 with no homers and nine RBIs. Given how easy it is to hit homers in Arizona, that was not what the Cubs were hoping for during his first season, as he showed that he had a long way to go in terms of development.
One year later, Vazquez was moving to short-season Eugene, where his struggles continued hitting just a .193 across 59 games. He managed to hit three homers that season and drive in 14, but the bat was still miles behind where the glove was at this stage of his career. 2019 was a significant year for Vazquez in terms of development, even if the numbers don't show that.
Yes, he still struggled to hit the ball, posting just a .234 average across 106 games, but that doesn't tell the whole story. The power still wasn't there with him hitting two homers and driving in 25, but he seemed to get better as the season went on. In fact, Vazquez started the year with short-season Eugene, but finished the year with Iowa as he moved through four different levels in the system. Although the Cubs may have been hoping for better production offensively, his glove continued to make plays, and that alone is worth noting for his future.
Losing the 2020 season hurt a lot of players in terms of development, but Vazquez may have been affected the most. He was coming off a season where he flew through the system and seemed on the verge of a breakout only to not play with COVID wiping out the season. To make matters worse, Vazquez suffered an injury in 2021 and required mid-season hand surgery that limited him to just 34 games.
In those 34 games, Vazquez finally started to show the potential the Cubs have been waiting for as his offense is now catching up to his defense. Across three teams this season, mainly South Bend and Tennessee, Vazquez hit a career-best .264 with two homers and 14 RBIs. His patience at the plate remains an issue, but with 14 walks and 36 strikeouts, it has dramatically improved from what it once was.
Fast forward to the Arizona Fall League, and Vazquez has given the Cubs quality at-bats as he has posted a .250 average so far. Vazquez has also continued to show the fabulous defensive tools in the field, and that should only continue as he works toward a major league career.
His added muscle this offseason may not be much, but it is noticeable when looking at his body build. That mixed with an improved swing and an increase in walk numbers are paying off as he is finally looking like an everyday caliber player in the future. Even though he was limited to less than 40 games last season, Vazquez had a strong six-week run and was starting to come into his own with Tennessee before COVID altered the rest of their season.
While this assignment is mostly about making up for the time he lost with injury, I think the Cubs are giving long-shot consideration to adding Vazquez to the 40-man roster. The Cubs use this time to try and improve Vazquez' contact rates with a swing that has a bit of a hole on high fastballs. He is rule 5 eligible this season, and if the Cubs firmly believe he can contribute in the future, they need to figure out how to hang onto him as his defense alone makes him a huge get.