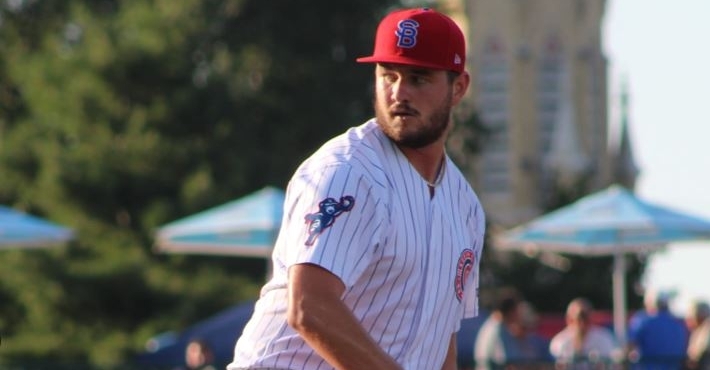 | | |
| --- | --- |
| Cubs Prospect Focus: Luke Little | |
---
| | | |
| --- | --- | --- |
| Monday, January 30, 2023, 8:32 AM | | |
As we continue to break down the Cubs top 30 prospects, pitching remains the theme as we check in at No. 27 today. When you think about tall and hard-throwing left-handers, the names Randy Johnson, Chris Sale, Andrew Miller, and Aroldis Chapman come to mind. Well, the Cubs may soon be adding another name to that list as the big Luke Little lands in this spot for now.
A fourth-round pick in the COVID-shortened 2020 MLB draft, Little is a big man and checks in at 6-8 and 220 pounds. Given his size on the mound, you can bet he throws hard. You would be correct, as he has maxed out at 105 MPH in summer workouts, but has yet to hit that number since turning pro. Still, that is not a knock against him, as he is still one of the harder throwers in the Cubs entire system.
Upon being drafted, Little had to wait an entire year before he could make his professional debut, as the COVID restrictions would not allow that to happen. Once he did, the Cubs brought him on slowly, as he appeared in five games (4 starts) in 2021, logging just 11 innings overall. Little posted a 4.91 ERA over those 11 innings, but did have 19K compared to just 5BB. That was one of his biggest issues in college: lack of consistent command, so that was nice.
Moving to this past season, everyone knew Little would get an increased workload. However, no one knew how much his load would increase. Across two levels this season, Little appeared in 24 games (22 starts) as he was used more often. Even with the increased appearances, his innings haven't gone up a ton, as he pitched in fewer than 70 this past season.
Granted, his record is what it is at 1-5, but he was much better than that posting a 2.47 ERA across his outings. Going back to his command, you have a guy who continues to get better as he walked 38 and struck out 101. He did that while holding opponents to a .180 average. The biggest question is what comes next for Little, as the Cubs are still trying to figure out if he will be a starter or a late-inning relief guy.
Not only did Little max out at 105 MPH during some of his summer workouts, but he was consistently hitting 102 MPH during his final season at San Jacinto (JC) in Texas. That alone put him on the radar for many teams, as his blazing fastball is one of those who can't pass up pitches. Despite the Cubs bringing him up slowly the past two seasons, he has been overpowering when he has been on the mound. This season will be crucial for him, as I expect the Cubs to turn him loose in 2023.
While his fastball can touch triple digits, he has consistently been around 95-97 MPH in the minors, and there is nothing wrong with that. As long as he can command that pitch, it will be an overpowering offer that he can make a living off of. Throw in his 6-8 frame, and Little has a very long delivery that not only creates a downward plane but also makes that fastball look faster at times which is hard to believe.
The next step in his development will be developing his secondary pitches and one that he can consistently count on. He is getting close to that point with his slider, and at 84 MPH, it has lots of sweep and can make hitters look silly when they gear up for his heater. Little is also started to work on a change-up, and I expect that to be the pitch he works on the most this season.
Should that development come on that pitch, the Cubs will stick with their plan to develop him as a starter. However, most scouts see him moving to the bullpen, where he can thrive off of his already two-plus pitches. The Cubs have worked to help him clean up his delivery, but it's still not pretty. He needs to repeat it better and has a history of throwing inconsistent strikes.
You would never guess that based on his overpowering stuff at the lower levels, but you could see that change once he moves up in the system. While I agree he would look nice as a starter, he has all the makings of being an intimidating late-inning reliever, and most fans would be ok with that if it works.