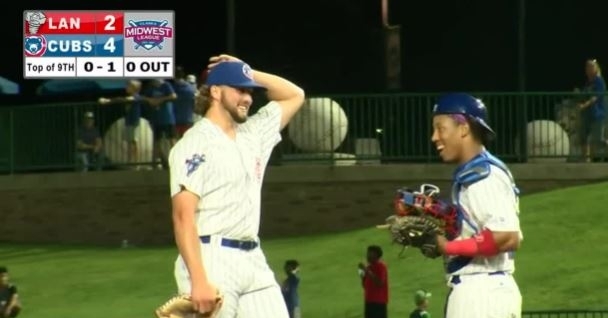 | | |
| --- | --- |
| Cubs Prospect Focus: Porter Hodge | |
---
| | | |
| --- | --- | --- |
| Sunday, February 5, 2023, 8:25 AM | | |
When it comes to the Cubs and their farm system, many changes have happened over the past two years. Most of those changes were for the better, as their system is now a top 10 and arguably a top five system in all of baseball. A big reason for that stems from the trades they have made in recent years to retool the once-depleted system.
Another thing that the Fans are starting to love about their system is not just the overall depth that comes with it, but the amount of homegrown pitching this team finally has. That has been the biggest issue for several years, and the team has finally focused on developing homegrown arms.
Credit Jed Hoyer for changing the way the organization thinks from a development side, while Carter Hawkins has always had a knack for finding great pitching. Sticking with the pitching for a bit, you will find the next prospect in the Cubs system with Porter Hodge checking in at No. 22.
Of all the players who took significant steps forward a season ago, Hodge has to be one of those guys that fans saw the most growth out of, as he had a phenomenal year. Drafted in 2019, the 21-year-old Hodge has been a stable force in the Cubs system since making his debut. That summer, he debuted with the ACL Cubs and struggled in his eight games with an ERA north of 10.
A big reason for that was having twice as many walks than strikeouts, as his first summer as a pro didn't go as planned. Entering the 2022 season, Hodge knew he had a lot of work to do, but was eager to get back on the mound to make something happen. Then COVID comes along to cancel the entire year, which put an immediate halt to his development.
Many people may think that was a bad thing, but when it comes to Hodge, it may have been a blessing in disguise. Having that year off allowed him to refocus on his career and gave him more time away from the team to work on the things he needed to. You started to see the improvements in 2021 despite what his numbers indicate.
For the season, Hodge appeared in 14 games with 10 starts and went 2-3 with a 5.86 ERA. His command improved tremendously as he walked 17 compared to 64K, but the rest of his numbers were not great. However, the work he did during the second half of the season with Myrtle Beach stood out the most.
In seven games with the Pelicans, Hodge posted a 3.74 ERA with eight walks and 29K. He was finally out of that Arizona environment and started to show everyone he was a better pitcher than his numbers indicated. Using the strong second half to fuel him for 2022, Hodge had a breakout season this year and thus has put himself in the top 20 Prospect conversation.
Splitting time between Myrtle Beach and South Bend this season, Hodge was a busy man as he appeared in 25 games and 24 coming as starts. He logged more than 109 innings as the Cubs worked him harder than most of their starting pitchers. As expected, most fans only care about the results, and let me tell you, his results were good this season.
Hodge went on to post a 7-5 record in 2022, but it was his 2.63 ERA that stood out the most. Throw in 55 walks and 141 strikeouts, and he had one of the best seasons in the entire system. Had it not been for the Luis Devers show this season, Hodge would have been in the conversion for the pitcher of the year.
That is telling right there, as this guy was an unknown heading into last season and has now emerged as a serious prospect in the system. He has the arsenal to be a starter in this league with a fastball that sits around 93-95 and a steady assortment of off speed pitchers to keep hitters off balance. It will be interesting to see what 2023 has for him as he will look to build off a very strong showing in 2022.