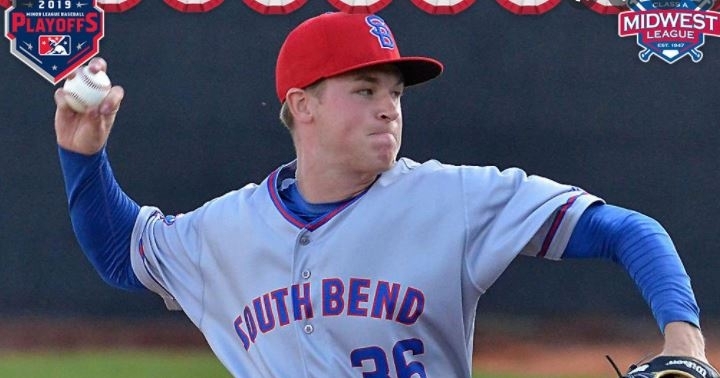 | | |
| --- | --- |
| Cubs Prospect Focus: Riley Thompson | |
---
| | | |
| --- | --- | --- |
| Sunday, November 21, 2021, 10:49 AM | | |
We continue to move down the top 30 prospect list as we focus on one prospect a day. Today marks an intriguing prospect who has fallen down the Cubs list a little bit. Once a top 15 prospect who checked in at 13, Riley Thompson has plummeted down the list to No. 28, but make no mistake about it, he is still a legit prospect with high regards in the system.
Selected in the 11th round of the 2018 MLB draft, Thompson was one of those mid-round steals that you could consider a late bloomer. Look no further than his 2016 high school season, where Thompson consistently touched 96 with his fastball. That made him a near-shoo-in for a top-three-round selection, given his age and the velocity he already established.
However, after his elbow gave out in May of that season, Thompson not only was forced to have Tommy John surgery, but elected to attend Louisville University, where he redshirted his first season. Once he was cleared to return to action, things were never the same for Thompson as he battled command issues during his final two seasons with the Cardinals and dealt with shoulder issues that accounted for his tumbling draft stock.
That worked out in the Cubs favor as they selected him in the 11th round for a slot value of $200,000. Not only was this a steal for the Cubs, but Thompson went on to win championships in his first two seasons, playing a significant role in both titles. In 2018, Thompson posted an 0-2 mark in eight starts with Eugene but had a 2.84 ERA with nine walks and 25 strikeouts.
One year later, he earned the bump to South Bend, where he was a stable in the Cubs rotation that paved the way for a Midwest League title. Thompson was brilliant across 21 games, all starts that season, going 8-6 with a 3.04 ERA in 94 innings of work.
His 31BB to 87K was very solid as he is now 8-8 with a 3.02 ERA across 30 minor league games.
His consistently great performances led him to land in the top 15 heading into 2020, but due to the Pandemic was forced to pitch strictly in a camp role.
One year later, the Cubs were expecting Thompson to break out, but his injury history reared its ugly head again as shoulder discomfort forced him to miss another season. That makes two consecutive seasons where Thompson hasn't thrown a pitch in game action, which has to be a concern. Despite that, the organization remains extremely high on him as he checks in at No. 28 on the prospect list, but 2022 will be a make-or-break season for him.
Teams saw his high-powered heater back in high school, and although the velocity is down slightly, he still sits in the 93-95 range and can max out at 97 MPH. The thing to note is the injuries as his days as a starter may be over because of it. That may not be a bad thing, given that Thompson did touch triple digits in shorter outings. The Cubs may look to use that to their advantage and maximize his stuff to protect that arm.
Another thing the Cubs love about him and are banking on him to continue to get better with is his curveball which would give him two plus pitches. Not only is his curve a power curve that sits in the 82-86 MPH range, but it has some of the best spin rates in the system, making it challenging for hitters to pick up consistently. That is a pitch he is having trouble locating at the moment, but it has gotten better. After altering his grip on the baseball, Thompson has also developed a much better change-up and is now a three-pitch guy with loads of potential.
Part of the reason for his slow development has been injuries, but the other part has been an inconsistent release point. The Cubs have done a great job with Thompson cleaning up his lower half, which helped with much better control in the minors, especially with South Bend. The next step is polishing the things the Cubs have worked with him on and, of course, staying healthy.
Should he remain healthy, he has all the intangibles to be a mid-rotation arm that the Cubs will need sooner rather than later. However, when you consider the injury history and that he hasn't reached AA yet and will be going on 26, you have to wonder how long it will take to see him in Chicago. If I could guess, the Cubs may stick him in the pen to get him here sooner as the arm talent is there to be an outstanding reliever.