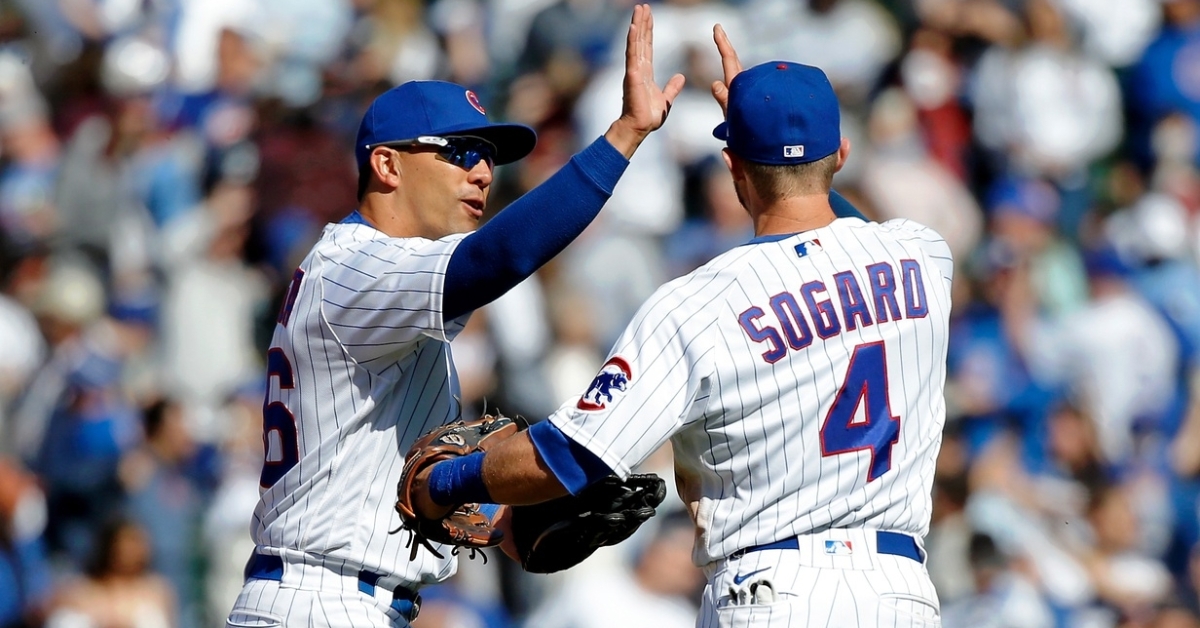 | | |
| --- | --- |
| Cubs pull away from Reds, win sixth straight for first time in 2021 | |
---
| | | |
| --- | --- | --- |
| Saturday, May 29, 2021, 6:50 PM | | |
CHICAGO — Winning a sixth consecutive game for the first time this season, the Chicago Cubs (29-22) defeated the Cincinnati Reds (22-28) with a 13-hit performance on Saturday. The North Siders scored eight combined runs in innings 6-8, pulling away from the Reds and notching a 10-2 victory at Wrigley Field. In the starting pitching matchup, Zach Davies outperformed Luis Castillo. Unfortunately, the Cubs lost David Bote, who homered for the only run of the Cubs' 1-0 win over the Reds on Friday, to a shoulder injury suffered on a fourth-inning slide.
Bote opened the game with a great diving stop at third, with Eugenio Suarez grounding out in the first place appearance of the afternoon. Former Cub Nicholas Castellanos grounded into an inning-ending double play soon afterward. In the top of the second, Rafael Ortega made a great sliding catch in right field, robbing Tyler Stephenson of a hit. Willson Contreras singled to begin the bottom of the second and then moved to second on a bunt by Ortega. Suarez then fielded a grounder hit to shortstop by Bote and had Contreras hung up between second and third before airmailing an easy throw to third.
Thanks to Suarez's throwing error, Contreras reached third, while Bote made it to second. The Cubs took advantage of the gaffe, with Eric Sogard plating Contreras via an RBI single. Davies then laid down a perfect bunt and beat out the throw to first. The RBI bunt single scored Bote, but Sogard was thrown out at third. Ortega walked to begin the bottom of the fourth, and Bote was then hit by a pitch. Bote slid feet-first into second after Sogard grounded to first. Attempting to maintain contact with the bag in order to avoid being called for interference, Bote reached back after sliding off the bag and suffered a separated left shoulder in the process.
Adding insult to injury, a successful Reds challenge ruled that Bote had interfered by intentionally touching Suarez's leg as Suarez threw over to first, resulting in a 3-6-1 double play. Sogard collided with first baseman Alex Blandino when running past first, but neither player was injured. Ortega was forced to go back to second because of the slide interference, and Patrick Wisdom replaced the injured Bote in the lineup. In the fifth inning, Ortega committed a fielding error when failing to catch a ball hit by Jonathan India, who made it to second on the play but ended up getting left stranded.
Btm 4th – @Reds challenge call that David Bote did not violate the slide rule at 2B; call overturned, it is a violation of the slide rule, the runner and batter-runner are out. Powered by @Mitel. pic.twitter.com/qNkPjZsefM

— MLB Replays (@MLBReplays) May 29, 2021
Rex Brothers relieved Davies in the sixth but was relieved himself with one out and the bases loaded. Keegan Thompson was then taken for a two-run double off the bat of Stephenson, scoring Suarez and Jesse Winker. The Reds were unable to take the lead, though, as Thompson kept the score at 2-2, with Javier Baez helping his cause by making a difficult catch of a Max Schrock popup hit behind shortstop. The Cubs went back in front in the bottom half of the frame. Castillo walked Ian Happ and Contreras, and Cubs nemesis Amir Garrett took the mound. Garrett caught a break when a hit by pitch drawn by Ortega was ruled a strike, even though Ortega pulled his bat back in time. Ortega went on to bunt foul with two strikes, but Garrett walked Wisdom and Sogard in consecutive plate appearances.
Sogard's walk forced home Happ, and brought Tejay Antone into the game, with Garrett getting heckled by Cubs fans — as well as archenemy Baez — as he headed off the field. After Antone struck out Nick Martini, he gave up a two-run single to Joc Pederson, which scored Contreras and Wisdom, and an RBI single to Kris Bryant, which scored Sogard. Following a 1-2-3 seventh from Ryan Tepera, Ortega made up for the aforementioned blown call by slugging his first home run in a Cubs uniform. The solo shot to right landed in the basket atop the wall.
That was not a swing. #ObviousBaseballStatements pic.twitter.com/3Nol4bGVQW

— OBVIOUS BASEBALL (@obvious_bb) May 29, 2021
#Cubs regain the lead with a four-run 6th!

Wrigley Field is LOUD! #CubTogether pic.twitter.com/ypzzzwIOue

— Chicago Cubs (@Cubs) May 29, 2021
Rafael Ortega blasts his first #Cubs home run! #CubTogether @BinnysBev pic.twitter.com/I0v9fRtWtW

— Chicago Cubs (@Cubs) May 29, 2021
Castellanos doubled off Brad Wieck in the eighth but did not score. In the home half of the penultimate inning, Pederson scored on an RBI single tallied by Baez off Michael Feliz. Bryant and Baez then came home on a two-run single from Happ, which was also given up by Feliz. Dillon Maples finished the Reds off in the ninth, putting a bow on the Cubs' 10-2 triumph. Having now won six in a row for the first time in 2021, the Cubs will aim to secure their second straight series sweep on Sunday.

Tags: Cubs Baseball
,
Zach Davies
,
David Bote
,
Rafael Ortega
,
Willson Contreras
,
Patrick Wisdom
,
Rex Brothers
,
Keegan Thompson
,
Ian Happ
,
Joc Pederson
,
Kris Bryant
,
Ryan Tepera
,
Brad Wieck
,
Dillon Maples