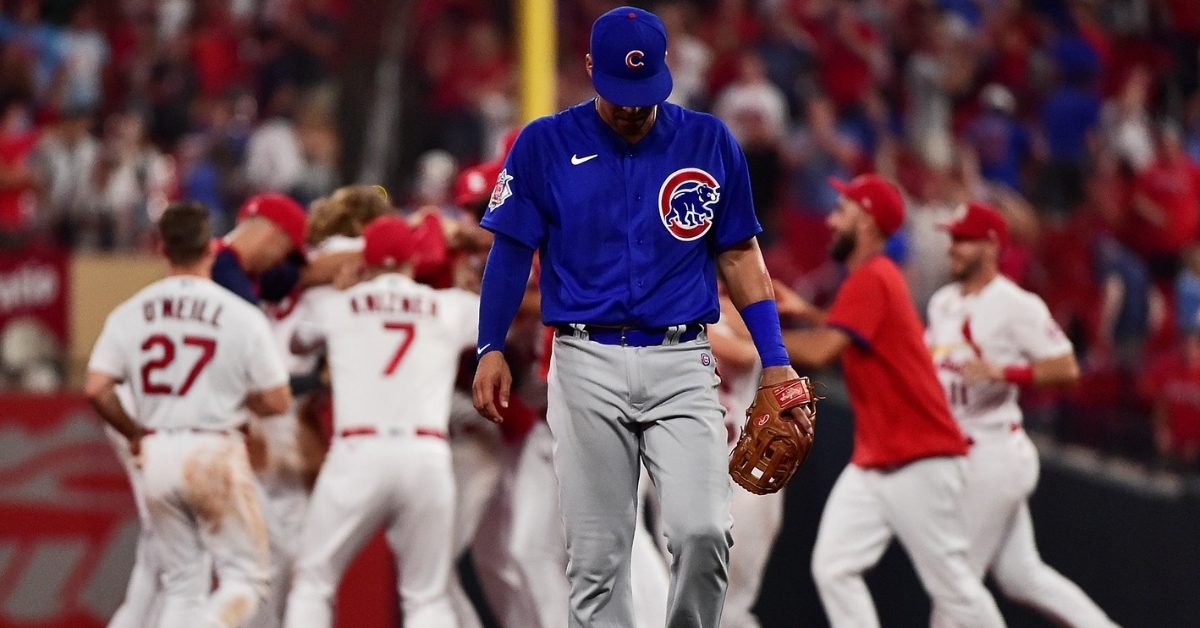 | | |
| --- | --- |
| Cubs rally in ninth inning again but lose to Cards in extras | |
---
| | | |
| --- | --- | --- |
| Thursday, July 22, 2021, 2:36 AM | | |
ST. LOUIS — For the second consecutive game, a ninth-inning bullpen collapse by the St. Louis Cardinals (48-48) provided the Chicago Cubs (47-49) with new life at Busch Stadium. This time around, however, the Cardinals avoided falling behind and were able to come away with the win in extra innings. The Cards blew a 6-1 lead in the top of the ninth and lost 7-6 on Tuesday but pulled out a walkoff 3-2 win in 10 innings. Eric Sogard hit a game-tying double in the ninth, but the Cubs were held scoreless the rest of the way.
Batting out of the leadoff spot, a red-hot Rafael Ortega opened the game with a single off Adam Wainwright. Willson Contreras nearly went yard in the next at-bat was robbed of a dinger by a leaping Harrison Bader at the wall in center. Ortega stole second with two outs but was left stranded when Javy Baez got rung up on a borderline pitch. Paul Goldschmidt doubled to deep left off Kyle Hendricks with one out in the first but did not score. During the second, Ian Happ and Patrick Wisdom put a charge into a couple of pitches that were caught by Dylan Carlson in left.
Bader said NOT TODAY pic.twitter.com/bobNRMRi09

— St. Louis Cardinals (@Cardinals) July 22, 2021
Nico Hoerner led off the third with a base knock and scored from first on a one-out triple by Ortega. Ortega's first three-bagger of the season, the triple was smacked into the right field corner. Contreras was then hit a by pitch, but the Cubs were unable to put together a big inning. Anthony Rizzo swung at the first pitch and fouled out, and a baserunning snafu resulted in the third out.
Rafael Ortega, feeling spicy! ??#CubTogether pic.twitter.com/XQUBpUMwqo

— Chicago Cubs (@Cubs) July 22, 2021
Shoddy baserunning by both teams was a staple of the game, and the Cubs wasted a scoring opportunity in the third when Ortega was caught in a rundown between third and home. Soon after a failed bunt attempt by Baez, Contreras was caught up between first and second by Wainwright. Ortega then strayed too far from third and ended up getting tagged out. The boneheaded decision-making on the basepaths carried over into the bottom half of the inning, when Bader loafed out of the batter's box after driving a routine base hit into left-center and inexplicably decided to stretch it into a double. Happ threw Bader out at second with ease, with Hoerner casually applying the tag.
Making Bader's gaffe even more perplexing was the fact that Wainwright was on deck, meaning that Bader could have easily been bunted over and placed in scoring position with his team trailing by one. The inning concluded with Hoerner fielding a Carlson grounder on the outfield grass and making a jump toss to Rizzo at first. Rizzo dug out the bounced throw and retired the side. Baez slammed his bat down in frustration upon popping up onto the infield to lead off a 1-2-3 top of the fourth. The Cubs wasted a leadoff double by Jason Heyward in the fifth. Heyward tagged up and reached third on a Hoerner lineout, but a Hendricks strikeout and an Ortega groundout followed.
Part II, featuring @nico_hoerner pic.twitter.com/zkGtohoYsw

— Marquee Sports Network (@WatchMarquee) July 22, 2021
A Tommy Edman singled gave way to a Bader single in the fifth, placing runners at the corners with one out. The speedy Edman made a questionable decision by opting to remain at third when Wainwright laid down a sacrifice bunt. Bader reached second due to the bunt, but Hendricks stranded the two runners in scoring position by striking Carlson out looking. Carlson was irate after getting rung up on a 3-2 pitch that appeared to be a bit outside. Although home plate umpire Jeff Nelson let Carlson blow off some steam, he did not provide Mike Shildt with that luxury, as the skipper was ejected and cheered on by Cardinals fans in attendance as he chewed out Nelson.
Big punch out for the Professor! pic.twitter.com/En5NZ7kevG

— Marquee Sports Network (@WatchMarquee) July 22, 2021
Shildt gets tossed from this one after a called third strike on Carlson ended the fifth inning.

TV: Bally Sports Midwest
App: Bally Sports app#STLFLY pic.twitter.com/zHJC9GPnqj

— Bally Sports Midwest (@BallySportsMW) July 22, 2021
Yet another leadoff double went to waste for the Cubs in the sixth. Contreras kicked the inning off with a two-bagger and advanced to third on a Rizzo groundout. He then decided to test Nolan Arenado's arm and paid the price, as the star third baseman and defensive maven made a difficult play seem far easier than it actually was when he fielded a grounder hit by Javy and fired a perfect throw to Yadier Molina, with Contreras getting tagged out in front of the dish. Arenado and Molina nearly evened the score in the sixth, as they hit towering fly balls to the warnink track in left, only to have Happ glove them in front of the wall.
Making the non-routine look routine! pic.twitter.com/nij6PCdY1c

— St. Louis Cardinals (@Cardinals) July 22, 2021
With one out in the seventh, Heyward swatted an opposite-field double down the left field line but wound up deserted at second. Arenado helped Wainwright's cause in his final inning pitched by pulling off a diving stop of a hard-hit grounder off the bat of Hoerner and making an on-target to first while kneeling. Heyward held at second on the play, and Hendricks then struck out to end the half-inning.
We would say Nolan is a walking highlight reel, but he was kneeling so... pic.twitter.com/8EtV1e8Hk0

— St. Louis Cardinals (@Cardinals) July 22, 2021
David Ross having Hendricks bat in the top of the seventh with two outs and a runner in scoring position did not pay off, as he was pulled with one away in the bottom of the seventh. Contreras is primarily to blame for that, though, as he fielded a tapper hit by Paul DeJong and rocketed an errant throw over Rizzo's head. DeJong, who took second because of the throwing error, was credited with a leadoff infield single. Edman popped out to Hendricks on an ensuing failed bunt attempt, but Bader finally put the Redbirds on the board with a double to deep left-center, which brought DeJong across.
??????

Harry is having himself a game! pic.twitter.com/BIL2kv9he7

— St. Louis Cardinals (@Cardinals) July 22, 2021
Andrew Chafin relieved Hendricks after Bader's two-bagger and was unable to prevent the Cardinals from taking the lead. Matt Carpenter pinch hit for Wainwright and flied out, but Carlson had his revenge over the questionable strikeout by slugging a go-ahead double over Happ's head in deep left. Bader scored on the two-out double, putting the Cardinals up 2-1. Goldschmidt reached base — and Carlson advanced to third — on a dropped third strike. Chafin was charged with a wild pitch and subsequently replaced by Ryan Tepera, who struck Arenado out swinging. Arenado was unhappy with the called second strike in the at-bat, as the pitch looked like it was slightly inside.
THE ROOKIE! pic.twitter.com/pPAsggGXRE

— St. Louis Cardinals (@Cardinals) July 22, 2021
Genesis Cabrera and Giovanny Gallegos combined to pitch a scoreless eighth. Cabrera walked Contreras with one out, and Gallegos took the mound with two outs. Cardinals pitching leads the majors in hit by pitches, and the Cubs were plunked five times on the night. Gallegos grazed Baez's elbow guard on the very first pitch of his outing but then forced Happ to ground out. Tyler O'Neill led off the home half of the eighth with a single. However, he was gunned down by Contreras on an unsuccessful steal attempt as part of an inning-ending "strike 'em out, throw 'em out" double play. Tepera fanned DeJong, and Contreras threw to Hoerner, who tagged out O'Neill.
The Cubs' ninth-inning rally in Tuesday's tilt began with Wisdom striking out swinging at a wild pitch but making it to first as the ball got behind Molina. Wisdom struck out swinging to lead off the ninth again on Wednesday, but Molina caught the third strike the second time around. Heyward grounded out after that, and the Cubs were down to their last strike when Gallegos hit Hoerner with a pitch on a 1-2 count. Sogard pinch hit for Tepera and took advantage by cranking a game-tying double into the gap between right and center. Hoerner scored on the two-out two-bagger, and John Gant emerged from the bullpen with Sergio Alcantara, who pinch ran for Sogard, representing the go-ahead run at second.
Tie ballgame!#CubTogether pic.twitter.com/gkigHkfSB4

— Chicago Cubs (@Cubs) July 22, 2021
Down to their final strike once again, the Cubs stayed alive because of another hit by pitch, as Gant drilled Jake Marisnick in the back on a 2-2 count. The ensuing pitch saw a frustrated Contreras get plunked for the second time on the evening, with Molina placating the fellow backstop and assuring him that the HBP was unintentional. Even if the Cardinals' coaching staff wanted to remove Gant from the game, the struggling right-handed was forced to continue pitching due to the three-batter minimum rule. Gant prevented the Cubs from taking the lead, though, correcting his command issues and getting Rizzo to ground out to second. Edman fielded the grounder in shallow right and bobbled the ball before throwing the slow-moving Rizzo out at first to leave the bases loaded.
Edman then singled off Keegan Thompson to start the bottom of the ninth. Thompson tallied back-to-back strikeouts before walking O'Neill with two away. Craig Kimbrel was brought on to pitch at that point, and he drew an inning-ending groundout off the bat of Goldschmidt, thus forcing extras. Rizzo began the 10th at second and advanced to third when Baez hit a leadoff single that chased Gant from the game. T.J. McFarland toed the rubber and forced Happ to hit a routine grounder to shortstop, which was accompanied by Rizzo committing the most egregious baserunning blunder of the contest.
Edmundo Sosa fielded Happ's ground and kept his eyes on Rizzo while scurrying to second for a force out. Rizzo inexplicably scooted down the baseline toward home before stopping tracks, which resulted in him getting hung up and trapped in a pickle. After eventually getting tagged out following several throws were made between third and home, Rizzo was visibly disappointed in himself while heading to the dugout. Meanwhile, Happ reached second during the rundown, which led to Wisdom being intentionally walked. With the left-handed McFarland pitching, the right-handed Robinson Chirinos pinch hit for Heyward, a lefty, and flied out, stranding Happ and Wisdom.
Kimbrel retook the mound in the 10th and issued a walk to the leadoff batter, Arenado. O'Neill then struck out swinging, but Molina provided the Cardinals with a walkoff triumph in the next at-bat by cranking a ground rule double into the right field seats. Goldschmidt, who began the half-inning at second, scored the winning run, and Molina was mobbed on the infield by his celebratory teammates. The Cardinals avoided suffering their second letdown loss to the rival Cubs in as many days, as the North Siders fell 3-2.
Who else?

YADIER. MOLINA. pic.twitter.com/DeJErZJ18k

— St. Louis Cardinals (@Cardinals) July 22, 2021

Tags: Cubs Baseball
,
Rafael Ortega
,
Willson Contreras
,
Javy Baez
,
Kyle Hendricks
,
Ian Happ
,
Patrick Wisdom
,
,
Anthony Rizzo
,
Jason Heyward
,
David Ross
,
Andrew Chafin
,
Ryan Tepera
,
Jake Marisnick
,
Keegan Thompson
,
Craig Kimbrel