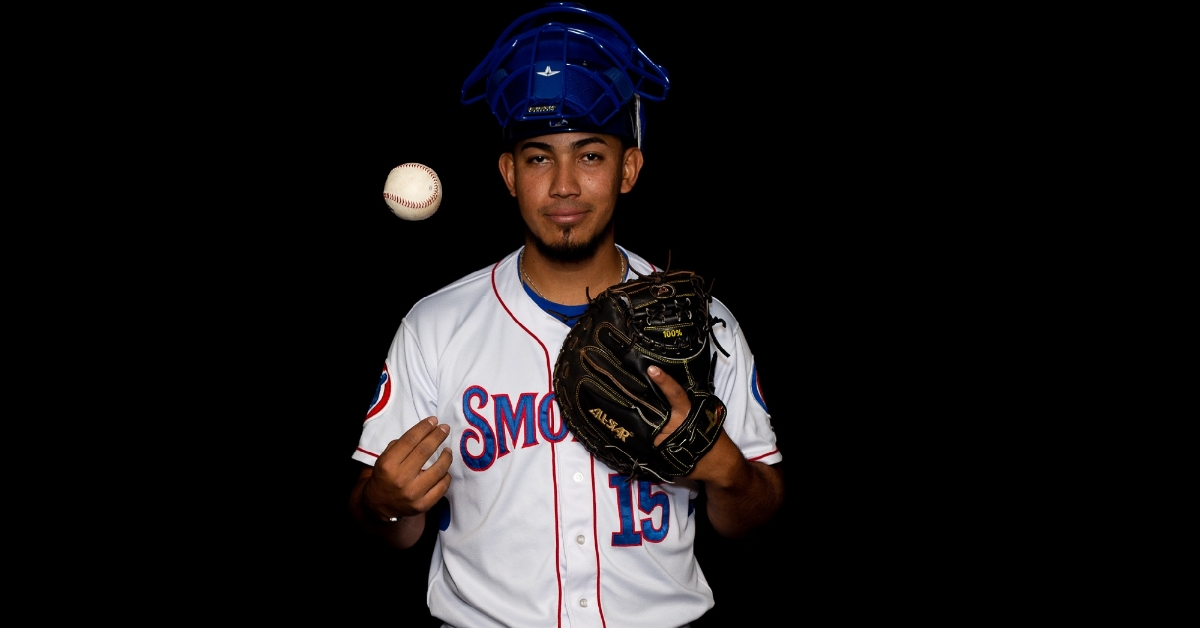 | | |
| --- | --- |
| Cubs re-sign 8 MiLB free agents | |
---
| | | |
| --- | --- | --- |
| Saturday, November 9, 2019, 11:02 AM | | |
With most of the baseball world focusing on MLB free agency, many forget that the Minor League free agency as underway as well. Say what you want about the minors, but their free agency period is just as important for a team's sustained run of success.
For the Cubs, they had a lot of names up for free agency and managed to hold onto several key players for next season, hoping they can help this team long term. First and foremost, the Cubs not only elected to hang onto Colin Rea but added him to the 40- man roster. The reigning PCL pitcher of the year will now have an opportunity to break camp with the big-league team and fight for that fifth spot in the rotation.
Some other players the Cubs added to the list of Minor League signings were gold glove winning catcher Jhonny Pereda, Luis Lugo, Oscar De La Cruz, Charcer Burks, Erick Castillo, Manuel Rondon, and Roberto Caro. Except for Pereda, De La Cruz, and Caro, the rest of the players signed to return may come as a surprise as some of them didn't perform at the levels they were expected to play.
38-year old reliever Luke Hagerty was also re-signed earlier in the offseason as he announced it on Twitter.
Another thing that happens in the upcoming weeks is the Rule 5 draft in which any player not on the 40-man roster has a chance at getting picked up. That means players like Miguel Amaya may find himself in a different organization should the Cubs not add him to their 40-man roster. Now, I highly doubt that happens given he is viewed as the future behind the plate, but he is one name to watch in the upcoming weeks.
He is not the only available in the Rule 5 draft, however, as even the guys who were resigned can still be eligible for this event. Pereda may be the best player in the bunch that was retained, but with a future star waiting in the wings, I don't think the Cubs would be hurting too much should any of these retained players be lost. If I had to pick one to stay, it would be either Caro or De La Cruz.
With these players on the list of the ones retained, the Cubs still have several players testing free agency in the Minors this season, with hopes of potentially being back. For Iowa, they will have seven of this year's championship team are available on the current market. Those players include RHP and starter Trevor Clifton, relievers Allen Webster and Alex Wilson, Catcher Taylor Davis, 2B Phillip Evans, SS Dixon Machado and OF Johnny Field.
Although none of these players are stand out stars, I would ideally like if Machado and Field would come back as both had great seasons this past year. Had it not been for a late-season calf injury, Machado would have been the September call up to fill in at SS over Nico Hoerner. Evans is another intriguing name given the season he had this year. Fan-favorite Davis would also be an option to bring back if needed.
Moving to double AA Tennessee, and they will have a total of eight players giving them the most in the system. RHP Chih- Wei Hu, Erick Leal along with LHP Manuel Rondon make up the arms hitting the market. In terms of bats, Catcher Will Remillard, 1B Yasiel Balaguert, 3B Gioskar Amaya, and OF Chris Peters will test the market.
Looking at this list, and there is only one name that I would like to have back, and that is Leal. After starting the season in High A Myrtle Beach, Leal earned a late-season promotion in which he showcased his true potential for the Smokies. If he is to pitch a full season in the Southern League next year, I look for those numbers to be even better. Amaya would be the lone hitter I would like back as he did come up big down the stretch for the Smokies.
The final free agent in for the Cubs minor league system comes from Myrtle Beach as Enrique De Los Rios hits the market. There is not a whole lot I can say about him as he is still extremely raw in terms of who he is as a pitcher. Should the Cubs want to take a flyer out on him yet again and bring him back, so be it. Should they pass and make him rule 5 eligible, that is fine.
With neither South Bend nor Eugene having any impending Free Agents, the Cubs will have no trouble filling holes if they need to do so moving forward. Let's hope they keep the right ones aboard and not allow the future to hit Rule 5 category or sign elsewhere.

Tags: Cubs Baseball
,
Colin Rea
,
Jhonny Pereda
,
Luis Lugo
,
Oscar De La Cruz
,
Charcer Burks
,
Erick Castillo
,
Manuel Rondon
,
Roberto Caro
,
Miguel Amaya
,
Trevor Clifton
,
Taylor Davis
,
Phillip Evans
,
Dixon Machado
,
Gioskar Amaya