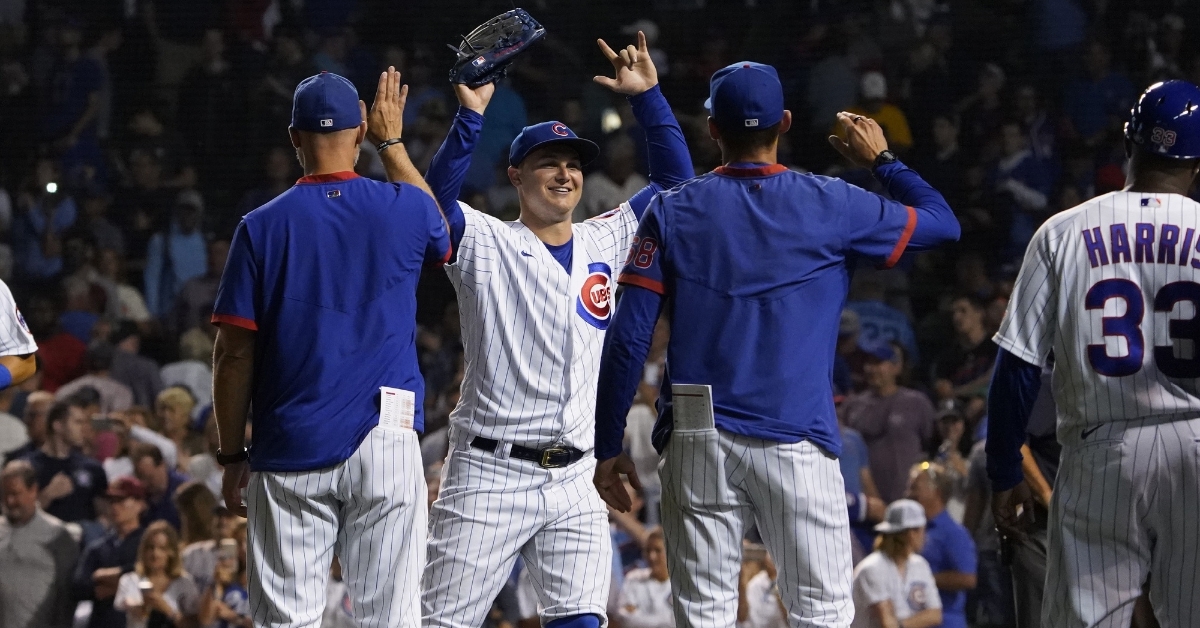 | | |
| --- | --- |
| Cubs score eight runs with two outs, end 11-game losing skid | |
---
| | | |
| --- | --- | --- |
| Thursday, July 8, 2021, 12:09 AM | | |
CHICAGO — Flipping the script rather demonstrably, the Chicago Cubs (43-44) snapped their season-long 11-game losing streak by producing arguably their best two-out hitting performance of the year. The North Siders scored all eight of their runs with two outs on Wednesday, going 6-for-9 with runners in scoring position and snapping out a winless skid on an action-packed night at Wrigley Field. Defeating the Philadelphia Phillies (41-43), the Cubs took a 5-0 lead through two innings and went on to win 8-3.
The contest began rather inauspiciously for the Cubs, as Javy Baez, the lone hot-hitting player in the lineup as of late, was scratched shortly before the opening pitch due to a sprained right thumb. In addition, the Cubs faced off against Zack Wheeler, who has been one of the National League's top starters this season. However, Wheeler struggled with two outs in the bottom of the first, with the Cubs driving home three runs on three consecutive two-out singles.
Shortstop Didi Gregorius both helped and hurt the Cubs' cause in the first frame. He enabled Kris Bryant to reach base by committing a fielding error with one out. However, Gregorius stepped on Bryant's left hand later in the inning, when Bryant was initially ruled out at second as part of an inning-ending double play. Willson Contreras lined out to second baseman Jean Segura, who threw to Gregorius in an attempt at doubling off Bryant. Thankfully, Bryant was wearing a protective mitt on his left hand, which likely prevented a serious injury, but he was still shaken up on the play.
Btm 1st – @Cubs challenge call that Kris Bryant is out at 2B; call overturned, runner is safe. Powered by @Mitel. pic.twitter.com/RwFmrWQDv1

— MLB Replays (@MLBReplays) July 8, 2021
Bryant remained in the game, and a successful Cubs challenge revealed that he had slid back into second in time. Jason Heyward took advantage of the overturned call by plating Bryant with a bloop single. Nico Hoerner then scored Anthony Rizzo, who previously hit a one-out single, and Rafael Ortega drove Heyward across via a base knock. Sergio Alcantara, who started in Baez's place at shortstop, struck out to end the inning. Prior to the fourth inning, Bryant was removed from the game, and Patrick Wisdom took over at third base. The hand ailment was not the cause of Bryant's exit, though. Instead, it was due to right hamstring tightness.
Singles in Wrigleyville. #CubTogether pic.twitter.com/lHBNQGlJsM

— Chicago Cubs (@Cubs) July 8, 2021
Joc Pederson singled with one out in the second, and heavy rainfall commenced during the course of Bryant's ensuing at-bat. After Bryant struck out, a rain delay began with Rizzo facing a 1-0 count. The brief rain delay was followed by another two-out surge by the Cubs, beginning with a triple hit into the right field corner by Rizzo. Pederson scored on the three-bagger, and Rizzo then came home on a single hit up the middle by Contreras.
Tony takes three.#CubTogether pic.twitter.com/MoeQdNkYNF

— Chicago Cubs (@Cubs) July 8, 2021
Willson Contreras hits an RBI single to center field to plate Anthony Rizzo and increase the Cubs lead to 5-0 in the 2nd inning pic.twitter.com/RexCayA5xk

— Cubs Highlights (@Cubs_Highlights) July 8, 2021
Alec Mills started on the bump for the Cubs and pitched very well through five innings of work, preventing the Phillies from reaching scoring position. Heyward bolstered Mills' efforts with a couple of nice catches in right field, including a diving grab that robbed Gregorius of a leadoff hit in the fifth. The Phillies were able to break through in the sixth, as J.T. Realmuto hit a one-out single and then motored from first to home on a Bryce Harper double. Realmuto ignored the third-base coach's stop sign and beat Heyward's throw to the plate.
Heyward with the save! pic.twitter.com/K04CTZdKUx

— Marquee Sports Network (@WatchMarquee) July 8, 2021
Bryce Harper brings home JT from 1st! The Phillies are starting to wake up#Phillies #RingTheBell pic.twitter.com/LeDNRxgy2h

— Brodes Media (@BrodesMedia) July 8, 2021
Following Harper's RBI two-bagger, Andrew McCutchen crushed a two-run homer out to left, trimming the Cubs' lead down to two. Mills drew the second out of the inning and was subsequently relieved by Rex Brothers. Gregorious was walked by Brothers, who was then bailed out by another successful Cubs challenge. Wisdom suffered a fielding error when a ball hit by Alec Bohm got by him and carried into left, where Pederson fielded it. Gregorius reached third, and Bohm was initially ruled safe at second. However, Bohm was called out upon further review, as Hoerner caught Pederson's throw and tagged Bohm out.
Cutch crushed!

We're back in this ballgame. #RingTheBell pic.twitter.com/Xw611PEMFh

— Philadelphia Phillies (@Phillies) July 8, 2021
Top 6th – @Cubs challenge call that Alec Bohm is safe at 2B; call overturned, runner is out. Powered by @Mitel. pic.twitter.com/65fMnSFtpr

— MLB Replays (@MLBReplays) July 8, 2021
The overturned call ended the top of the sixth and gave way to the Cubs tacking on a pair of runs in the bottom of the sixth. Hoerner hit a leadoff single and made it to second on a groundout. Wheeler was pulled after walking Ian Happ with two outs, and the Cubs recorded back-to-back two-out hits off Connor Brogdon. A single by Pederson scored Hoerner, and a two-run double by Wisdom brought Happ and Pederson home. Andrew Chafin retired the seventh and eighth-inning sides in order, as did former Cub Brandon Kintzler. Craig Kimbrel finished off the Cubs' 8-3 victory with a scoreless ninth, and the Cubs turned their 11-game losing streak into a one-game winning streak.
6-for-9 with runners in scoring position tonight!#CubTogether pic.twitter.com/egwAaA2PaR

— Chicago Cubs (@Cubs) July 8, 2021

Tags: Cubs Baseball
,
Javy Baez
,
Kris Bryant
,
Willson Contreras
,
Jason Heyward
,
,
Anthony Rizzo
,
Rafael Ortega
,
Patrick Wisdom
,
Joc Pederson
,
Alec Mills
,
Rex Brothers
,
Ian Happ
,
Andrew Chafin
,
Brandon Kintzler
,
Craig Kimbrel