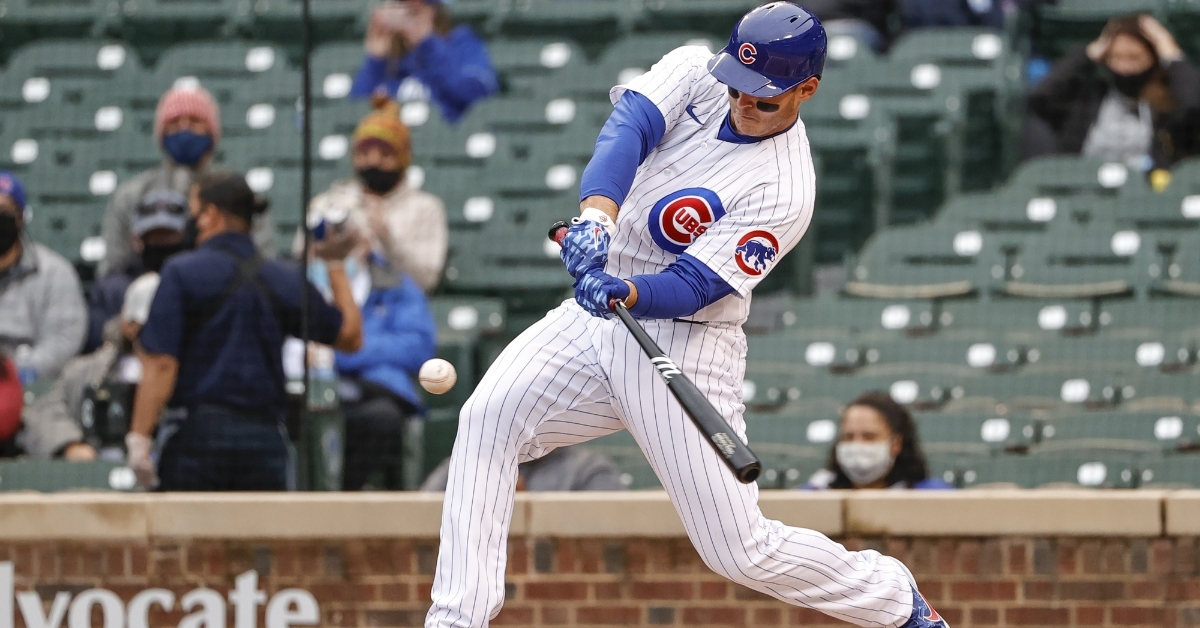 | | |
| --- | --- |
| Cubs score four in first, go on to beat Dodgers 7-1 | |
---
CHICAGO — With fresh legs after Monday's contest was rained out, the Chicago Cubs (13-16) stormed out to a 4-0 lead in the opener of Tuesday's doubleheader at Wrigley Field, chasing Los Angeles Dodgers (17-13) ace Clayton Kershaw from the game after just one inning. Kyle Hendricks, on the other hand, pitched a complete game in the seven-inning clash, barely missing out on a shutout, as the Dodgers' lone run of the 7-1 Cubs victory came in the seventh and final frame.
Kershaw used up 39 pitches in the bottom of the first and was subsequently pulled from what served as the shortest regular season start of his career. It also marked just the second time in his career — and first time since his rookie season in 2008 — that he gave up four or more runs in the first inning. An RBI single hit by Anthony Rizzo plated Kris Bryant, who tallied a ground rule double in the previous at-bat, to put the Cubs up 1-0 in the first. David Bote went on to increase that first-inning lead to 4-0 via a bases-clearing double off the wall in left, with Rizzo, Javy Baez and Matthew Duffy scoring on the play.
Get on the Bote! ??#CubTogether pic.twitter.com/chZe0oqh8g

— Chicago Cubs (@Cubs) May 4, 2021
In the bottom of the third, Jake Marisnick was beanedd in the wrist by a pitch from Dennis Santana. Marisnick was able to shake off the pain and remain in the game, and he subsequently advanced to third base on a single off the bat of Ildemaro Vargas. Vargas then stole second base, and a wild pitch from Santana and an accompanying throwing error suffered by catcher Austin Barnes resulted in Marisnick and Vargas scoring. Marisnick proved that his wrist was just fine when he swatted a 406-foot solo shot to left-center field to lead off the bottom of the sixth.
.@JSMarisnick finds an easier route around the bases.@BinnysBev pic.twitter.com/kfwjdyHfhQ

— Chicago Cubs (@Cubs) May 4, 2021
Keibert Ruiz stepped up to the plate for the first time on the season when he pinch hit for the Dodgers in the seventh. On the very first pitch he faced, Ruiz broke up the shutout by sending a 405-foot solo dinger out to right field. Interestingly, Ruiz also homered in his first plate appearance of 2020, which was the first big league at-bat of his career. Baez committed two errors on the same play soon afterward. The shortstop, who ended the top of the sixth with a web gem, also committed an error in the top of the first as part of his first career three-error performance. Baez helped end the game, though, by sparking a 6-4-3 double play that concluded the Cubs' 7-1 win in their first meeting of the year with the reigning World Series champions.
Something about Keibert Ruiz and first ABs. pic.twitter.com/JmRJXKiYeI

— Los Angeles Dodgers (@Dodgers) May 4, 2021