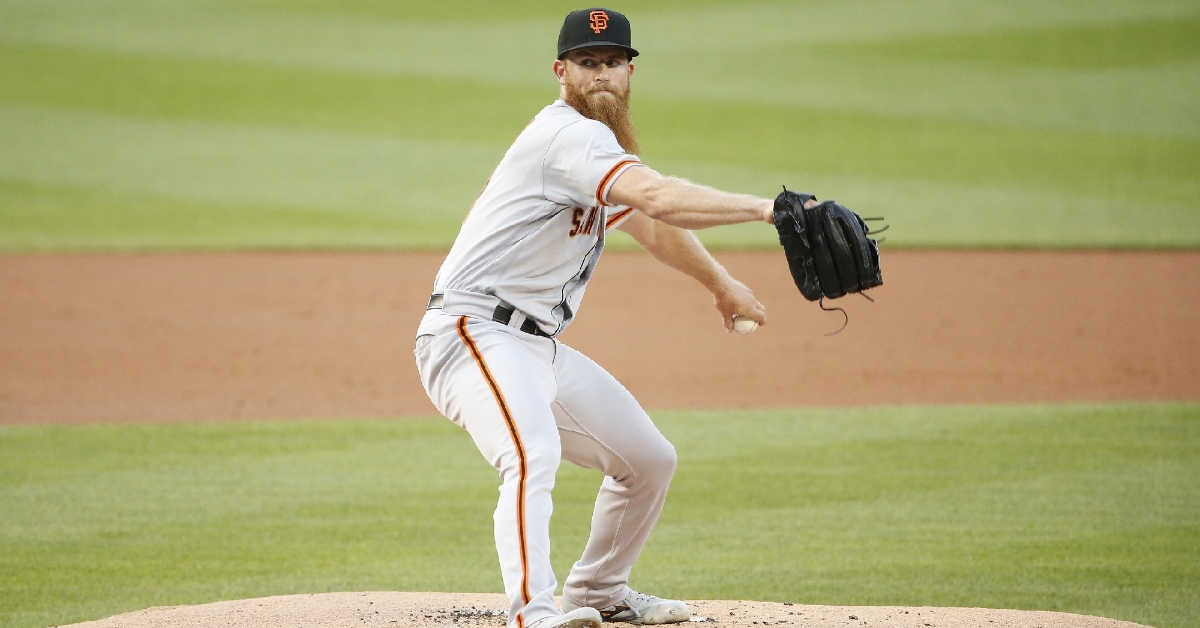 | | |
| --- | --- |
| Cubs select lefty pitcher Conor Menez in Rule 5 Draft | |
---
| | | |
| --- | --- | --- |
| Thursday, December 9, 2021, 8:53 AM | | |
It may not happen often, but teams find a steal in the minor-league portion of the Rule 5 draft from time to time. The Cubs have had success on this front before, most notably Hector Rondon, a rule 5 pickup in 2014 before putting together a pair of solid seasons with the Cubs in 2015 and 2016. Although there isn't much Major League Action going on right now, there was a Minor League Rule 5 draft going on yesterday, and the Cubs may have gotten one of the better arms.
Not only did the Cubs pick fifth, but they added a pitcher who has multiple years of big-league experience and could contribute to both the MLB and MILB roster this season, depending on how things pan out. Their selection was former San Francisco Giants lefty Connor Menez who is now part of the Cubs organization with no restrictions.
I know what you are thinking, Rule 5 players are primarily players who teams are giving up on because they don't have spots for them. That is sometimes the case, but not the case in this instance. The Giants knew there would be a chance they would lose Menez, but they didn't want to use one of their 38 AAA spots to keep him. The Cubs liked what they saw in Menez and made sure he wouldn't go unclaimed as he now has a chance to produce with the Cubs.
At 26 years old, Menez may not have reached his prime yet, so there is a lot to like about this signing. He was the Giants 14th round pick in 2016 and had been making a steady climb through their system ever since. His hard work and great overall numbers allowed him to reach the major leagues for the first time in 2019 and then again in 2020 and 2021.
While at the big stage, Menez was primarily a swing guy who found most of his success out of the pen, but could also give the Giants added length if they needed it. From a skillset side of things, he is comparable to when the Cubs had Kyle Ryan, a swing reliever in 2019, and put together a very good season as the team's most-used reliever that season.
A few things stand out when looking at Menez and his stat line, and the first thing you notice is his strikeouts per nine innings. After struggling to average 8K/9 in the lower level minor leagues, Menez busted out in High A, where he averaged a career-best 12.52K/9 in 2018. In that same season, he averaged fewer than 4BB/9 despite posting a 4.83 ERA.
During his AA tenure, those strikeout numbers decreased slightly, but he still averaged close to 11.2K/9 innings and 3.7BB/9, which is a good ratio for any reliever looking to be counted on. Another thing you notice when it comes to Menez is his ERA which ironically got better when he faced better competition.
Through the low-level minor leagues, Menez struggled to put together an ERA lower than 4.40 as things were not going as planned from that side of things. Once he made the jump to AA, that ERA decreased to 2.72 before rising in AAA to 3.27. The bottom line is that Menez learned how to pitch at every stop, and he seemed to get better when the competition got better.
Despite putting together a subpar 2019 in AAA, Menez put together a stretch run of success during a month-run, earning his first MLB opportunity. Although limited in action, Menez appeared in eight games that season, with three of them being starts and, for the most part, proved to be valuable in every way. He posted an 0-1 record that season with a 5.29 ERA, while his command was iffy at best. That is expected when you arrive in the majors for the first time, as he knew what he needed to work on.
Following a great spring showing before the COVID shutdown in 2020, Menez earned a spot on the Giants 2020 roster and saw limited time again. He pitched in just seven games that season, compiling 11 innings, but the overall results were good. He went 1-0, posted a 2.38 ERA, and saw his walk rate decreased significantly, as did his strikeout rate.
Menez appeared to have figured something out, but as 2021 unfolded began the season in AAA before reaching the majors for a third straight year. Across 26 games, five of which were starts at the AAA level, Menez struggled, posting his worst ERA since 2016 with a 6.75. A big reason for that was his highest walk rate as a minor leaguer which was a significant concern.
Still, the Giants needed some lefty relief help as the season went on, and Menez was able to reach the show again, making one start and appearing in eight games. Not only did he improve his ERA posting a 3.86, but his 1.93BB/9 rate was the lowest at any point in his career, which is a good sign moving forward.
Breaking down his stats and what you see on film, Menez is exactly like Ryan except much younger. He is a soft-tossing lefty that hovers around 89-90 with his heater, but relies heavily on his slider to get a lot of strikeouts. He has a cross fire delivery which creates tons of deception, but it has also led to plenty of command issues at times, although that wasn't an issue last season at the MLB level.
The Cubs are familiar with what Menez brings to the table as they had the rare opportunity to face him this season. Menez mowed through the Cubs in that game, including getting Patrick Wisdom out on a bases-loaded opportunity. This isn't going to be a guy you count on opening day, but he is a valuable arm to have stashed away that you can count on at some point this season.