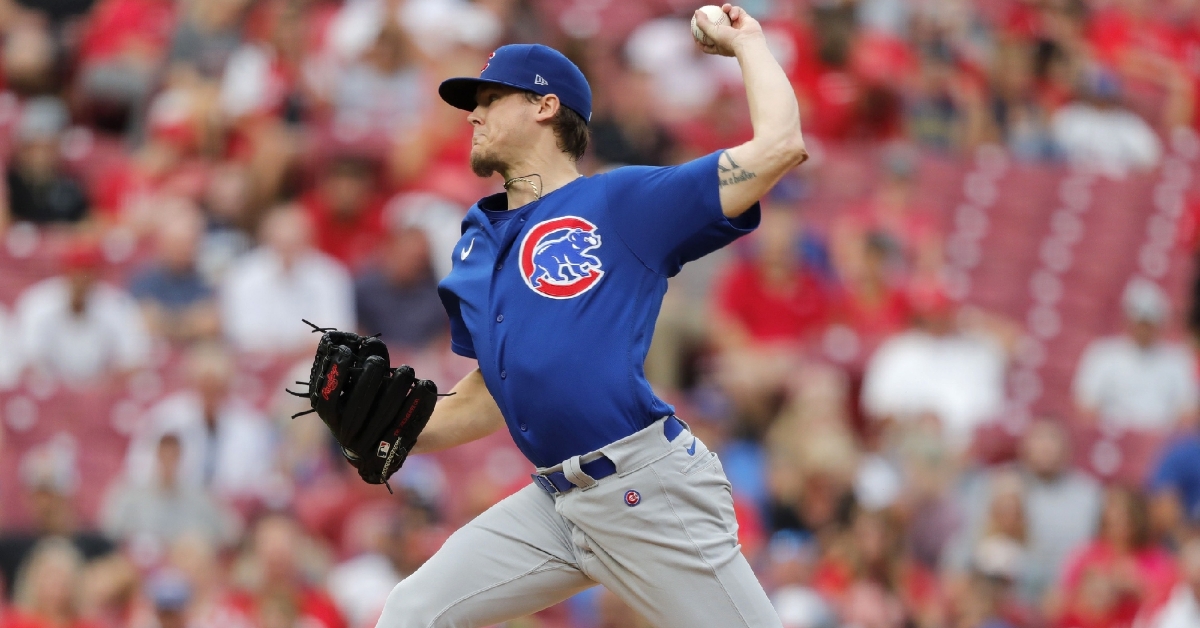 | | |
| --- | --- |
| Cubs shellacked by Reds, suffer season-high 12th consecutive loss | |
---
| | | |
| --- | --- | --- |
| Monday, August 16, 2021, 11:36 PM | | |
CINCINNATI — Continuing to end up on the wrong end of high-scoring innings, the Chicago Cubs (52-69), who have been victimized by big innings rather frequently as of late, gave up eight runs in the seventh frame on Monday and suffered their season-high 12th loss in a row. The Cincinnati Reds (65-55) shellacked the Cubs in the opener of a three-game series at Great American Ball Park, pounding out 14 hits and winning 14-5. Outside of a two-out rally in the eighth inning, the Cubs were not particularly effective at the plate, leading to their losing streak becoming their longest of the season.
Frank Schwindel, who has been one of the few bright spots for the Cubs recently, hit a one-out double off Wade Miley in the first but did not score. Justin Steele made his second career start on the mound, and the Reds were unable to score off him in the early goings. The Reds left runners stranded at first and second in the first and failed to score on a safety squeeze in the second, as Steele used his glove to scoop up and flip a Miley bunt to Robinson Chirinos, who tagged out Tyler Naquin at the plate. Naquin reached third on a ground rule double by Tucker Barnhart, putting men on second and third with one out, but the Reds were once again held scoreless.
Stay hot, Frank Schwindel ?? pic.twitter.com/Jmo2pExx1Q

— Marquee Sports Network (@WatchMarquee) August 16, 2021
Scoop 'n (save the) score. pic.twitter.com/hOqLZ1sxB2

— Marquee Sports Network (@WatchMarquee) August 17, 2021
In the third, Schwindel grounded into an inning-ending double play. Former Cub Nicholas Castellanos hustled for a leadoff infield single in the third and advanced to second on a base knock from Joey Votto that ricocheted off second base and into the outfield. Steele prevented the Reds from getting on the scoreboard yet again, but his good fortune came to an end in the ensuing frame. Prior to that, shortstop Kyle Farmer robbed David Bote of a hit in the top of the fourth with a Derek Jeter-esque throw to first. The bottom of the fourth began with Naquin drawing a walk. Miley bunted with one out, and Naquin was thrown out at second by Steele. Jonathan India then broke the scoreless tie with a 424-foot two-run blast to left, plating Miley.
Farmer working in the field. ??@kFarm17 pic.twitter.com/iAPcORkiRT

— Cincinnati Reds (@Reds) August 17, 2021
Multiple choice question: Is @JonathanIndia the NL Rookie of the Year?

A- Yes
B- Of course
C- Duh
D- All the above pic.twitter.com/ph2ZOO1AHJ

— Cincinnati Reds (@Reds) August 17, 2021
With rain falling, Michael Rucker pitched the home half of the fifth and walked Euguenio Suarez before getting taken for a two-run jack by Aristides Aquino. The two-out dinger sailed 442 feet out to left. Rucker sat the Reds down in order his next time out, though. Bote smacked a leadoff single in the seventh, and Chirinos was then hit by a pitch. Miley drew three straight outs after that, however, finishing up his scoreless start.
Punishing in the rain. ??

442 feet, 113.5 mph exit velocity??@Aristide_Aquino pic.twitter.com/P8RJs9RFvJ

— Cincinnati Reds (@Reds) August 17, 2021
Castellanos kicked off the bottom of the seventh with a base hit, and Votto then collected a single for his 2,000th career hit, resulting in an uproarious reaction from the crowd. Farmer plated Castellanos and moved Votto to third with a double, and Rucker walked Suarez to load the bases, thus bringing Dan Winkler out of the bullpen. Winkler walked Aquino to force home Votto, and Naquin plated Farmer with an ensuing single. Suarez tagged up and scored on a sacrifice fly by Barnhart, and Jose Barrero, who pinch hit for Miley, loaded the bases by drawing a walk. India hit a bases-clearing double after that, and Castellanos then drew a walk that was followed by Jake Jewell taking the mound. A passed ball suffered by Chirinos moved the runners to second and third, and India capped off the eight-run barrage by scoring on Votto's second single of the marathon half-inning.
Number 2,000. ?? pic.twitter.com/d423g5eOi3

— Cincinnati Reds (@Reds) August 17, 2021
.@JonathanIndia clears the bases and the @Reds have blown this one wide open!

India now has 5 RBI on the night #NLROY pic.twitter.com/D8CQjtMPyh

— Bally Sports Cincinnati (@BallySportsCIN) August 17, 2021
Hit number 2,000 and 2,001 in the same inning...

Just ?? things. pic.twitter.com/A9Ii0v5P7e

— Cincinnati Reds (@Reds) August 17, 2021
Heath Hembree was taken for three consecutive singles by Rafael Ortega, Matt Duffy and Schwindel to begin the eighth. After Patrick Wisdom and Bote struck out, the Cubs manufactured a two-out surge that began with a two-run base hit by Chirinos, which brought Ortega and Duffy across. Jason Heyward plated Schwindel with a double that chased Hembree from the game, and Ian Happ, who pinch hit for Jewell, swatted a two-run double off Jeff Hoffman, scoring Chirinos and Heyward. Sergio Alcantara grounded out to usher in the bottom of the eighth.
Ryan Meisinger gave up a leadoff single to Aquino in the eighth, and Naquin, after fouling off six pitches in a row, ended a 13-pitch at-bat by fouling out. Thereafter, Barnhart sent a two-run homer into the right field seats, scoring Aquino and wrapping up a solid offensive showing by the Reds. Hoffman put the finishing touches on the Reds' 14-5 victory over the Cubs by pitching a 1-2-3 ninth.
Blessing your timeline with a Barnhart ??.@Tucker_Barnhart pic.twitter.com/Ih8utSr3yQ

— Cincinnati Reds (@Reds) August 17, 2021