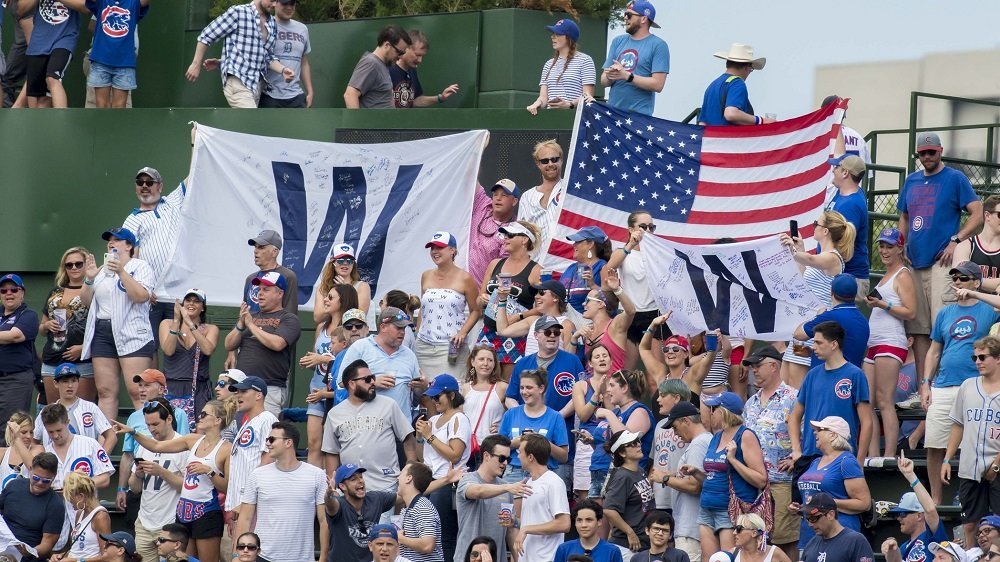 | | |
| --- | --- |
| Cubs sign trio of talented international prospects | |
---
| | | |
| --- | --- | --- |
| Saturday, July 6, 2019, 5:59 PM | | |
The Cubs have always been known to be aggressive in the international free agent pool and rightfully so considering the success they have had in recent years. From Jorge Soler, Willson Contreras, Eloy Jimenez, and Miguel Amaya among the main players, the front office has always done an excellent job evaluating talent from abroad.
This was no different as the Cubs used nearly their entire international pool budget to sign a trio of players listed on the top 100 international list this season. The cream of the crop is catcher Ronnier Qunitero out of Venezuela.
At just 16 years old, Quintero is a long way away from the bigs, but the front office thinks highly enough of him to give him the largest international signing bonus in Cubs history at 3 million dollars. Put that into perspective, the likes of Soler and Eloy Jimenez who are both on big league rosters right now signed for bonuses around 2.8 million.
Quintero is not expected to be in the system until 2020, but fans will love what they see when this guy arrives. Ranked the NO. 6 prospect in the top 30 international system, Quintero is not only a catching prospect for the future but provides a tremendous power bat from the left side of the plate which is something the Cubs have lacked for years.
Knowing the kind of problems that Venezuela brings to ball players around the world, Quintero has been working out in the Dominican Republic to avoid all the chaos in his country. Quintero is the top catcher in the 2019 class and one of the best prospects from Venezuela this year. For starters, he's a left-handed hitter with natural power and lots of upside offensively. He has a polished approach at the plate and has a chance to hit for average. As a bonus, Quintero has the potential to establish himself as a middle-of-the-lineup type of bat and as one of the best run-producing catchers on the international market in recent years.
Judging by his makeup and build, Quintero has the potential to hit 25 home runs a year with a batting average near .280. Defensively speaking, Quintero is a solid defender with a quick transfer and plus arm potential. His receiving skills and pitch framing abilities are improving which is something the Cubs have lacked since the departure of both Miguel Montero and David Ross. I know there are not many catchers like him in the game, but I would compare him to a J.T. Realmuto from the left side.
The second of the big-name signings for the Cubs was No 11 ranked prospect Kevin Made. Another player born in the country of Venezuela, Made is a shortstop by trade who signed for 1.7 million. Once again, at just 16 years old, Made is a long way away from the big stage, but expect him to appear somewhere in the Cubs system next year.
Made was an unknown prospect until about 18 months ago when he burst onto the scene. He is an even more prominent now than at that point in terms of recognition, which is what makes him an intriguing prospect. Made is exceptionally athletic with terrific hands and proper footwork on almost every play.
He has also established an above average arm and all the skills to play the shortstop level in the minor league system which is what makes him one of the top shortstop prospects in the international pool. He has a lot of work to do defensively, but once he puts those tools together, he has the potential to be an above average defender at his position.
In terms of offense, Made uses a slight uppercut swing to generate a ton of bat speed to create flashes of power. That bat speed has allowed him to hit home runs consistently and has made a living on multi-hit games. The big plus in my eyes as of now is that not only does Made not strike out a ton, but he has incredible speed now which should only get better over time. These are two areas of need for the Cubs in the present.
Made has all the tools and potential to become an everyday shortstop of the future if he continues to grow and develop at a reasonable pace and is not fast-tracked through a system.
The final of the Cubs three international signings is the No. 30 ranked prospect Brayan Altuve. No relation to the Astros Jose Altuve, Brayan is also a catcher who is from Venezuela who reminds scouts of Willson Contreras in some ways. I don't know if that is a good thing or a bad thing, but Altuve is also just 16 years old.
Not only is Altuve lean and muscular, but he boasts a strong athletic body which is something every catcher needs nowadays. Altuve is not a speedster by any means but still runs very well for a catcher, which is a plus trait he has over others at his position.
Altuve doesn't have a ton of power just yet but does have some pop in his bat and has the reputation of a line drive hitter who uses all fields. He has consistently shown excellent bat speed with some home run power, but both are expected to increase as he develops into his strengths. For now, Altuve is much more advanced offensively than he is defensively.
Still young, the best part about watching him now is the way he moves behind the plate. It never seems like he sits still back there and that can throw baserunners and hitters off. At this point in his young career, Altuve posses above average arm speed, good range, and the overall ability to make adequate defensive decisions.
Like most catchers his age and most catchers in general, Altuve is still learning on how to better his receiving skills as well as calling games for his pitchers. For now, he will remain behind the plate, but with the type of athleticism he has shown, a position change is not out of the question especially with Contreras manning the plate now with Miguel Amaya and fellow international signee Quintero as possible options for the foreseeable future.