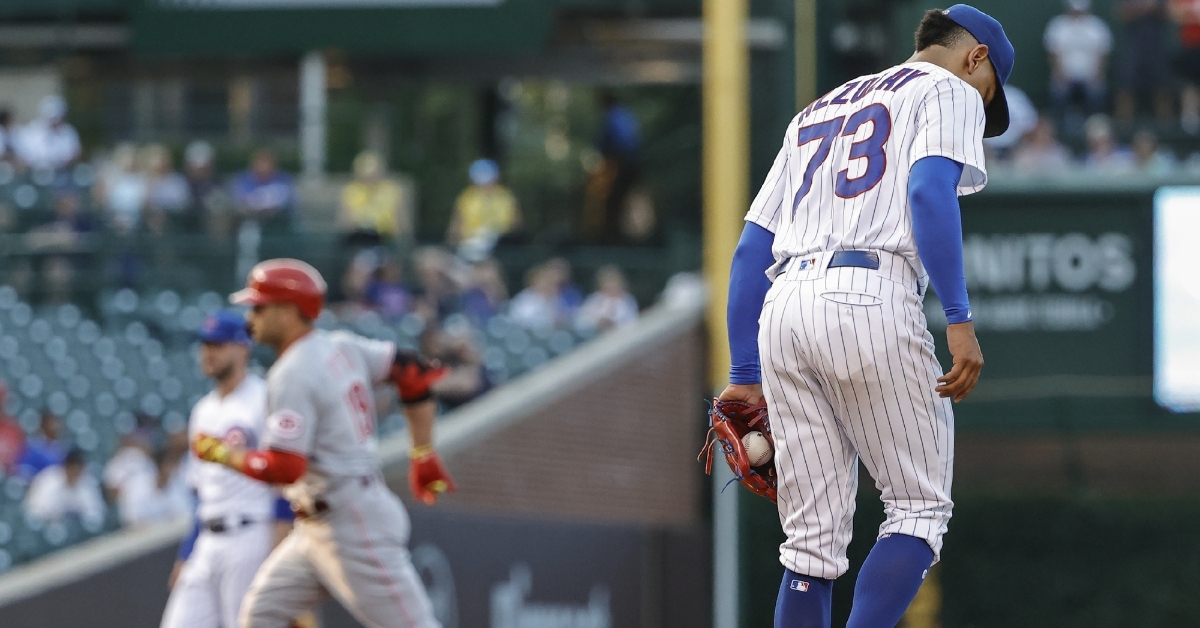 | | |
| --- | --- |
| Cubs slug three home runs but lose to Reds | |
---
CHICAGO — Javy Baez did not get to make ninth-inning magic batting against Amir Garrett on Tuesday after hitting a walkoff single off him on Monday, leaving Chicago Cubs (50-52) to wonder about what would have happened had Baez stepped up to the plate representing the tying run. Garrett entered with one out in the bottom of the ninth and avoided having to face Baez, who was set to be utilized as a pinch hitter for the second consecutive game while nursing a heel injury. Instead, Baez was left stranded in the on-deck circle, and the Cincinnati Reds (52-49) won 7-4 at Wrigley Field in a contest featuring a combined seven home runs.
Adbert Alzolay gave up seven hits in his five-inning start, and three of them were home runs. Jesse Winker opened the scoring with a solo shot to right in the second plate appearance of the evening, and Joey Votto went yard on a full count a few at-bats later, with the two-out solo blast sailing 419 feet out to center. Votto homered for the fourth straight game, while Anthony Rizzo homered for the third straight game by slugging a two-run homer to right in the bottom of the first. Interestingly, all three of Rizzo's recent homers came in the first inning. Rafael Ortega, who hit a leadoff double to the wall in right, was plated via Rizzo's game-tying bomb off Vladimir Gutierrez.
No one man should have all that power. pic.twitter.com/5POWWerwnt

— Cincinnati Reds (@Reds) July 28, 2021
Sources confirm: Joey Votto still bangs. pic.twitter.com/NOx5IHlKA0

— Cincinnati Reds (@Reds) July 28, 2021
The man is HOT.#TeamRizzo pic.twitter.com/K2D48dys8d

— Chicago Cubs (@Cubs) July 28, 2021
Tyler Naquin led off the second with a double and crossed the plate on an ensuing single from Kyle Farmer, who ended up at third due to a sacrifice bunt by Gutierrez and a wild pitch. Alzolay prevented Farmer from scoring by striking out Jonathan India to conclude the half-inning. Votto was not prevented from taking Alzolay deep again his next time up to bat, though, as the veteran slugged his second two-out solo long ball of the night by sending a 410-footer out to right in the top of the third.
There are reports of a goat on the loose in Chicago. pic.twitter.com/dJYVPIHXQB

— Cincinnati Reds (@Reds) July 28, 2021
Cubs baserunners have been tagged out at home quite a bit as of late, and Ortega was thrown out at the dish by Votto in the bottom of the third. Ortega collected another leadoff hit with a single that was followed by Kris Bryant getting drilled in the back by a pitch — and angrily glaring at Gutierrez after the fact. A Rizzo groundout advanced both runners, but Ortega then decided to test his luck by tagging up and heading home once Votto made a great catch in a foul ground. Willson Contreras fouled out, and Votto completed the inning-ending double play with a perfect throw to the dish.
THIS MAN DOES IT ALL. ?? pic.twitter.com/gLPynvuyYt

— Cincinnati Reds (@Reds) July 28, 2021
Votto was unable to power out his third home round-tripper of the tilt off Alzolay, as he capped off a 1-2-3 fifth by lining out. Alzolay did not retake the mound in the sixth, but Dan Winkler channeled Alzolay's performance by giving up a solo shot. Eugenio Suarez led off the frame by sending Winkler's very first pitch over the wall in center. Ian Happ hit a bloop double in the seventh, and Patrick Wisdom, who pinch hit for Ortega, then drew a walk. Sean Doolittle relieved Gutierrez at that point and forced Jake Marisnick to pop out on the first pitch of his outing. Bryant collected a base on balls that loaded the bases with two outs, but Rizzo then flied out on the first pitch thrown to him.
OMGeno pic.twitter.com/n9mNfbU26T

— Cincinnati Reds (@Reds) July 28, 2021
Kyle Ryan, who was just called up earlier in the day, struck out Votto and Suarez in back-to-back at-bats as he retired the eighth-inning side in order. Jeff Hoffman walked David Bote with one out in the eighth and got taken for a two-out double by Nico Hoerner. Bote held up at third on Hoerner's two-bagger and was deserted there when Happ struck out swinging on a full count. Happ would went around too far on a checked swing, preventing him from tallying a walk.
Although he flourished in the seventh, Ryan was far less effective in the eighth. A leadoff single by Farmer gave way to an RBI double hit by Aristides Aquino with one out. After Farmer scored on Aquino's double, Aquino scored on India's ensuing two-bagger, providing the Reds with a five-run cushion. The Cubs did no go away quietly, though, as Wisdom and Bryant homered off Edgar Garcia in the ninth to apply pressure to the Reds. Wisdom's leadoff 418-footer soared beyond center field, and Bryant's one-out solo blast carried out to left.
Double the fun?? pic.twitter.com/AXkTxAGZSu

— Cincinnati Reds (@Reds) July 28, 2021
Patrick Wisdom - Chicago Cubs (15) pic.twitter.com/p38ahZyGjq

— MLB HR Videos (@MLBHRVideos) July 28, 2021
Kris Bryant hits his 86th career home run at Wrigley Field, tying him with Alfonso Soriano.#KBoom pic.twitter.com/blqhHYOTzA

— Marquee Sports Network (@WatchMarquee) July 28, 2021
Garrett was called upon to pitch in the wake of Bryant's bomb, and he was thoroughly booed by fans in attendance as he headed to the hill. After walking Rizzo, Garrett fanned Contreras and, with Rizzo now at second due to fielder's indifference, forced Bote to ground out, which ended the game. Baez was unable to face off against his nemesis this time around, with Garrett finishing off the Reds' 7-4 victory and preventing Baez from having a chance to swing the bat.

Tags: Cubs Baseball
,
Javy Baez
,
Adbert Alzolay
,
Anthony Rizzo
,
Rafael Ortega
,
Kris Bryant
,
Willson Contreras
,
Ian Happ
,
Patrick Wisdom
,
Jake Marisnick
,
Kyle Ryan
,
David Bote
,