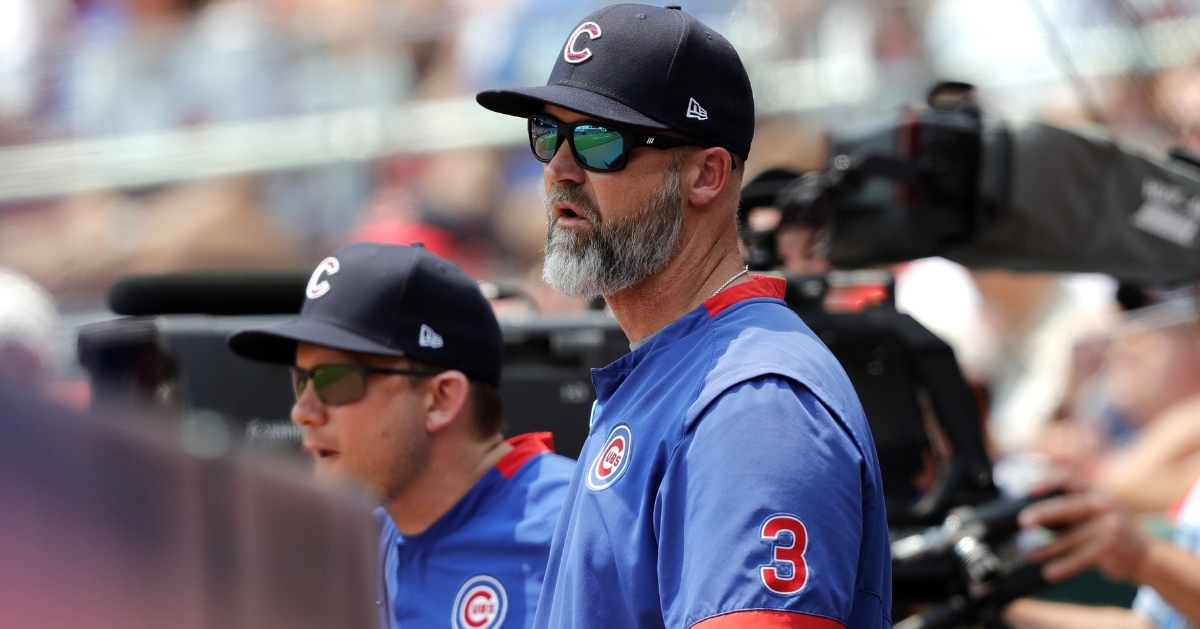 | | |
| --- | --- |
| Cubs suffer another one-run defeat against Reds | |
---
| | | |
| --- | --- | --- |
| Sunday, July 4, 2021, 5:07 PM | | |
CINCINNATI — One-run decisions have been fixtures for the Chicago Cubs (42-42) so far this season, and the North Siders endured their third consecutive one-run loss to the Cincinnati Reds (43-40) on a hot Sunday afternoon. The Reds swept the three-game series at Great American Ball Park, stretching the Cubs' losing streak to nine. For the second day in a row, the Reds won 3-2 after trailing 2-0. After going 20 games in a row with fewer than 10 hits, the Cubs recorded 11 hits at the plate but still came up short. Sunday's game wrapped up a rather woeful 1-9 road trip for the Cubs.
In the top of the first, three straight one-out singles to left resulted in the Cubs taking a 1-0 lead. Kris Bryant, Anthony Rizzo and Javy Baez all singled in short order, with Bryant scoring from second on Baez's base knock, which marked the Cubs' first hit of the series with a runner in scoring position. Wade Miley then drew a ground ball of the bat of Patrick Wisdom, resulting in an inning-ending double play. Kyle Hendricks gave up a pair of two-out singles to former Cub Nicholas Castellanos and Joey Votto in the bottom of the first but struck out Tyler Naquin to leave them stranded.
.@KrisBryant_23 @ARizzo44 @javy23baez

Cubs 1-0 ?? pic.twitter.com/3TR4oNyCxO

— Marquee Sports Network (@WatchMarquee) July 4, 2021
Jake Marisnick drilled a triple to deep center with one away in the second and scored when Hendricks hit a chopper up the middle that bounced into the outfield. The two-out single provided the Cubs with their second and final run of the afternoon. Wisdom began the home half of the second with a nice stop at the hot corner, which was accompanied by an impressive throw to first that outed Eugenio Suarez. Hendricks then beaned Kyle Farmer in the second and gave up an ensuing double, which scored Farmer, to Tucker Barnhart.
Just a lil' two-out knock, baby. #TreatYoSelf#CubTogether pic.twitter.com/zW3y3Lgdzc

— Chicago Cubs (@Cubs) July 4, 2021
NL Rookie of the Month making it look easy ??@PatrickWisdom5 pic.twitter.com/pk3Q2M406B

— Marquee Sports Network (@WatchMarquee) July 4, 2021
Also in the bottom of the second, Ian Happ laid out to catch a liner hit by Miley after initially misjudging it. Naquin misjudged a ball hit by Rizzo to center. Rizzo was credited with a double on the play, but he did not score. Following a Marisnick single, Happ grounded into an inning-ending 1-4-3 double play in the fourth. Contreras singled to left-center in the fifth but was thrown out attempting to stretch it into a double. Miley and Jonathan India hit back-to-back singles in the fifth, setting the stage for Jesse Winker to ground into an inning-ending 4-6-3 double play.
Nico to Javy to Rizz!#CubTogether pic.twitter.com/LMnk3BVUI8

— Chicago Cubs (@Cubs) July 4, 2021
A hard-hit grounder from Baez scooted past Farmer and Suarez in the 5-6 hole, and Baez reached for a sixth-inning leadoff single. Baez stole second with two outs, but Marisnick then grounded out. Miley was removed once Contreras tabbed a two-out single in the seventh. Art Warren entered to pitch and drew a groundout off the bat of Bryant. Despite getting taken for 10 hits, Miley gave up just two runs in his 6 2/3 innings of work. As for Hendricks, he struck out five and did not issue any walks in a solid six-inning start.
Hendricks was pinch hit for in the seventh, so Daniel Winkler took the mound out of the stretch and did not fare well. A leadoff single by Suarez was followed by Farmer getting hit by a pitch again. Barnhart loaded the bases with a single, but Tyler Stephenson then hit a chopper to Wisdom, who threw home and prevented the tying run from scoring. The Reds tied the game soon afterward, though, as Winkler plunked India, forcing home Farmer.
Andrew Chafin relieved Winkler and forced Winker to hit a grounder to first. Rizzo threw to Baez at second for a force out, but Baez opted against trying to make a throw to Chafin as he hurried to cover first. Instead, Baez made a throw to third in case Stephenson could be tagged after rounding third. Stephenson safely stepped back onto third, and former Cub Mike Freeman, who pinch ran for Barnhart, scored the go-ahead run on the play. Chafin struck out Castellanos to usher in the eighth frame.
Brad Brach, another erstwhile Cub, pitched the top of the eighth. Baez reached due to a fielding error suffered by Suarez at third with one out. Baez then tagged up and hurried to second when Joc Pederson flied out to right-center. India initially tagged Baez out but dropped the ball after colliding with "El Mago" on Baez's slide. India was shaken up by the collision but able to remain in the game. Thereafter, Nico Hoerner, who returned from an injury layoff of a little over a month, grounded out to end the half-inning.
Adam Morgan tallied two outs in the bottom of the eighth before walking Suarez. Keegan Thompson then pitched to Farmer, who grounded into a fielder's choice. Marisnick lined out to begin the ninth, and Cubs archenemy Amir Garrett then replaced Brach on the bump. Struggling with command issues early on, Garrett walked Happ on four pitches and nearly hit Eric Sogard, who ended up poking a single past a diving Suarez and into left. Rafael Ortega entered to pinch run for Sogard as the potential go-ahead run, but Garrett settled down and forced Contreras to ground into a game-ending 5-4-3 double play, thus concluding the 3-2 contest.
Around the horn for the dub!

I'm Right Here Play presented by @StElizabethNKY pic.twitter.com/uWA4kbwzlf

— Cincinnati Reds (@Reds) July 4, 2021

Tags: Cubs Baseball
,
Kris Bryant
,
Anthony Rizzo
,
Javy Baez
,
Patrick Wisdom
,
Kyle Hendricks
,
Jake Marisnick
,
Ian Happ
,
Daniel Winkler
,
Andrew Chafin
,
Joc Pederson
,
,
Keegan Thompson
,
Rafael Ortega