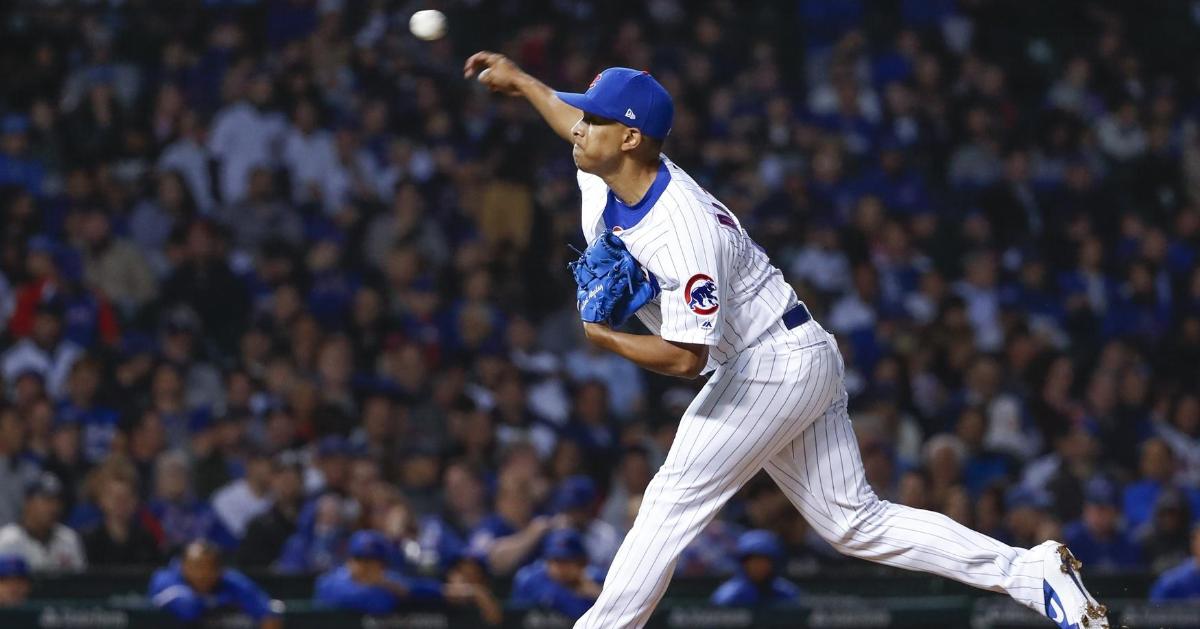 | | |
| --- | --- |
| Down on Cubs Farm: Adbert Alzolay injured, Patterson sets tone, Emps top Lynchburg, more | |
---
| | | |
| --- | --- | --- |
| Thursday, July 18, 2019, 12:19 PM | | |
The Cubs managed a solid 3-1 night on the farm, but also received some less than stellar news in the process. Top pitching prospect Adbert Alzolay not only continued to struggle but left his start in the fourth inning with biceps soreness which could leave the rest of his season in limbo.
Alzolay has been battling injuries his whole career, and it looked like he was on the verge of breaking out this season before his recent struggles.
IOWA CUBS 7 – Oklahoma City Dodgers 5: It was not a good night for Cubs top arm Adbert Alzolay as once again he was roughed up for 5ER in just 3 2/3 innings of work. That wasn't the worst part of the night for, however, as he left his start complaining about arm pain which leads me to wonder did something happen during his final start in Pittsburgh that he tried to fight through. None, the less Iowa, rebounded from an early hole to pick up the 7-5 win to leave the stadium with some positive vibes.
Once again Alzolay battled with the strike zone walking five more hitters. After walking just 10 in his first 60 innings, he has now walked 16 over 16 innings since returning to AAA. Gavin Lux quickly put the Cubs in a 3-0 hole as he touched Alzolay for a three-run shot in the second. After Dixon Machado made things a 3-1 game with a third-inning single, it was Lux once again taking Alzolay deep in the fourth to push the lead to 5-1.
Down by four early sometimes spells trouble for a team but the Cubs bullpen did their job keeping the Dodgers off the scoreboard the remainder of the game. With just six outs to work with and still down four Iowa used a substantial eighth inning to not only draw even but grab the lead. Mark Zagunis got the rally started with an RBI single to score a pair before moving up 90 feet on a throwing error.
That error proved to be extremely costly as Taylor Davis rolled a single up the middle to score two more to tie things up 5-5. Davis continues to swing a hot bat as he is hitting a 357 since early June. With Davis representing the go-ahead run, Donnie Dewees gave the Cubs the lead with an RBI triple before a second costly error allowed him to score to give the Cubs their first lead 7-5 with just three outs to go. Rowen Wick took care of the rest to nail down his sixth save of the season as he continues to shine at Iowa with a 1.85 ERA in the 7-5 win.
The Cubs are back to a season-high for games above 500 as they sit at 55-42 for the season. Iowa tallied 11 hits in the game, but it was Jim Adduci and P.J. Higgins leading the way with two hits each in the win. Ian Happ stayed hot, reaching base twice via a walk and a double while both Zagunis and Davis came up clutch late. The bullpen was phenomenal allowing just three hits in 5 1/3 shutout innings with Dillon Maples earning the win. Danny Hultzen was back on the mound tossing a scoreless frame as he has yet to allow a run in AAA.
How about a pinch-hit triple to score the game-winning run? And coming around to score on the same play for an insurance run? Yeah, that'll do.

Donnie Dewees is your @EMCInsurance Player of the Game! pic.twitter.com/8fsS3cJOWU

— Iowa Cubs (@IowaCubs) July 18, 2019
Iowa completes the comeback and beats the Dodgers 7-5! Game four of the series is scheduled to start tomorrow at 12:08. pic.twitter.com/Hxn0r28q5C

— IowaCubsGameDay (@IowaCubsGameDay) July 18, 2019
TENNESSEE SMOKIES: Off -Day (Travel Day)
MYRTLE BEACH PELICANS 5 – Carolina Mudcats 2: The surging Pelicans continued their winning ways on Wednesday as they made quick work of Carolina 5-2. Taking the mound was southpaw Jack Patterson who continues to marvel since his promotion. In 5 1/3 innings, Patterson allowed 0ER on 2H to go with 2BB and 4k as he improves to 2-0 with the Pels. Not to mention a 0.00 ERA thus far and you can see why he continues to turn heads in High A.
It may have taken three innings for Myrtle Beach to get the offense going, but once they did, they managed to score one run in four straight innings to take control of the game. Carlos Sepulveda broke the scoreless tie in the third on a sacrifice fly to give Myrtle Beach the lead for good 1-0. One inning later saw Tyler Payne leg out his first triple of the season to double the lead to 2-0.
After a little bit of an adjustment period, Delvin Zinn is starting to find his groove adding an RBI single in the fifth to push the lead to 3-0. A Grant Fennell sixth inning double pushed the lead to 4-0 as it also ended the string of four straight innings in which the Pelicans brought home a run. Kevonte Mitchell capped off the Myrtle Beach scoring with a sacrifice fly in the eighth as they were comfortably in front 5-0.
Carolina provided a spark off the bat of Mario Feliciano as he went deep for his 15th homer of the season to cut into the deficit to make it a 5-2 game. Carolina would not get any closer as Ethan Roberts finished them off in the ninth for his first save at the High A level giving the Pelicans a 5-2 win.
At 36-58, playoffs may not be reasonable, but the Pelicans are a different team in the second half and are playing like a playoff team. Fennell was the lone player to collect multiple hits as he tallied two in the teams win. Six other players recorded one in the game including Tyler Durna who continues to impress. Miguel Amaya was one of two players to go hitless in the win. Enrique De Los Rios continues his ascent in the minor league system tossing 1 2/3 scoreless frames as this is his third level of competition this year.
Congrats to @G_Finny5!! ??

He is our @Panerabread Bread Winner of the Game! ?????? pic.twitter.com/KkkWY1o2dp

— Myrtle Beach Pelicans (@Pelicanbaseball) July 18, 2019
SOUTH BEND CUBS 1 – Wisconsin Timber Rattlers 6: As the summer has begun to heat up, the Cubs have started to cool down as they continue to fall further away from playoff contention. In need of a stopper type outing from Derek Casey, the right-hander delivered through five innings before coming unglued in a four-run sixth dropping to 4-6 on the season with a 6-1 loss.
Casey was touched up immediately in the first inning when Connor McVey took him deep for his fourth homer of the season and a quick 1-0 lead. South Bend was able to tie things up in the fourth inning as the Cubs had runners on the corners with nobody out. Wisconsin was able to avoid heavy damage as Fidel Mejia tied the game up 1-1 with a grounder, but that grounder happened to be of the double play variety killing any chance of an even bigger inning.
With the score knotted 1-1 in the sixth, Wisconsin was able to bust it wide open as both David Fry and Gabriel Garcia touched Casey up for a pair of two-run shots and just like that Wisconsin was in front 5-1. South Bend had an opportunity to draw closer in the eighth with a couple of runners on base, but a Rafelin Lorenzo K ended any real threat of that before Korry Howell capped off the scoring with an eighth-inning RBI double to give Wisconsin a solid 6-1 win.
South Bend is still 49-44 on the season but has fallen off the playoff pace in the past ten days. South managed just five hits in the game, but it was Clayton Daniel doing his best to reach base going 0-1 but drawing 3BB from the leadoff spot. Jonathan Sierra had one of those five hits with Cole Roederer going hitless. Brennan Davis had the night off. Ivan Medina allowed his first ER of the season for South Bend giving up 1H in two innings of work.
Cubs drop the opener at Wisconsin by a final of 6-1. We'll give it another go tomorrow night at 8:05! pic.twitter.com/SbMwG00Dcb

— South Bend Cubs (@SBCubs) July 18, 2019
EUGENE EMERALDS 5 – Lynchburg Hillcats 2: If the Emeralds want to climb in the standings, they need to beat the teams they are chasing in the process. One of those teams happens to be first place Lynchburg as the Ems welcomed them into Eugene for a huge series. With strong pitching setting the tone throughout, it was some late-game offensive magic that was the difference as the Emeralds topped the Hillcats 5-2.
The offense was certainly at a premium early as Eugene had a 1-0 lead through four with an RBI hit. With Eduarniel Nunez, Bryan King and Hunter Bigge tossing six scoreless frames to open the game, it was the Hillcats getting to Bigge in the seventh as they finally busted through. Following a one-out walk; Lynchburg grabbed the lead on a two-run homer from Steven Leyton as they headed to the bottom of the frame now up 2-1.
Looking for some late-game magic, Eugene got just what the doctor ordered in the bottom of the seventh as they stormed back to take the lead. With the bases juiced and two down, Edmond Americaan delivered the biggest hit of the night as his bases-clearing triple proved to be the winning runs with the Emeralds retaking the lead 4-2. A balk in the eighth added a huge insurance run for Eugene with John Pomeroy picking up his first save of the season for a 5-2 win.
Eugene is slowly trending in the right direction as they now sit at 15-18 for the year. Americaan continues to hit well in the leadoff spot going 2-4 with those three RBI's. Nelson Maldonado stayed hot at the plate with two more hits while Chase Strumpf reached base three times all on base on balls.
Round 1?? of playing spoiler is a success ??@EdmondAmericaan's clutch triple is the difference as the Ems down the Hops in front of more than 5,000 strong at PK Park. #GoEms | #ItAllStartsHere pic.twitter.com/BXukakrfwv

— Eugene Emeralds (@EugeneEmeralds) July 18, 2019
DSL CUBS (2) 0 – DSL Brewers 3: There wasn't much to talk about in this game as the DSL CUBS 2 fell to 24-15 with a 3-0 loss to DSL Brewers. Offensively the Cubs managed just four hits, but it was a certain pitcher who made a name for himself in this one. Ferrol Heredia entered the game in the first inning down 2-0 and went on to toss 6 1/3 shutout frames allowing just 2H in the game.
DSL CUBS (1) 2 – DSL RAYS (2) 1: In a seven-inning shortened game, the DSL Cubs (1) improved to 19-20 as they squeaked out a close 2-1-win vs. DSL Rays 2. Both Cubs runs came in the first inning when Yohendrick Pinango delivered a sacrifice fly ahead of an error allowing Juan Mora to score from third after he stole third on the same pitch.
Despite just two hits in the game, those two runs managed to hold up as the pitching was impressive in this one. Alberto Sojo, Johan Lopez, and Francisco Fermin combined to toss 6 1/3 innings of work allowing 1R on just 5H in a winning effort for DSL.
AZL CUBS (2) 5 – AZL Mariners 6 (10 Innings): AZL Cubs 2 fell to 9-15 on Wednesday as they dropped a heartbreaker to the Mariners 6-5 in 10 innings. That effort may have gone to waste, but all five of their runs came in one inning as the top of the eighth proved to be a huge frame for them. Josue Huma doubled to bring home the Cubs first two runs ahead of an Alexander Guerra single to make it 5-3. Bryce Windham doubled home the tying runs that frame before an error in the 10th sealed the Cubs fate.
Huma, Windham and Widimer Joaquin all had multi-hit efforts with both Huma and Windham bringing home a pair of runners in the losing effort. D.J. Artis continues to rehab in beautiful Mesa as he went 1-4 with 1BB in the game.
AZL CUBS (1) 5 – AZL Giants 8: Despite their three-run eighth inning, the AZL Cubs 1 fell to 13-11 on the season as the 20-4 AZL Giants pushed across six runs in the seventh inning and another in the eighth to emerge victorious 8-5.
The Cubs got a strong showing from Pedro Martinez at the plate as he led the way with three hits and an RBI. Both Fabian Pertuz and Ezequiel Pagan added multi-hit games to go with an RBI each as the Cubs connected for 11 total hits. Carlos Pacheco also had two hits with Johnny Field going 0-2 with 1BB and RBI in his rehab stint. Luis Rodriguez delivered a strong start on the hill lasting five innings and allowing just 1ER on 3H as his ERA is 3.70 for the season.

Tags: Cubs Baseball
,
Adbert Alzolay
,
Dixon Machado
,
Mark Zagunis
,
Taylor Davis
,
Jim Adduci
,
,
Dillon Maples
,
Carlos Sepulveda
,
Delvin Zinn
,
Kevonte Mitchell
,
Ethan Roberts
,
Tyler Durna
,
Miguel Amaya
,
Derek Casey
,
Fidel Mejia
,
Rafelin Lorenzo
,
Clayton Daniel
,
Jonathan Sierra
,
Cole Roederer
,
Ivan Medina
,
Alexander Guerra