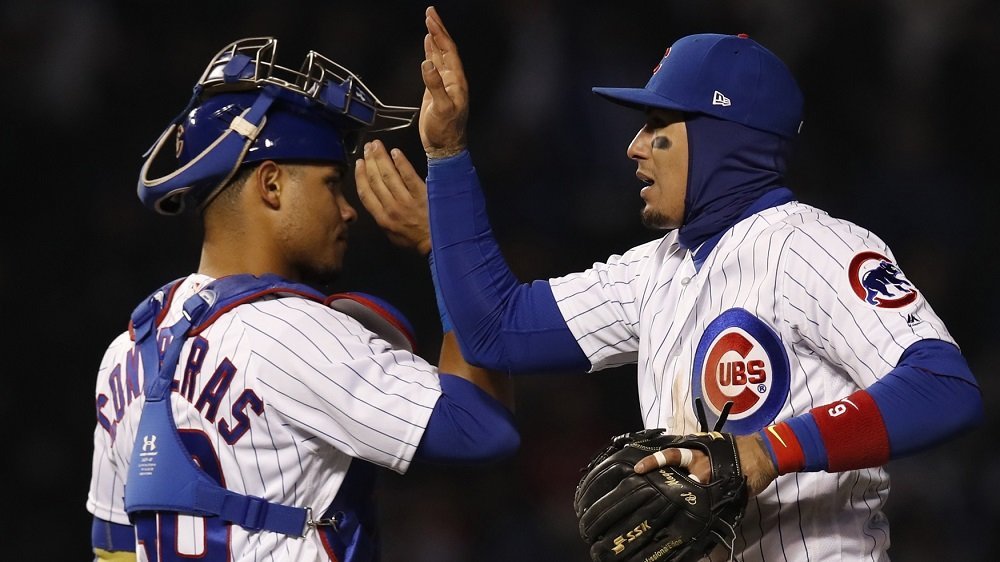 | | |
| --- | --- |
| First Look at Cubs Homestand vs. Brewers, Nationals | |
---
| | | |
| --- | --- | --- |
| Thursday, August 9, 2018, 2:00 PM | | |
CHICAGO – The Chicago Cubs return to Wrigley Field for a five-game homestand against the Washington Nationals August 10-12 and division rival Milwaukee Brewers August 14-15.
The homestand includes two Community Nights presented by PEAK in the ballpark: Back to School Night and Summer Camp Day. For more information and to purchase tickets, visit www.cubs.com/communitynights.
On Wednesday, August 15, fans will be treated to a special preview of the Chicago Air and Water Show, when the Leap Frogs, the official parachute team of the United States Navy, parachute into Wrigley Field during the performance of the national anthem.
Highlights of the homestand follow.
Food and Beverage Offerings:
The Chicago Cubs and hospitality partner Levy continue their crowd-pleasing Chef Series presented by Maker's Mark for a second year with an expanded lineup of local celebrity chefs. Fans can expect a dynamic menu of offerings inspired by the chefs' signature items and their take on ballpark favorites.
Debuting this year, Honey Butter Fried Chicken chef/owners Christine Cikowski and Josh Kulp will feature ballpark classics amped up with their signature fried chicken along with mouthwatering sides August 10-15. Fans can enjoy the following menu at the Sheffield Corner near the Wintrust Right Field Gate:
• Fried Chicken Strips with Honey Butter™
• Fried Chicken Nachos with fried chicken, pimento cheese, tortilla chips, lime crema, corn pico de gallo and candied jalapeños
• Pimento Mac and Cheese with Wisconsin cheddar and breadcrumbs
• "The OG" Fried Chicken Sandwich with fried chicken strips, candied jalapeño mayo and crunchy slaw
• Cherry Hill Pop – Maker's Mark Bourbon, lemonade and hand-made cherry syrup
Hot Doug's continues its rotating selections on Platform 14, located behind the center field scoreboard in the Budweiser Bleachers. Served this homestand are the Pete LaCock, a ribeye steak sausage with horseradish cream and blue cheese; the Bill Bonham, an atomic pork sausage with cherry marmalade and smoked gouda cheese; and the Rick Reuschel, a spicy Vienna Beef sausage with jalapeño mustard, pepper jack cheese and crispy fried onions.
Cubs Charities and Community Events:
Cubs manager Joe Maddon will once again support Chicago nonprofit organizations through his "Respect Community" charity T-shirt initiative. After every Friday home game, Maddon represents a local nonprofit organization by wearing their T-shirt during his postgame press conference. On Friday, August 10, Maddon will represent Coming up Rosies, a nonprofit organization dedicated to restoring confidence, happiness and pride in children during their medical journey through art therapy programs in hospitals.
On Saturday, August 11, Albert and Krystal Almora, in partnership with PAWS Chicago, will host Almora's Adoption Day at Gallagher Way starting at 10 a.m. CDT. Fans looking to adopt a dog are encouraged to come to Gallagher Way and meet some of the loving dogs looking for a home. Almora's Adoption Day is in partnership with PAWS Chicago to help alleviate the number of dogs in shelters and connect them with caring families. Seven dogs will be available for adoption at the event. PAWS encourages potential adopters to bring all family members, including children and any resident dogs, to meet their new dog.
Homestand Details August 10-August 15:
Friday, August 10, Chicago Cubs vs. Washington Nationals, 1:20 p.m. CDT
· Promotion: Cubs Shirt presented by Budweiser, up to the first 5,000 early arriving Budweiser Bleacher adults age 21 and older
· First pitch and 7th inning stretch: Former Cubs pitcher and 1984 NL Cy Young Award Winner Rick Sutcliffe
· Broadcast: NBC Sports Chicago, MLB Network, 670 The Score, WRTO 1200, Cubs.com
Saturday, August 11, Chicago Cubs vs. Washington Nationals, 3:05 p.m. CDT
· First pitch and 7th inning stretch: Former Notre Dame Men's Basketball head coach Digger Phelps
· National anthem: Atlantic Records recording artist and Chicago native Josie Dunne
· Broadcast: ABC 7, Fox Sports 1, 670 The Score, Cubs.com
Sunday, August 12, Chicago Cubs vs. Washington Nationals, 7:05 p.m. CDT
· Promotion: Cubs Lunch Bag presented by Mastercard, up to the first 5,000 early arriving children age 13 and younger
· First pitch and 7th inning stretch: Alternative rock band and Chicago natives The Smashing Pumpkins
· Broadcast: ESPN, 670 The Score, Cubs.com
Tuesday, August 14, Chicago Cubs vs. Milwaukee Brewers, 1:20 p.m. CDT
· Promotion: Cubs Duffel Bag presented by Jim Beam, up to the first 10,000 early arriving adults age 21 and older
· Community Night presented by PEAK: Back to School Night
· Broadcast: NBC Sports Chicago, MLB Network, 670 The Score, Cubs.com
Wednesday, August 15, Chicago Cubs vs. Milwaukee Brewers, 1:20 p.m. CDT
· Promotion: Kyle Hendricks Bobblehead presented by Las Vegas, up to the first 10,000 early arriving fans
· Pregame: The United States Navy Parachute Team
· First pitch: Honey Butter Fried Chicken owner and chef Josh Kulp
· 7th inning stretch: Former Cubs pitcher Ryan Dempster
· Community Night presented by PEAK: Summer Camp Day
· Broadcast: WGN, MLB Network, 670 The Score, Cubs.com