| | |
| --- | --- |
| Fly the T: Owen Caissie shines against Mariners | |
---
| | | |
| --- | --- | --- |
| Tuesday, March 22, 2022, 8:30 PM | | |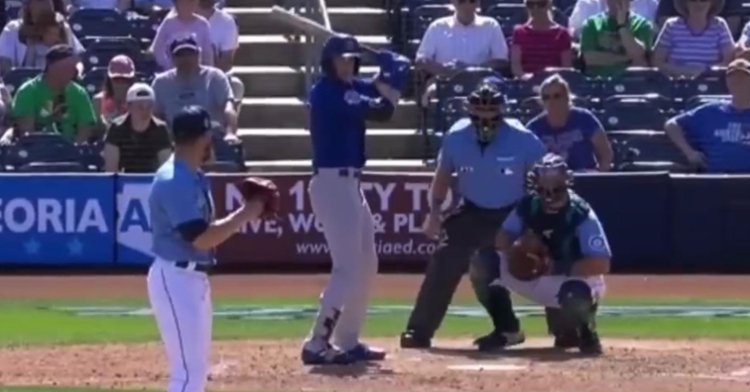 Ever since dropping their first two games to open up the Spring, the Cubs have found their winning ways and have looked pretty good doing so. Mixed with a tie last week, the Cubs have gone nearly a week without a loss, which is challenging in spring training. They were on track to tally another win today as the Cubs held a 5-2 lead with three innings left.
Credit the Mariners for bouncing back as they not only connected for a pair of run off Ben Holmes in the eighth, but then went on to tie the game of Ben Leeper in the ninth as the two sides played to a 5-5 tie on Tuesday. Even with the draw, the Cubs have now gone five days without a loss and have performed very well, especially on the mound.
In a matchup between a pair of aces, Kyle Henricks was making his second spring start as he faced off with Robbie Ray making his first. Ray was the premier signing made by the Mariners this offseason and delivered in a big way as he threw 57 pitches across four innings to go with five strikeouts. He did allow two runs on one hit, which we will get into in a second.
On the other hand, Hendricks is a cause for concern as his spring hasn't gone well. Add in the way he finished last season with two subpar outings to begin the spring, and you have to wonder what the team will get from him this season. Hendricks allowed one run in his last outing, but was even worse in this one as he allowed two runs on five hits in two innings of work.
Those runs came in the first inning as Seattle had him on the ropes early. Not only did Abraham Toro lead things off with a single, but Julio Rodriguez followed that up with an RBI double to give the Mariners the 1-0 lead. A few pitches later, the Cub killer Eugenio Suarez ripped an RBI single as the Mariners were up 2-0 early.
Hendricks settled down after that and got through the rest of his outing without allowing a run, but the damage was done. While the Cubs may have gone done quietly in the first inning, a one-out walk by Alfonso Rivas set the tone before Ilderamo Vargas got into one and took it over the left-field fence to tie things up 2-2.
Ildemaro Vargas - Chicago Cubs (1)* pic.twitter.com/iMWrbdfZHQ

— MLB HR Videos (@MLBHRVideos) March 22, 2022
Like Hendricks, Ray settled down after that and got through the rest of his outing run free.
With Hendricks now out of the game, the Cubs turned to some younger arms, with Wyatt Short giving them one scoreless frame and Michael Rucker adding a pair as his strong spring continues. One of the more overlooked signings of the offseason was Ken Giles, who entered the game in the fifth inning. Once again, it was a walk that got things started with Michael Hermosillo taking the free pass. He would then come around to score as the No. 9 prospect Owen Caissie ripped an RBI double to give the Cubs the lead 3-2.
Owen Caissie rips an RBI-double to right center #Cubs pic.twitter.com/RiWXMFI12E

— Aldo Soto (@AldoSoto21) March 22, 2022
Chicago continued to maintain their lead, with Brandon Leibrandt tossing a scoreless sixth before the offense went to work in the seventh. With Nick Margevicius now on to pitch for Seattle, the Cubs wanted to make sure they stretched out their lead as a one-run cushion wasn't enough. As if his RBI double wasn't good enough, Caissie ripped a one-out single to give the Cubs a baserunner and jump-started the inning.
After advancing to second on a passed ball, Zach Davis picked up an infield single as the Cubs were in business with runners on the corners. An Andy Weber single and P.J. Higgins sacrifice fly later saw the Cubs push across two more runs and leading 5-2. At this point in the game, the Cubs turned to their potential future backend of the bullpen with Ethan Roberts coming out to pitch a scoreless seventh and punching out a pair in the process.
Ethan Roberts with back to back strikeouts to get out of a jam ??#Cubs pic.twitter.com/onA0lTDNQY

— Aldo Soto (@AldoSoto21) March 22, 2022
Still holding that three-run lead, Ben Holmes was called on to pitch the eighth and immediately ran into trouble. A leadoff walk by Chane Sisco put a runner on base, as those often come back to haunt a pitcher. Not only did it haunt Holmes, but with one swing from Mike Ford, the Mariners were within 5-4 as he took Holmes way deep over the right-field fence.
A costly base running mistake by Christian Donahue in the top of the ninth took away a potential run, but the Cubs still led by one, with Leeper coming on to pitch the ninth. After allowing a leadoff single and a walk to put a pair of runners on base, Leeper recovered, inducing a pop-out followed by a called third strike with a back door slider. With just one strike to go to close things out, Sisco came through in a big way as he pulled a single through the first base hole to tie things up 5-5. That is how things would end as Leeper closed out the game with his second strikeout, and the Cubs settled for another tie.