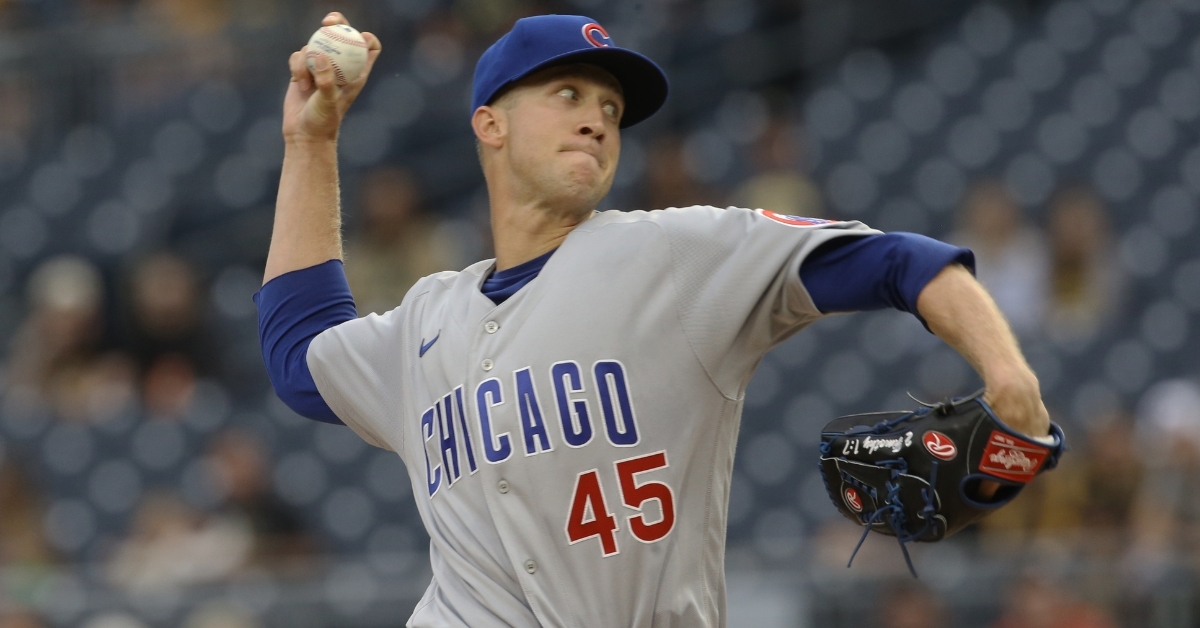 | | |
| --- | --- |
| Cubs News: Killian struggles in blowout loss to Pittsburgh | |
---
| | | |
| --- | --- | --- |
| Tuesday, June 21, 2022, 8:34 AM | | |
PITTSBURGH - Blowout losses are starting to become the norm for the Chicago Cubs (25-42), as their most recent came Monday night against the Pittsburgh Pirates (27-39) at PNC Park. While many of the eyes were on Caleb Killian and what he was going to do, it was a different set of prospects who rose to the occasion and stole the show.
Not only did Bligh Madris make his MLB debut, but so did the highly touted Oneil Cruz, as the two of them combined for five hits and six RBIs to give JT Brubaker plenty of support in the 12-1 win. Brubaker battled through a couple of long innings early to settle in and tossed six shutout innings en route to his first win.
For Killian, that makes two starts in a row now where the command has been an issue, and you have to wonder what the Cubs front office is thinking right now. Despite a solid start to his outing, Killian walked five in just 2 1/3 innings and was charged with seven runs (five Earned) as he fell to 0-2. Alec Mills relieved Killian and, despite giving the Cubs a lengthy outing, struggled just as much, allowing five runs in 4 1/3.
As if the pitching wasn't painful enough to watch, seeing the Cubs squander a run in the first was tough too, with Rafael Ortega picking up a two-out single before Ian Happ ripped a double. The problem was that double was hit so hard that Ortega should have been held at third. Instead, Willie Harris sent him home and was gunned down by 20 feet.
It was in the second inning when things began to come unglued for Killian as he opened that frame with a pair of walks. Following a fielder's choice, Madris not only picked up his first major league hit, but drove in a pair as the Pirates led 2-0 and never looked back. Hoy Park added a sacrifice fly to put the Pirates on top 3-0.
Things only continued to get worse from there, with two more walks setting things up nicely for the Pittsburgh offense while a wild pitch made things 4-0. Following the third walk of the inning to load the bases, Cruz came through with a massive hit as his RBI double cleared the bases to make things 7-0 before he was thrown out trying to stretch his double into a triple.
That 7-0 score held up for quite a while as neither team was able to generate much of anything until the sixth inning. Brubaker was starting to run out of gas with two down in that inning as Jonathan Villar and Nico Hoerner picked up singles to extend the inning. As usual, the Cubs couldn't cash in with RISP and settled for another scoreless frame. With Tyler Beede entering to pitch the seventh, the Cubs made sure they wouldn't squander this opportunity with Alfonso Rivas and Christopher Morel grabbing a pair of singles to start things off.
Following a couple of strikeouts, the red-hot Happ came through with an RBI single to right as the Cubs ended the shutout, but still trailed 7-1. At this point, the Pirates started to bury the Cubs as Mills had a rough go of things in the seventh.
A single by Bryan Reynolds was followed by a Jack Suwinski double as the Pirates had a pair in scoring position and no outs. Unlike the Cubs, who looks like a deer in headlights during these situations, Vogelbach came through with an RBI double before coming home on the Cruz single to extend the lead to 10-1.
With plenty of traffic left on the bases, Jack Heineman added another RBI double before Park added a second sacrifice fly as the Pirates were up 12-1. That signaled the end for Mills, with Daniel Norris on to finish things up for the Cubs. Hoping to leave the game with more confidence, Hoerner picked up another hit in the eighth inning before the Cubs had a scoring opportunity in the ninth.
Ortega extended the inning with a two-out walk before the recently promoted Nelson Velazquez added a single to put a pair of runners on base. Patrick Wisdom would end the game as his flyout sealed another blowout loss for this team. At this point in the season, you have to get a sense that the Cubs are trying to lose, as there is no way they can be this bad on a nightly basis.
Despite scoring just one run, the Cubs did have 10 hits, but couldn't come through in the clutch when needed. Ortega, Happ, and Hoerner all had two hits to lead the way, with Happ picking up the lone RBI in the loss.

Tags: Cubs Baseball
,
Alec Mills
,
Rafael Ortega
,
Ian Happ
,
Jonathan Villar
,
,
Alfonso Rivas
,
Christopher Morel
,
Daniel Norris
,
Nelson Velazquez
,
Patrick Wisdom