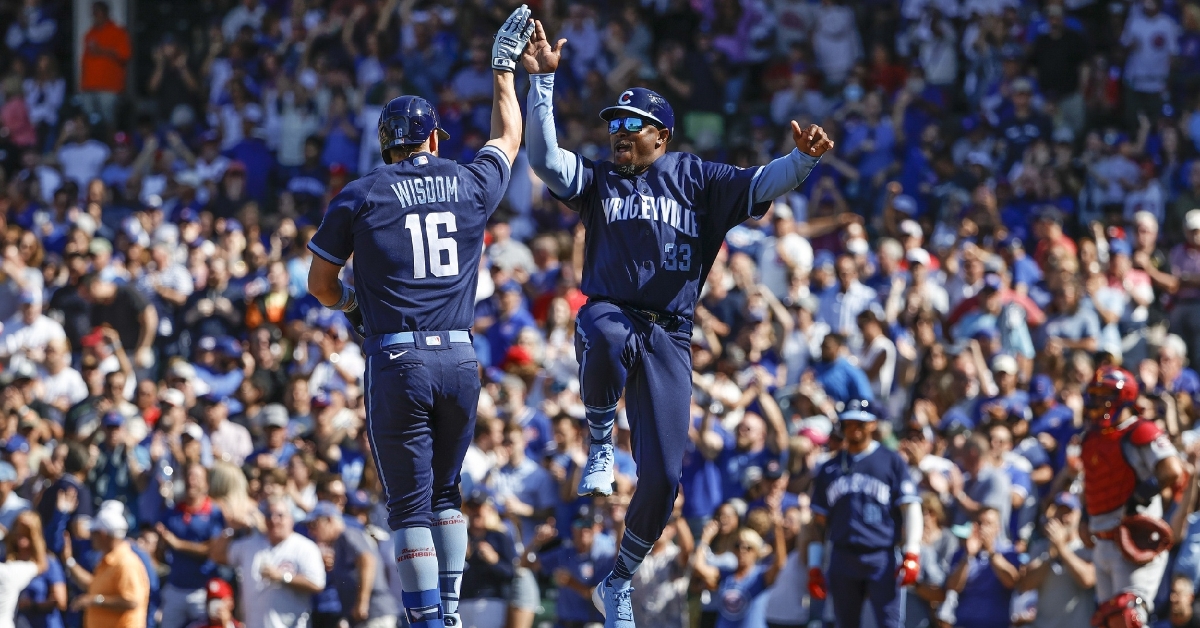 | | |
| --- | --- |
| Kris Bryant, Joc Pederson hit pivotal doubles as Cubs overpower Cardinals | |
---
| | | |
| --- | --- | --- |
| Friday, July 9, 2021, 7:51 PM | | |
CHICAGO — Coming off a shutout loss on Thursday, the Chicago Cubs (44-45) produced a much-needed bounce-back performance on Friday. Pounding out 12 hits and 10 runs against the rival St. Louis Cardinals (43-46) opened the three-game series at Wrigley Field with a win. A pair of bases-clearing doubles highlighted the Cubs' 10-5 victory, which improved the North Siders to 6-1 through seven games versus the Redbirds this season. The Cardinals, who collected 10 hits, were limited to two runs prior to the ninth inning, with Kyle Hendricks notching a quality start on the mound.
In a game that seemed to feature a little bit of everything, fan interference made for a controversial moment in the top of the first. Following a leadoff single by Dylan Carlson, a Cubs fan sitting down the right field line reached out and gloved a fly ball off the bat of Paul Goldschmidt. Unlike the infamous Steve Bartman incident, this instance of fan interference benefited the Cubs, as Goldschmidt was called out because Jason Heyward was in position to make the catch. The Cardinals challenged the call, but the ruling was upheld. Second baseman Nico Hoerner then lost a Nolan Arenado popup in the sun but was able to throw to second in time for the force out. Shortstop Javy Baez, who returned from a brief injury layoff, was able to overcome the glare and catch an ensuing popup, which ended the half-inning.
Here's the replay of the fan interference from the Top of the 1st inning.

Goldschmidt ruled out on the play. @WatchMarquee pic.twitter.com/KJXXzMbur8

— Tony Andracki (@TonyAndracki23) July 9, 2021
Wade LeBlanc started on the hill for the Cardinals and struggled out of the gate, walking Willson Contreras and giving up a single to Patrick Wisdom before recording his first out. A one-out single by Baez loaded the bases, and a two-out double by Joc Pederson cleared the bases. The three-run two-bagger, which was nearly caught in right by a sliding Carlson, put the Cubs up 3-0. Carlson briefly had the ball in his glove, but it popped out while Carlson was sliding across the outfield grass. Hoerner drew a walk after that, with Heyward then flying out to usher in the second frame.
Joc clears 'em! #CubTogether pic.twitter.com/eOrhx4ALlY

— Chicago Cubs (@Cubs) July 9, 2021
The speedy Harrison Bader hustled for a bloop double with two outs in the second. However, Wisdom then caught a line drive smoked toward third by Edmundo Sosa. Contreras answered Bader with a bloop double of his own in the home half of the inning. Anthony Rizzo was hit by a pitch later in the inning, but neither baserunner scored. Carlson tabbed a bunt single in the third, and Nolan Arenado, Tyler O'Neill and Yadier Molina went on to his three consecutive two-out singles. Carlson crossed the plate on O'Neill's RBI base knock, and Arenado was plated via Molina's RBI base hit. Hendricks stopped the bleeding by forcing Tommy Edman to fly out.
Right back in it! pic.twitter.com/Dk0FnSZokB

— St. Louis Cardinals (@Cardinals) July 9, 2021
LeBlanc issued a single to Hoerner and a walk to Heyward with two outs in the third, but Hendricks then lined out. The Cardinals signed Luis Garcia to a contract prior to Friday's game, and he relieved LeBlanc midway through the fourth. Garcia experienced a rocky start to his Cardinals debut, as he drilled Contreras in the batting helmet with a 98-mph sinker that got away from him. Contreras had his helmet knocked off and fell to the dirt before toughing out the hit by pitch and taking his base upon being evaluated by a trainer.
Willson Contreras was hit in the head by a 98 MPH fastball.

He stayed in the game. pic.twitter.com/mVLw7Wm69y

— Marquee Sports Network (@WatchMarquee) July 9, 2021
Wisdom grounded into a fielder's choice thereafter, with Contreras being outed at second, and Rizzo advanced Wisdom to second by way of a single. Following a swinging strikeout by Baez, Ian Happ pinch hit for Jake Marisnick and tallied a two-out RBI single that scored Wisdom and chased Garcia from the game. Andrew Miller entered to pitch and got Pederson to fly out. In the next inning, Hendricks displayed his top-notch glove work by snagging a pair comebackers. He began the top of the fifth by catching a line drive hit directly at him by Carlson and ended the top of the fifth by jumping up and hauling in a liner hit by O'Neill, which stranded Goldschmidt, who doubled in the fifth, stranded at third.
Like a true sportscaster, Eddie stops to make the call. pic.twitter.com/baLFO1tJFL

— Chicago Cubs (@Cubs) July 9, 2021
Not in Kyle's classroom. #CubTogether pic.twitter.com/G2z8MBO8jh

— Chicago Cubs (@Cubs) July 9, 2021
Heyward hit a single in the fifth and took second on a sacrifice bunt by Hendricks, but Justin Miller relieved the aforementioned Miller with two outs and fanned Contreras. After being stranded on the basepaths in the previous inning, Heyward responded by going all out and hauling in an impressive catch to rob Edman of a hit in the sixth. Heyward slid and tumbled across the ground while hanging onto the ball. Bader was hit by a pitch with two outs, and he reached second when Contreras fired an errant throw to first on a failed pickoff attempt. Bader did not score, though, as Sosa ended the inning by flying out.
Right fielder makes sliding catch pic.twitter.com/N43QD1RM3w

— Marquee Sports Network (@WatchMarquee) July 9, 2021
Ryan Helsley retired the Cubs in order in the sixth, and Hendricks was taken out of the game after walking Carlson with one out in the seventh. The ace received a rousing ovation from fans in attendance as he headed to the dugout. After getting activated off the injured list earlier in the day, Ryan Tepera relieved Hendricks and notched two straight outs. Genesis Cabrera toed the rubber out of the stretch and struggled mightily with his command. He walked Happ and Pederson and, after Hoerner flied out, beaned Heyward to load the bases.
Junior Fernandez replaced Cabrera on the mound and faced off against Kris Bryant, who missed Thursday's game due to injury. Bryant stepped up to the plate as a pinch hitter and made an immediate impact by slugging a bases-clearing two-bagger on the very first pitch he faced. The three-run double caromed off the wall in left-center, increasing the Cubs' lead to 7-2. Sergio Alcantara then pinch ran for Bryant, who had accomplished what he came off the bench for. Contreras grounded out, but Fernandez was unable to escape the inning without the Cubs inflicting more damage, as Wisdom lifted a towering two-run home run out to left-center. Rizzo drew a base on balls after Wisdom skied his two-out round-tripper, and Baez then struck out swinging.
Sugar and spice and everything nice.

And a pinch of KB. #CubTogether pic.twitter.com/Vh5wl72jMu

— Chicago Cubs (@Cubs) July 9, 2021
I believe in hope. I believe in believe. #DailyWisdom pic.twitter.com/9S8IHZ3shB

— Chicago Cubs (@Cubs) July 9, 2021
Daniel Winkler walked O'Neill to kick off the eighth, and Hoerner was charged with a throwing error when he failed to out O'Neill at second after fielding a Molina grounder, as his throw to Baez was off the mark. Winkler struck Edman out swinging before loading the bases by walking Bader. Sosa proceeded to strike out swinging, and Andrew Chafin relieved Winkler at that point and kept his scoreless streak of two-plus months alive by striking Matt Carpenter out looking.
Pederson hit a one-out double off Brandon Waddell in the eighth and tagged up and headed to third on an ensuing flyout by Hoerner. Heyward plated Pederson with a two-out RBI single. Robinson Chirinos drew a walk after that, but Contreras then ended the inning by striking out swinging. Kyle Ryan pitched the ninth after getting called up before the game. In his first big league appearance in over two months, Ryan was roughed up before settling down. A leadoff double by Carlson gave way to an RBI single by Goldschmidt and a two-run dinger to right from Paul DeJong. Ryan remained calm and drew back-to-back groundouts from O'Neill and Molina before striking Edman out looking to put a bow on the Cubs' 10-5 triumph.
Paul DeJong two-run blast in the ninth. #STLCards

TV: Bally Sports Midwest
App: Bally Sports app#STLFLY pic.twitter.com/eUn6Vh3e8f

— Bally Sports Midwest (@BallySportsMW) July 9, 2021

Tags: Cubs Baseball
,
Kyle Hendricks
,
Jason Heyward
,
,
Javy Baez
,
Willson Contreras
,
Patrick Wisdom
,
Joc Pederson
,
Anthony Rizzo
,
Ian Happ
,
Jake Marisnick
,
Ryan Tepera
,
Kris Bryant
,
Daniel Winkler
,
Andrew Chafin
,
Kyle Ryan