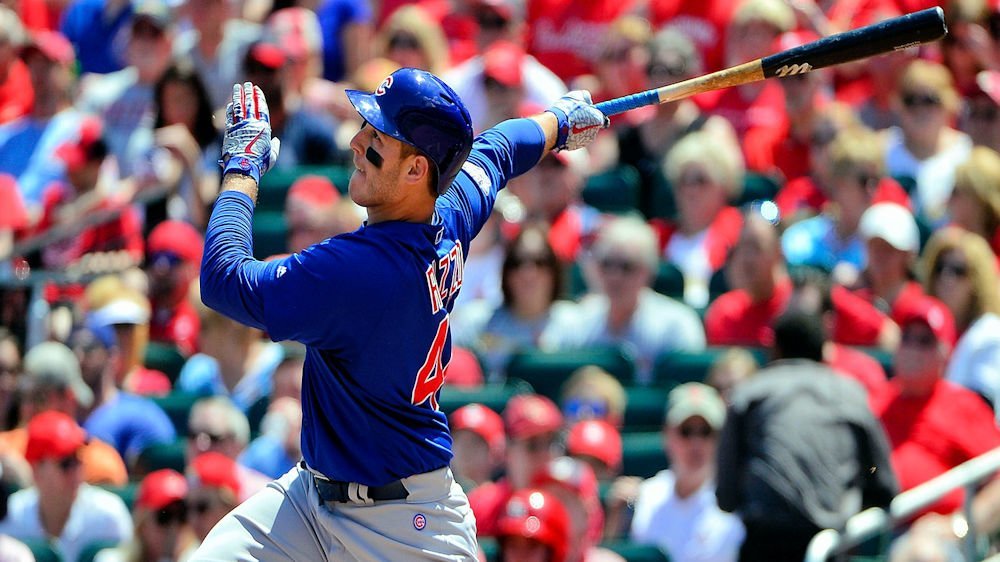 | | |
| --- | --- |
| Latest news and rumors: Cubs hire staff member, Cubs payroll, and Cubs Convention info | |
---
| | | |
| --- | --- | --- |
| Monday, January 14, 2019, 6:01 PM | | |
Cubs' news and notes
Cubs' Opening Day: 73 days. (March 28 vs Rangers)
Pitchers/Catchers Report: 30 Days.
First Spring Training game: 41 Days. (Saturday, February 23, Brewers vs. Cubs at Sloan Park)
New hire: The Cubs have hired former MLB pitcher Craig Breslow as the team's director of strategic initiatives for baseball operations. Per the Cubs, Breslow "will help to evaluate and implement data-based processes throughout all facets of Baseball Operations. He will also support the organization's pitching infrastructure in Player Development and the major leagues."
Projected payroll: Including the estimated $14.5 million for player bonuses and $2.2 million for minor league players on the 40-man roster, Friday's deals will push the Cubs' projected 2019 Opening Day payroll to a little more than $225 million- or about $16M over the luxury tax threshold. This does not account for any additional players to be added and the Cubs still have four bullpen spots open. #ForgetAboutHarper.
Cubs-Con: The Cubs have announced that neither Jon Lester nor Anthony Rizzo will be at the convention this weekend, but plenty of other players will be present. Due to club policy, Addison Russell is also not attending.
Congratulations: Cubs' radio play-by-play announcer, Pat Hughes, has been 2018 Illinois Sportscaster of the Year by the National Sports Media Association. Hughes also has the distinction of, thus far, being the Cubs' most significant signing this winter.
Latest news and rumors from around the league
Bryce Harper: According to USA Today's Bob Nightengale who cites several sources, after Saturday's meeting in Las Vegas, the Phillies have emerged as the "clear-cut" favorites to land Harper.
Sonny Gray: Now that CC Sabathia has been cleared to pitch, talks have heated up in the Sonny Gray Market. Interested teams include the Reds, Padres, Brewers, A's, Mariners and Braves.
Kyler Murray: Move over Bryce and Manny, this is quickly becoming the "Kyler Murray Show." The A's, trying to keep Murray out of the NFL, are now contemplating piling additional money into a deal that would see Murray in MLB without ever taking an at-bat in the minors. Murray has already received a $4.66M signing bonus from Oakland but is still contemplating an NFL career due to potential earnings. Murray has declared himself for the NFL Draft.
Giants: During a recent interview, Giants' president of baseball operations, Farhan Zaidi, commented on the slow Hot Stove season by saying, "we're hopeful to have an announcement on a signing or a trade here in the next couple of days."
The Brewers have been interested in dealing for Madison Bumgarner and the Giants were at least rumored, a few weeks back, to have some interest in a deal involving Jason Heyward and Ian Happ. With regard to Bumgarner, Zaidi says, "No one has been making any outgoing calls," meaning that the Giants may trade him, but they aren't shopping him.
On the signing front, the Giants re-signed free-agent, lefty-starter Derek Holland to a one-year, $7M deal with a club option for 2020.
Phillies: Philly has signed former Braves' outfielder, Lane Adams, to a minor league deal.
Rangers: Texas showing continued interest in relievers Adam Ottavino, Cody Allen and Adam Warren.
Rays: Tampa will be signing free-agent OF Avisail Garcia.
Twins: Minnesota signs RHP Blake Parker to a one-year deal. In turn, the Twins have designated RHP John Curtiss for assignment.
White Sox: Although according to ESPN's Jeff Passan, the White Sox have offered Manny Machado an eight-year deal and may be compelled to go even higher, other reports say the offer remains at seven years. With the Yanks recent signing of DJ LeMahieu and the Phillies now the favorites to land Harper, the Sox are in a position to become the favorites to score Machado.
Yankees: NY has designated OF Tim Locastro for assignment.