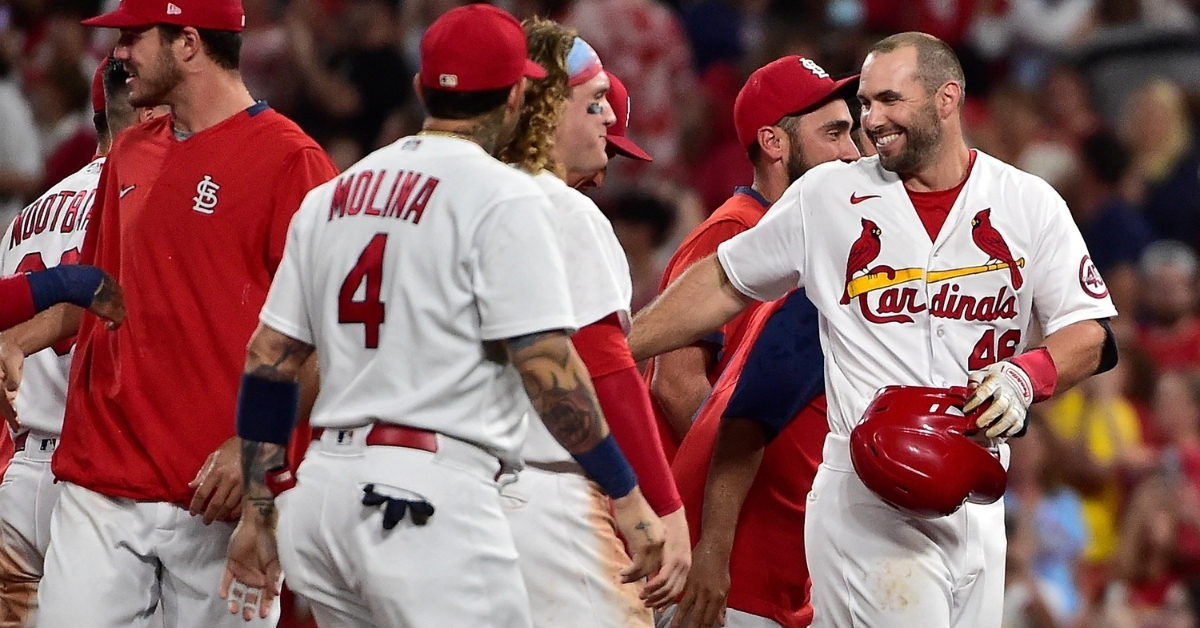 | | |
| --- | --- |
| Paul Goldschmidt with walk-off single over Cubs | |
---
| | | |
| --- | --- | --- |
| Saturday, October 2, 2021, 9:09 AM | | |
ST. LOUIS – Now that the St. Louis Cardinals (90-70) have officially clinched a playoff spot and had their 17-game winning streak snapped, there wasn't much for them to play for this weekend. With a chance to iron some things out and set up their rotation for the wildcard game, one would think they would take it easy on the Chicago Cubs (69-91) this weekend.
However, this is one of the greatest rivalries in major league baseball, and despite having made the playoffs with nothing left to play for, the Cardinals are not going to lay down, especially for the Cubs. Unlike last weekend that saw the Cubs get crushed in every which way, Chicago put up a great fight that saw them have the lead late before the bullpen gave it up again. This time, it wasn't a big inning that did them in, but instead, one of the hottest hitters in baseball Paul Goldschmidt coming through as his walk-off hit in the ninth capped off the Cardinals 4-3 win.
Across the last week, there has been plenty of roster turnover on the Cubs clubhouse as things have gotten interesting. From players getting placed on the COVID IL to injuries ending other player's seasons, the Cubs have been calling up plenty of help from AAA as they look to finish this season on a positive note.
In a surprising move, David Ross elected to skip Zach Davies final start of the regular season as his tenure with the Cubs has ended. It was not a great season, as Davies will now enter free agency coming off the worst season of his career. That left an opening in the starting rotation for Friday, and it was filled by Cory Abbott, who was making his first career major league start.
After spending a few weeks in the Cubs bullpen earlier this season and getting shelled, Abbott went back to AAA to figure some things out and finished the season with four consecutive great starts. His final month of the season is what the organization was hoping to see from him and earned him his first major league start. Abbott certainly didn't disappoint on the mound as he continued his strong run of success, giving the Cubs five innings of two-run ball before turning things over to the pen.
Both of those runs came on the home run ball, which was a struggle for him in the minors, and both came off the bat of Tyler O'Neill, who continues to crush Cubs pitching. The first of those homers came in the first inning as O'Neill took Abbott out to right field, putting the Cardinals on top 1-0. That appeared to be enough for Dakota Hudson, who made his first start since returning from Tommy John.
After getting knocked around a little bit last weekend during a doubleheader at Chicago, Hudson was back to his old self in this one, going five scoreless innings and allowing just three hits to go with four punchouts. To see him return from Tommy John less than a year after having the surgery is impressive, and now the Cardinals have an additional weapon for the playoffs should they advance past the Wild Card Round.
Matt Duffy, Abbott, and Ian Happ had the hits off Hudson, but all of them were singles as the Cubs couldn't do much of anything through five innings. The same could be said about the Cardinals as they were held in check also. If it weren't for O'Neill, who hit his second homer in the fourth to build a 2-0 lead, this would have been a scoreless game heading into the sixth as both starters did a great job on the hill.
It wasn't until the sixth when the Cubs were able to cash in as they capitalized off hard-throwing Genesis Cabrera. After Rafael Ortega led the inning off with a walk, Frank Schwindel was erased on a double play killing the potential rally. Schwindel has cooled off in the last two weeks, but is still hitting north of .320 on the season.
With two outs, Cabrera continued to struggle with his command walking both Ian Happ and Duffy to keep the inning alive and giving the Cubs a chance to score. Trayce Thompson has connected for a pair of homers in his limited playing time, but did lead the way with 20 in Iowa. Facing a new pitcher in TJ McFarland, Thompson got one to his liking and crushed it to straightaway center field for the three-run shot putting the Cubs in front 3-2.
In what was now a battle of the bullpens, Scott Effross was first out of the pen for the Cubs, allowing a leadoff O'Neill double in the sixth before Lars Nootbaar tied things up 3-3 with an RBI single. Effross was able to keep things right there as he turned things over to Adbert Alzolay in the seventh. Once again, Alzolay continued to do his thing in relief as he has turned his season around since moving to the pen to have his innings monitored.
Looking to retake the lead in the eighth, Duffy was hit by a pitch with one out before a Thompson walk had a pair of runners on base. Andrew Miller was able to keep those runners there as he finished the inning off with a pair of strikeouts and sent things to the bottom of the eighth. With Goldschmidt standing in the box, Alzolay attacked him with a heater down in the zone only to see him put a great swing on it. Off the bat, it looked like a go-ahead homer, but Ortega was there to make the play in center, robbing him of a solo homer and keeping things tied for now.
The ninth inning proved extremely costly for the Cubs as Giovanni Gallegos was now on to pitch. Called on to pinch-hit for Erick Castillo, who registered his first career hit earlier in the game, Castillo flared one down the right-field line for a leadoff double only to pull into second base with a bit of limp. After staying in the game, Johneshwy Fargas popped up a bunt for the first out before Ortega lined one the opposite way for a single.
As Contreras was heading to third, Willie Harris put up the stop sign knowing O'Neill was in left. Contreras chose to ignore that sign and tried to score only to be thrown out by 10 feet as the game remained tied and headed to the bottom of the ninth. With Tommy Nance now on to work the ninth, the righty struggled to get outs walking Andrew Knizer and allowing an Edmundo Sosa single to put the winning run at second.
With two outs and on the verge of getting out of the inning, Ross went with Wick out of the pen as he was not only tossed into a challenging situation, but had to face a scorching hot Goldschmidt, who was robbed in the seventh. Facing a 1-1 count, Goldschmidt took a Wick slider to left field as Knizer hustled home to beat the throw handing the Cardinals a walk-off 4-3 win.