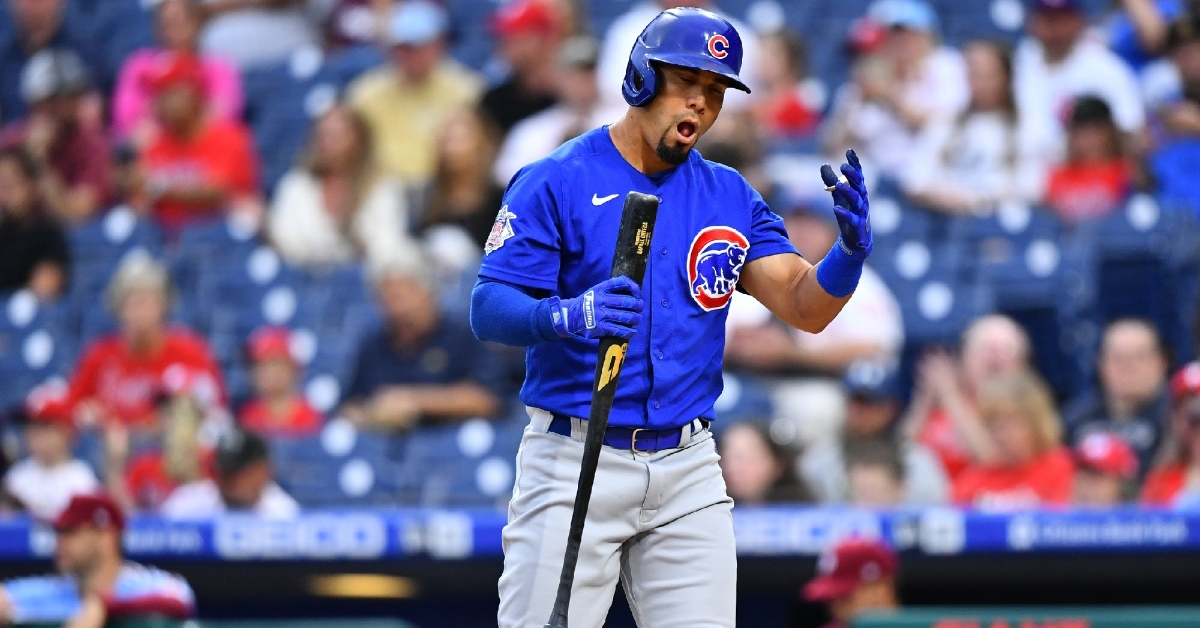 | | |
| --- | --- |
| Phillies rout Cubs as pitching implodes | |
---
| | | |
| --- | --- | --- |
| Friday, September 17, 2021, 8:13 AM | | |
PHILADELPHIA – Thursday was a very frustrating game for the Chicago Cubs (66-81) at Citizens Bank Ballpark, as it summed up how the season has gone. With Kyle Hendricks on the mound against what the Philadelphia Phillies (74-72) called a bullpen game, you had to like the Cubs chances of at the very least taking the series.
Things appeared to be trending in the right direction, with the Cubs opening a 7-0 lead just three innings into the game. From that point on, it was all Phillies as they matched the Cubs with a seven-spot of their own and outscored the Cubs down the stretch 17-1. That resulted in a 17-8 Phillies win as they take the season series 5-2.
For whatever reason, Hendricks seems off this year, and it isn't just his command. Something seems off mechanically, and there doesn't appear to be a scenario where he can fix it at this point in the season. He may just need a mental reset to get back on track next season after going just 3 2/3 innings on Thursday. Despite the rough outing, the Cubs made his job easy in the early going racing out to a massive 7-0 lead in the third.
All seven of those runs came in the third inning after both teams were deadlocked 0-0 through two. Not only did the Cubs load the bases, but they put plenty of traffic on during that third inning with Ian Happ pushing home the game's first run with a hit by pitch ahead of a Willson Contreras single to make things 2-0. With the bases still loaded, Patrick Wisdom doubled the Cubs lead to 4-0 with an RBI double before Matt Duffy connected for his second homer in as many days to push the lead to 7-0.
Usually, that would be more than enough for Hendricks, but the wheels started to fall off for him in the fourth inning, which resulted in another subpar outing for the right-hander. Just like the Cubs in the third, the Phillies had plenty of traffic on the bases as command issues, and hard contact did him in. Andrew McCutchen got the party started with an RBI double to put the Phillies on the board, making things 7-2.
A Matt Joyce walk with the bases loaded brought home another run before the Odubal Herrera walk, and Jean Segura single closed the Cubs lead to 7-5. Segura and the top of the order was a vital part of their success on the night as they combined for eight hits and 10 RBIs in the contest. JT Realmuto capped off what was an already massive inning with a two-run single of his own as the Phillies matched the Cubs seven-run inning with a seven-spot of their own to tie things 7-7.
In a battle of two bullpens, it was the Phillies bullpen proving their worth as the game went on, settling in nicely after that rough third. Looking to keep things tied in the sixth, Manny Rodriguez was chosen to pitch for the second time in the series and did himself no favors. Along with iffy command of his own, a costly error on a slow roller to himself opened the door for what was a big inning for the Phillies.
That error allowed Bryce Harper to flare one down the left-field line to give the Phillies the lead for good before Didi Gregorius added a two-run single to make things 10-7. Looking to remain within striking distance, Contreras unloaded against Hector Neris, crushing a fastball to dead center that landed in the shrubbery over the center field fence to make things 10-8.
Unfortunately for the Cubs, that would be as close as things would get as the Phillies offense continue to knock the cover off the baseball. Whether it be Tommy Nance, Rex Brothers, or Dillon Maples, it didn't matter who the Cubs trotted out at this point as nothing was going right. With a pair of runners in scoring position, Herrera flared one out to left, bringing home two more to push the lead to 12-8.
Two batters later, after Segura kept the line moving, Harper delivered the knockout blow pummeling a Brothers breaking ball into the second deck to make things 15-8 in favor of the Phillies. Segura continued to find himself in the middle of the action as he added a two-run single off Maples in the eighth to cap off the 17-8 win and pulled the Phillies within three games of the Atlanta Braves for the NL East lead.
Kyle Hendricks is gassed
Normally, I wouldn't worry about a rough patch for Hendricks, especially when looking at his pedigree for success. However, if you are a Cubs fan and have watched this team, Hendricks has significant issues this season, and they have shown up in a big way the last month.
Not only has he been stuck on 14 wins since late July, but his command continues to be an issue as he walked three hitters in a game for the fifth time this season. Put that into perspective, and he did that a total of seven times prior to this season. Not only that, but with missed location comes hard contact as his ERA continues to hover around 5.00 and is 4.81 on the season. That is by far the worst ERA of his career, and it doesn't look like it will change.
Hendricks is not a fireballer and lives on repetition and command to make things happen. When his command is off as it has been this season, his mechanics get out of what, which is what you see now. A big reason for this could stem from the shortened season last year where Hendricks is approaching three times as many innings as he threw last year. In other words, he is just fatigued at this point, and his arm may be encountering a dead arm phase given the increased workload.
of all ppl, especially chicago cubs, theres no one else who deserves a pass for a down yr more than kyle hendricks

— DOM (@DOM_Frederic) September 17, 2021
Give Thompson a chance
With Jason Heyward on the concussion IL, the Cubs had a roster spot to fill and did that by adding Trayce Thompson. However, since coming to the Cubs, Thompson has seen just two innings of work and one plate appearance, which resulted in a ninth-inning walk.
I don't know what David Ross has in store for the righty, but the Cubs need to figure out how to give him some opportunities and maximize on the season he has had. Thompson has never been a great hitter posting a .206 average with 22 homers and 59 RBIs for his career. However, this season, Thompson had an impressive showing playing all but a select few of his games with AAA Iowa.
While his average was just .233, Thompson led the Cubs in homers (21) and RBIs (62) as his power was on full display all season. He was also coming off a series in which he hit four home runs in four days, so he saw the ball well before the call-up. The Cubs are out of every race at this point, and it is time for them to sit some of their regulars down and give younger guys some playing time. Thompson may not be young, but he is one of those guys who deserves some starts down the stretch.
The Cubs called up #Dbacks Spring Training legend Trayce Thompson, 21 HR 62 RBI .827 OPS in AAA this year

— Goldschmidt Happened (@GoldyHappens) September 15, 2021
Bryce Harper is looking like an MVP
Harper's time with the Phillies has been up and down, but this season he is looking like the player the Phillies dished out all the cash to. Known for his prodigious home run power, Harper has never been a high average type of player as he sacrifices a high average for great power.
For whatever reason, Harper is not only playing like an MVP again, but looking better than his MVP season even if the numbers don't match up. With his home on Thursday, Harper has 33 homers to go with 77 RBIs but continues to mash the ball since the all-star break. Not only does he have 19 homers since the all-star break, but he has seven in his last 11 games and leads all of MLB in OBP and OPS since July 20.
What stands out the most is his batting average, as he is now hitting .314 on the season. Only once in his career has he hit the .300 mark as he tends to sit in the 270-280 range. If this is the Harper, the Phillies will get the next several years, and you could be looking at someone capable of winning multiple MVPs. There was a reason the Cubs went after him a few seasons ago and what he is doing now is that reason.
Where Bryce Harper ranks in the NL:

33 HR (T-4th)
.314 AVG (T-2nd)
.428 OBP (2nd)
.627 SLG (2nd)
1.055 OPS (1st)
.436 wOBA (1st)
175 wRC+ (1st)

He wants to be NL MVP.

— Dillard Barnhart (@BarnHasSpoken2) September 17, 2021