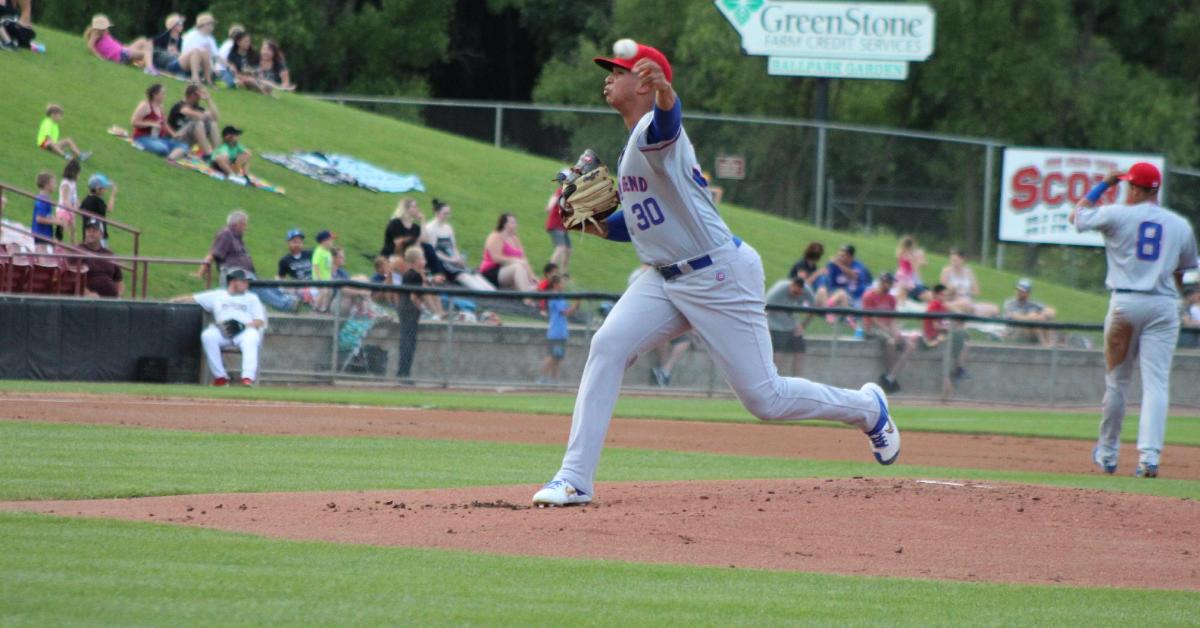 | | |
| --- | --- |
| Potential Cubs breakout prospects in 2020 | |
---
| | | |
| --- | --- | --- |
| Monday, January 6, 2020, 6:11 PM | | |
Over the past seven-plus years, Cubs fans have become accustomed to our prospects breaking out in some level of minor league ball. From Javier Baez, Jorge Soler, Kris Bryant, Kyle Schwarber, Ian Happ, the list goes on and on as the Cubs have seen a bulk of their current roster come together from within the minor league system.
Last season, we saw a few unknowns come to life as breakout prospects as one pitcher, and one-hitter really emerged onto the scene. All offseason long, the talk was about Adbert Alzolay and if he was ready to contribute to the MLB level in 2019. After missing time to begin the season with a minor injury, Alzolay returned to Iowa in late April, where he put a string of strong performances together before earning the first MLB call-up of his young career.
It was a brief callup as he struggled in his four games and then dealt with another injury that put him on the shelf for six weeks. That allowed for the emergency of flame-throwing lefty Brailyn Marquez to steal the headlines as he dominated last season to move into the top spot regarding Cubs pitching prospects. Armed with a heater that touched 103 MPH during all-star week in 2019, Marquez made hitters look silly in A-ball before doing the same in six starts for High A Myrtle Beach late in the year. It will be interesting to see where the Cubs stash him to begin 2020.
As far as hitters go, all attention was on Miguel Amaya and Nico Hoerner last season as they were by far the two best and most exciting prospects in the organization last year. With the injury to Hoerner and the season-long struggles from Amaya it was neither one of them who broke out but instead a man named Robel Garcia who put his name on the map with his prodigious power.
The switch-hitting utility player led the Cubs minor league organization with 27 homers across both AA and AAA, before hitting five homers in about a month's worth of action in the majors. His near 55% strikeout rate is very alarming, but given what we saw from him last season, he could be a piece the Cubs are excited about moving forward.
That leads us to 2020, where the Cubs may not have one of the best farm systems in baseball, but if you ask me, it is better than what most people think. Hoerner will still be the one to watch, especially regarding his situation of starting the season in AAA or earning the opening day second base spot. I also look for Amaya to bounce back from a tough year last year to show the Cubs and all their fans why he is regarded as the future behind home plate for this team.
Those are the obvious names along with names mentioned above, but the Minor League system is filled with talented players at all levels that some of us may not be familiar with. That means that every year not only should teams expect an under the radar prospect to emerge, but it will happen and sometimes happen to be a breakout performance.
For the Cubs, they have plenty of players whether on the mound or in the field that have the potential to break out in 2020, but one player I think will put his name on the map this season is outfielder Brennan Davis, who was a part of South Bend last season. Listed as the Cubs top outfielder and No. 3 prospect in the system, Davis is not yet 21 years old, so his future may be higher than most players currently in the organization.
Drafted out of high school in 2018, most executives and scouts considered Davis one of the best prep athletes in the draft, but a hamstring injury caused him to fall a bit further than where he was expected to go. That worked out in the Cubs favor as they were able to nab him in the second round where he would have been a for sure first-round talent had he stayed healthy.
More advanced than what even most expected at such a young age, Davis crushed the ball for the Midwest League champions this season despite missing half the year with a variety of injuries. Davis finished off the season leading the team with a 305-batting average, to go with a 381 on-base percentage and 525 slugging. His eight home runs and 30 RBI's were also a positive considering how he played in just 50 games last year.
Not only will Davis continue to grow into his body, creating more power, but he has a terrific eye at the plate to go with above-average speed. His 18 walks and 38 strikeout ratio is not the best, but for such a young player that is impressive and shows you that he is not afraid to contact the ball consistently. He has also gone 10-12 in stolen bases in his career, which isn't a high total, but it does show you that he has the potential to be a 30-30 type of player long term, which is something the Cubs haven't had since the likes of Corey Patterson.
Davis is just a prospect, and considering he has such a small sample size, he could be a bust moving forward. On the flip side, Davis has also developed much faster than what the Cubs or anyone expected proving to everyone that he was worth the first-round grade he was graded out as coming out of high school.
Given his injuries last season, Davis may once again start the season for South Bend, but I wouldn't expect him to be there long term. Look for him to reach Myrtle Beach within a month, and should he stay healthy, he will have a shot at making it to Tennessee this season. Davis is the one player in the Cubs system that is rapidly climbing the prospect ranking ladder, and should it continue, he will be a top 100 prospect by 2021 with hopes of a debut by 2022.