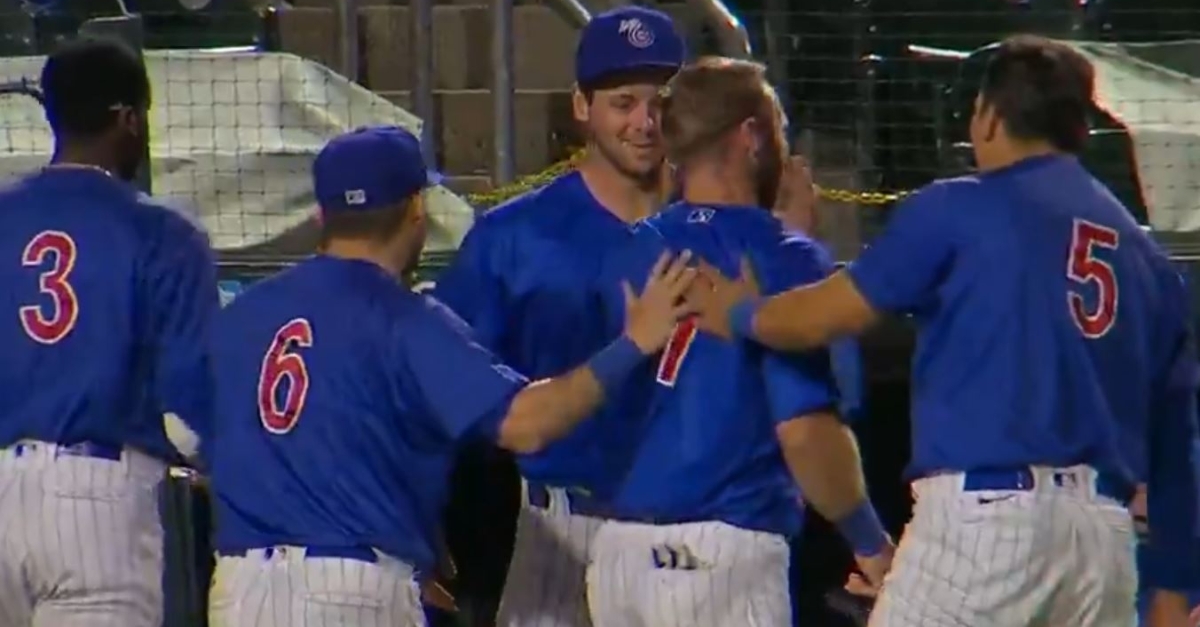 | | |
| --- | --- |
| Previewing the 2022 Iowa Cubs | |
---
Although Major League Baseball is locked out with no end in sight, the minor league operations are pushing forth as they are not affected by this lockout. That means their season will not only get underway, but for the first time in 2019, a full slate of minor league action will hit the horizon, which is always a good thing.
Things could look slightly different in the minors this season as players on the 40-man roster may not be able to play until a new CBA is reached. However, players like Brennen Davis, who is on the 40-man roster, but have not been signed to the major league roster, can still play. See where some of this confusion comes from?
With the Minor league season kicking off exactly a month from today, it is time to look at the Cubs system and what we can expect from them this season. 2021, for the most part, was a terrible year, but we did see plenty of young faces making an impact to prove they are more than capable of playing at a high level.
We begin our journey in Des Moines, Iowa, home of the AAA affiliate Iowa Cubs. Like the rest of the Cubs system, Iowa had a rough go of things in 2021, going 50-70, and that was on the heels of winning their division in 2019. A big reason for their struggles was the constant influx of movement between the MLB roster and AAA, as a lot of the better Iowa players left for the MLB, leaving them scrapping to find the pieces all season.
While that could be another problem this season, not knowing when or if the MLB season will get underway, Marty Pevey and his staff have to like what their team looks like and the pieces they have at their disposal. Some of those pieces will be on offense, where top prospect Brennen Davis will likely begin his next journey toward the MLB.
One of the fastest rising prospects in the game, Davis put on a show last season and found himself promoted to AAA by season's end. The show didn't stop there as he looked even better at the AAA level leading to plenty of excitement for this year. Davis will not be alone as the organizational player of the year Nelson Velazquez will be joining him in the outfield, looking to build off his monster 2021.
These two not only possess some of the most elite power in the system, but could be some of the cornerstones to the next great Cubs team. While those two may be the most prominent stars to land in Iowa this season, don't count this roster short on top level talent. Guys like Christopher Morel, Trent Giambrone, Chase Strumpf, Alfonso Rivas, and possibly more could all land on this year's roster giving the Cubs quite an offensive punch.
Many of these players struggled in 2021, but it was to be expected after not having baseball in 2020. Now that they have gotten their feet wet again, you should see many of them turn the corner, which would be huge for the Cubs. Another name worth talking about is Miguel Amaya, whose status is up in the air for next year.
After injuring his forearm last season, it was determined that he would need Tommy John to get back on the field. Although his timetable of a return date is unclear, do expect him to appear in AAA at some point in 2022. In the meantime, the Cubs have other options, including P.J. Higgins, who saw his first taste in the bigs last year. Considering that Willson Contreras' future is still up in the air, the development and recovery of Amaya this season will be crucial for the Cubs long-term outlook.
While the offense should be able to score plenty of runs, it will always come down to pitching, which was a struggle for Iowa last year. Expecting to take some lumps again this year, the Cubs have plenty of in-house options to choose from depending on how things play out. Guys like Corey Abbott, Keegan Thompson, and Justin Steele all have a shot to land in the Iowa rotation until the regular season starts.
Those three would give the Cubs one of the best top three arms and will be competitive every time out. If there is an MLB season or start date, things will look drastically different as all three or at worst two will be MLB players. Matt Swarmer and Brendon Little are also some options for the rotation as a lot of the Cubs talent is still making waves.
Caleb Killian, in particular, is one guy to keep an eye on as his status is undetermined at this point, but he could be either a AA or AAA candidate to begin the year. Looking further down the pitching staff, you get to a bullpen that made improvements during the season, but still struggled. New additions Eric Yardley, Matt Dermody, Mark Leiter Jr, and Kevin McCarthy are roster fringe guys who could be the first options to replace MLB players.
Take them out of the mix, and you have plenty of talented arms, including Ben Leeper, who has emerged as the team's closer. Not only is he the closer, but he is perhaps the best reliever in the system posting a 4-3 record with a 1.29 ERA across 27 games, walking 13, and striking out 53. Although he converted just three saves, Leeper will be their stopper this season and should do a great job.
Other guys worth noting in the pen would be Dakota Mekkes, Dauris Valdez, Erich Uelmen, Locke St. John, Scott Kobos, and potentially Manuel Rodriguez, depending on his status with the MLB roster right now. Either way, Iowa has plenty of talent and pieces to improve upon their record this season, and now the question is can these pieces play well together.

Upgrade Your Account
Unlock premium boards and exclusive features (e.g. ad-free) by upgrading your account today.
Upgrade Now

Tags: Cubs Baseball
,
Brennen Davis
,
Nelson Velazquez
,
Christopher Morel
,
Trent Giambrone
,
Chase Strumpf
,
Alfonso Rivas
,
Miguel Amaya
,
Willson Contreras
,
Keegan Thompson
,
Justin Steele
,
Brendon Little
,
Dakota Mekkes
,
Erich Uelmen
,
Manuel Rodriguez