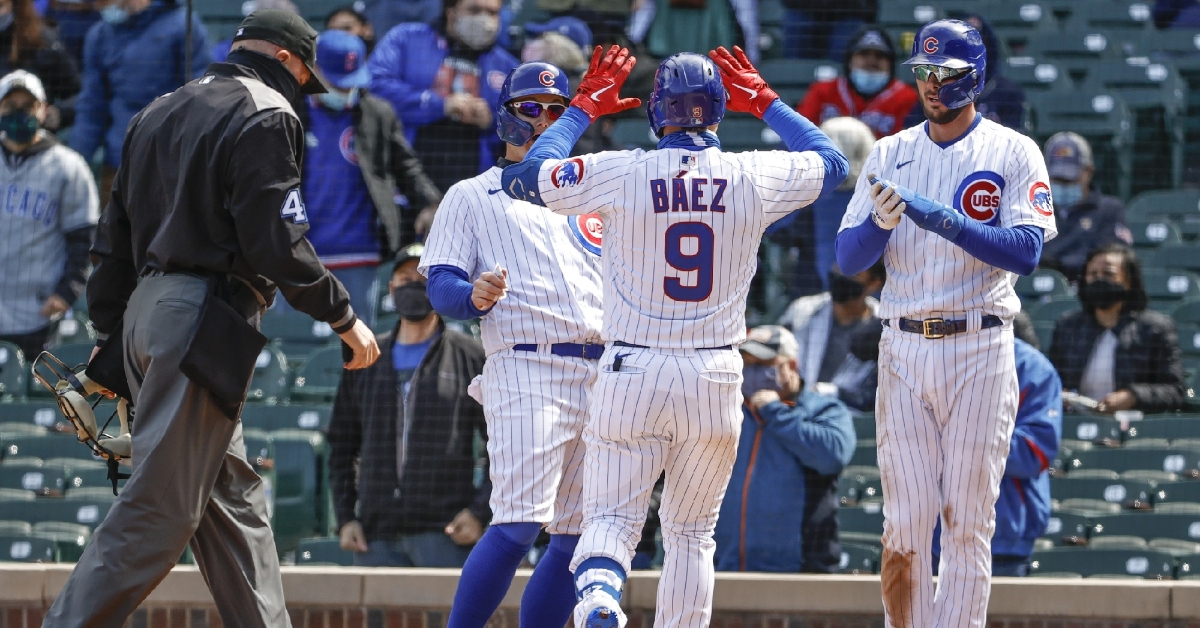 | | |
| --- | --- |
| Series Preview, TV info, and Prediction: Cubs vs. Cardinals | |
---
The Cubs return to the friendly confines on Friday, coming off a 3-4 road trip that could have been a whole lot worse. Not only do they welcome a Cardinals team that has been struggling over the past few weeks, but they welcome 100% capacity at Wrigley Field for the first time since 2019.
Friday marks a very important day for the Chicago of Chicago as they will be the first major sporting event to host a full capacity event since March of 2020, when Covid shut the world down. Not only is this Cubs team playing with confidence, but with a packed crowd projected to be in attendance, expect them to feed off that energy and provide the fans with an exciting weekend of baseball action.
Friday, June 11, 1:20 PM CDT on Marquee or MLB Network (out-of-market only): (Johan Oviedo 0-2 5.35 ERA 20K) vs. (Kyle Hendricks 7-4 4.59 ERA 56K)
The off-day Thursday certainly had its perks for the Cubs as they can reorganize their starting rotation without having to miss a beat. In Friday's opener against the Cardinals, the Cubs will send the professor to the mound as he will look to continue a career-best five-start winning streak.
Hendricks continues to pitch well and already has one solid start under his belt against this Cardinals team this season. Not only that, but Hendricks has fared very well against this St. Louis team who has struggled to put big innings upon him, especially at Wrigley Field.
Opposing him will be Oviedo, who had a promising outing cut short last time out. Against the Reds, Oviedo looked as good as he has all season, but Mike Schildt elected to pull him with the Reds threatening. Even with that, his last start was a step in the right direction as he finally seemed to have the command the team has been waiting for.
The No. 9 prospect in the Cardinals system has all the tools to be a frontline starter if he can harness his command consistently. He offered 11 free passes in his previous two starts leading up to his last outing. While this will be his first career start against the Cubs, they have minimal experience when he was pitching in relief.
Update --- Kohl Stewart will start today instead of Kyle Hendricks. Professor will likely start tomorrow as he will get an extra day of rest.
Saturday, June 12, 6:15 CDT PM on Marquee or FOX: (John Gant 4-3 2.63 ERA 41K) vs. (TBD)
This series will be about the National spotlight as all three of the games will be nationally and locally televised. They will turn to John Gant for the Cards on Saturday, who is coming off his toughest outing of the season.
Not only did he last a season-low four innings against the Reds, but he allowed a season-high seven runs, and yet his ERA is a 2.63. That shows you how good he has been this season. Even with all that success, walks continue to be a concern for him as he has surrendered nine free passes over his last three starts. He now has 37 walks on the season. Gant is making his second career start against the Cubs but has significant experience in relief off them.
While the Cubs have yet to formally name a starter, look for Kohl Stewart to get the ball in place of Adbert Alzolay. After being sent to AAA, Stewart returned two days later with Alzolay dealing with a blister issue and now landing on the IL. Stewart has looked at going 1-1 with a 3.12 ERA and 7K in just under nine innings of work in his two starts this season. That follows up his minor league starts, where he has posted a 1-2 record in four starts to go with a 3.68 ERA. This would be his first-ever appearance against St. Louis.
Sunday, June 13, 6:08 CDT PM on ESPN: (Carlos Martinez 3-6 6.21 ERA 38K) vs. (TBD)
Getting his second look at the Cubs this season will be Carlos Martinez as he continues to fight through a rough year. The former closer turned ace has bounced between starter and relief the past few seasons and has struggled in his first season back in the rotation full time.
Despite allowing five earned runs in four innings last time out, it was a step in the right direction when looking at his previous starts. Across his last three starts, the righty has undoubtedly had a rough go of things allowing 18 earned runs in just six total innings. The Cubs will hopefully keep that trend going as tons of hitters in this lineup see him well.
This is another TBD for the Cubs and their rotation, but if everything falls into place, Zach Davies will take the ball. With the off-day Thursday, the Cubs didn't need a fifth starter this week as it allows everyone to be on regular rest. Stewart takes the place of Alzolay, but the off-day enables the Cubs to skip Williams spot this time around.
Davies continues to pitch phenomenally after his terrible April and has brought his season record to 3-3 with a 4.45 ERA. That includes a month of May where his ERA was barely above two. Not only is he coming off his best start of the season against San Diego, but in his previous outing against the Cardinals, he gutted it out for five strong innings keeping the Cubs within striking distance. Chicago is hoping his recent run of success can continue another time through.
Prediction: FLY THE W
A few weeks ago, no one expected these teams to be where they are in the standings. You had a Cubs team searching for consistency while the Cardinals appeared to be the class of the NL Central. However, since their last meeting, the Cardinals have been in free-fall mode to land in third place, while the Cubs have won 17 of their last 23 to move into first place, just ahead of the Brewers.
Knowing what this rivalry means to both sides, expect this to be treated like a playoff atmosphere, and with 100% capacity, it will sound like it. Knowing the stretch of games the Cubs are in, fans shouldn't be hoping or find it realistic to sweep anyone. Instead, this team should focus on winning one series at a time. That is what I think they do here as they take another series over the Cardinals 2-1 to remain on top in the Central.
There's no place like home.#CubTogether pic.twitter.com/sOYiRKT85V

— Marquee Sports Network (@WatchMarquee) June 11, 2021